Q&A with Max Siegel
The CEO of USA Track & Field has set the national governing body on a new course, adding sponsors and helping the United States secure its first World Championships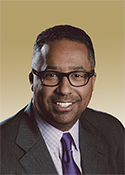 Max Siegel has had many noteworthy accomplishments since taking over as CEO of USA Track & Field in 2012. But significant achievements have followed him throughout his career, as the first African-American to graduate with honors from Notre Dame law school, as an athlete representative, as president of global operations for Dale Earnhardt Inc. and as the founder of Rev Racing. His role at USATF, however, has led to an 84 percent increase in annual revenue, a slate of new sponsors and a new approach to events. In April, his leadership helped Eugene, Oregon, secure the 2021 IAAF World Championships without even submitting a bid, the first time the event will be held in the United States.
In this interview with SportsTravel's Jason Gewirtz, Siegel discusses how USATF pitched Eugene, his approach to sponsorship and his interest in track and field.
After Eugene, Oregon, lost a close vote to host the 2019 IAAF World Championships, how soon did you decide to start lobbying for 2021?
For me it was immediate. (University of Oregon associate athletic director) Vin Lananna and I had dinner after we got the news that we lost a narrow vote for 2019 and Vin was actually pretty discouraged because the entire team put an enormous amount of effort into a very compelling bid. I think in the moment we were all emotionally exhausted. But we had recently been awarded the 2016 Indoor World Championships and seeing even from our vantage point as a federation that we're constantly trying to find partners and markets that are passionate about our events, I thought that it was worth revisiting for 2021. We had dinner that night and decided that we were going to take a little while to regroup and then go after the '21 opportunity.
To read the rest of this Q&A in the digital edition of SportsTravel, please click here.