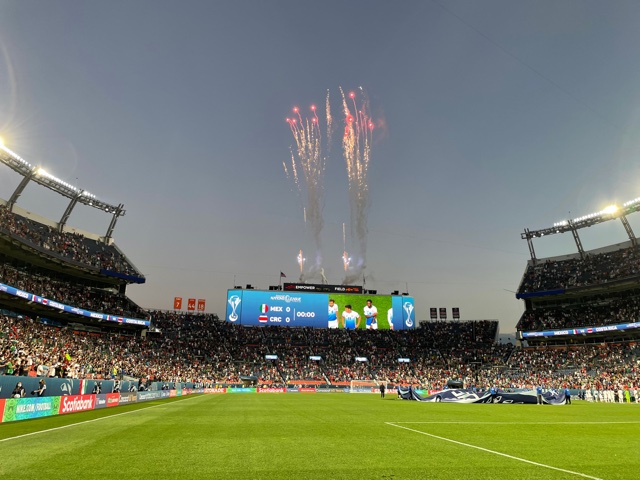 The Mexico men's national soccer team will play five matches in the United States as El Tri prepares for the 2022 FIFA World Cup starting in November in Qatar.
Dallas, Phoenix, Chicago, and Atlanta will host the 2022 MexTour over four months starting in late May. In its 19th edition, Mexican national team matches have an average attendance of 60,000 fans per match in the last decade. The tour previously announced a game on April 27 at Camping World Stadium in Orlando, Florida, against Guatemala.
The tour will start on May 28 against Nigeria at AT&T Stadium in Arlington, Texas. After that will be matches June 2 at State Farm Stadium in Glendale, Arizona, followed by June 5 vs. Ecuador at Soldier Field in Chicago. The tour culminates on August 31 against Paraguay in Mercedes-Benz Stadium in Atlanta.
The Dallas-area match, presented by AT&T, will be the culmination of the four-year partnership established in 2018 with the Dallas Cowboys, FC Dallas and the Dallas Sports Commission to play an annual match at AT&T Stadium. State Farm Stadium welcomes back the national team for the first time since the 2021 Gold Cup quarterfinal, where Mexico defeated Honduras 3-0 in front of a capacity crowd of 64,211. Mexico's return to Chicago will mark the landmark 100th match of the MexTour, which held its first match in 2003. The celebration will include fan-facing events and a pre-match celebration.  The MexTour last visited the home of MLS' Atlanta United and NFL's Atlanta Falcons in June 2021, in a scoreless draw between Mexico and Honduras in front of more than 70,000 fans.
Mexico leads the series against all three opponents, including a 2-0-4 record against Nigeria, 8-6-7 against Uruguay, 16-4-5 against Ecuador and 11-4-5 against Paraguay. Uruguay is the only one of the four opponents which has also qualified for the World Cup.