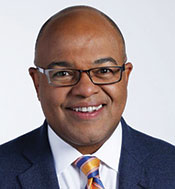 The veteran broadcaster will take over as host of NBC's prime-time Olympics coverage, one of many roles he plays at the network

It's never easy replacing a legend. But NBC's Mike Tirico will attempt to do so in February when he becomes the prime-time host of the network's Olympic Winter Games coverage, taking over for Bob Costas, who held the position since 1992. For Tirico, however, it's only one of many tasks he has taken on since moving to NBC in July 2016 after 25 years at ABC and ESPN. The former play-by-play host of "Monday Night Football" is now NBC's voice for "Thursday Night Football" and the on-site host of "Football Night in America," which leads into NBC's Sunday night coverage. He also hosts NBC's Triple Crown and golf coverage and is the voice of the network's Notre Dame football broadcasts. In this interview, Tirico discusses his approach to the upcoming Games, how politics have crept into sports and how often he is on the road.
Bob Costas was prime-time Olympics host for 20 years. What kind of pressure does that put on you?
I've become fond of saying you follow Bob Costas, you don't replace him. He really set an incredible mark for all of us to model our presentation after. He set an incredible standard for journalism, humor, the right touch at the right moment. I hope to bring a lot of the things I've learned as a viewer and for the last 25 years or so of doing network TV to my tenure in that chair. It's a rare and unique opportunity because you are the continuing face over 18 straight nights of prime-time TV, and that just does not happen anywhere else in American TV. There's a great responsibility that goes with it, but I intend to approach it as another night of network and sports TV.
Have you sought specific advice from Bob or are you avoiding it to pave your own way?
Bob's first bit of advice, which was great, was to do it your way—don't try to do exactly everything I did. But there are certain things he learned doing the job that only experience can teach you. The great part of this is that we are friends and have known each other for a long time. Bob has been very clear about being available at a moment's notice if I have a question about something. I haven't gone too far down that road yet, but I'm sure over time as things get closer, I will not hesitate to reach out.
What do you see your role being as prime-time host?
I can pass along what I learned in hosting the World Cup a couple of times at ESPN and even the European soccer championships. You are a connector. You connect the last events with the next events. You connect the story lines of the day to the other prudent story lines. You connect overarching themes for the week, for the entire time of the competition. And you're the person that makes sure you can put context and perspective to what you've just seen. The joy of this and the challenge of this is that it's a live Olympics. It will be seen live across the country in prime time. So our putting things in perspective is going to happen on the fly.
NBC will air the Super Bowl this year. Are you disappointed your travel plans will likely overlap?
They will, and I am. There's no reason to lie about it. As a person who's been to the last 25 Super Bowls, I hate that it's on our network, where I call NFL games and host our NFL studio show, but I can't go to the Super Bowl. But the reason is the best reason humanly possible: I'm hosting the Olympics. Logistically, to get off the air Sunday night in Minneapolis, fly halfway around the world and two days later not only start the 18-night run but do it for the very first time, it's unrealistic.
The current political situation in the Korean Peninsula is unstable. How much are you preparing for politics to enter the Games and affect your job as host?
You have to prepare. Politics have always been at the root of some cause of concern around the Olympic Games, whether it's countries competing that have a conflict or have long-term ill will between them. Certainly over the last few Games, multiple concerns have come up about where the Games are being contested. This one seems to be a little sharper at this point, but I think that's part of your responsibility as a host to be prepared. From my perspective, it's not as though I'm just the sports guy who doesn't know what's going on in the world. My other major in college was political science. I'm a political junkie. You'll find MSNBC on my TV more often in the afternoon than you'll find sports. So I stay up on this stuff. Naturally, people are coming to watch sports. If the story goes beyond the competition, hopefully we can broaden it out properly for folks.
We're seeing politics mix into sports more and more. How cautious are you with the words you use during a typical broadcast?
I think we need to be smart. It depends on the context in which you are appearing in the media. If you're coming on and hosting your own radio show on a station where political conversation is the format, then obviously you're going to be weighing in on these things. When sports come into play, of course your opinion might be in your mind and in your heart, but what's my role? My role is documenting the event. You're not tuning in for my opinion on the politics related to the sporting event. So I try to keep my personal feeling out of it. 
A lot has been made of concussions and player safety issues in the NFL. Is this a long-term problem for ratings if people start turning away from the sport?
I think it's going to show in participation. Do we see people continue to participate in football? Obviously, we know more about the concussion issue and other health and safety issues than we did 15, 20 years ago. You're seeing the people who run football try to figure out the safest way to play the game. No sport is safe. We were talking about the Olympics. There's an incredible risk in many of these sports. Individuals are doing the best they can to try to mitigate the risk factor and increase the safety factor. I don't know if we're going to see the NFL be in the same place it's been for the last 20 or 30 years, but I think the people involved are doing everything they can—not in the name of ratings, but in the name of the health and safety of the people involved—to keep the game as healthy as possible.
Are there any sports venues that you look forward to visiting more than others?
Yeah, Lambeau Field is great. Augusta National is, say no more—for that exact reason. People love it, and to be able to go there with the Golf Channel's coverage of the Masters keeps that annual week on my calendar, which I just love. Notre Dame Stadium obviously has jumped in there as one of the great, iconic places. But I always tell people my favorite venue for any sporting event is one that's close to home. So Ford Field in Detroit. If the Lions end up on the schedule multiple times, I'm all for that.
How many days a year are you on the road?
It's about half. It had gotten up near 200 a few of the years about five or six years ago at ESPN, and I've been able to cut it back to about half the year. It's something that comes with the job. I'll be working a game on Christmas Day, an NFL game, and that will make it 15 or 16 straight Christmas Days I've been on the road covering the NBA or three of the last years, the NFL. Those are just things that come with the job.
Do you enjoy the travel?
I love seeing America. I really do. The chance to see America has been a great part of this job. I can't even count how many countries I've been to, most every continent save Antarctica. But work has taken me to Rio twice, to South Africa for the World Cup, to Asia not just for the Olympics but for golf events, and the United Kingdom every summer for the last 20 years for the Open Championship. For a kid from Queens, New York, who has settled in the Midwest in Michigan, the chance to see the world and see America and to get to talk about sports is something I still enjoy and still appreciate.