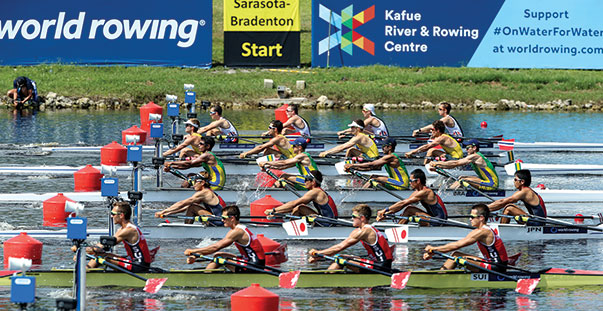 Construction crews had just completed the $6 million finish tower at Nathan Benderson Park in Sarasota, Florida, when Hurricane Irma drew a bead on the gleaming glass structure. The tower had been a key piece of infrastructure at the park's worldclass rowing course, helping to persuade the World Rowing Federation, FISA, to bring the World Rowing Championships to the U.S. for the first time since 1994. The regatta was two weeks away. Vendors were building tents and grandstands. "We were exactly where we wanted to be on our event timeline," said Meredith Scerba, executive director of the 2017 World Rowing Championships. And then Irma threatened to wipe it all away.
The team was prepared. Sarasota County's emergency services officials had conducted extensive contingency training with event staff, and those plans kicked into action. The final build-out was halted. Boats and golf carts were tucked away in shipping containers. The event staff's office, housed in a trailer, was emptied out, with computers and files boxed up and moved to a safer structure. "We knew what to do," Scerba said. "Then you just need to ride it out and see what happens."
As it turned out, very little happened. Though the storm brought destruction stretching from the Caribbean through Florida and into Georgia, the Sarasota/Bradenton area was spared a direct hit.
Trees had been downed, but they were cleared away. The starting dock had been damaged, but it was repaired. The event's portable comfort stations were requisitioned to serve areas more badly damaged by the storm, but replacements were found. In the end, the championships turned out to be precisely the event that organizers had imagined.
The event came about through a partnership of U.S. Rowing, Sarasota and Manatee counties, the local CVBs and Suncoast Aquatic Nature Center, and all of those entities had a hand in the success. On the course, the biggest surprise was that the run of 11 straight world titles by the U.S. women's eight came to an emphatic end, with the crew finishing out of the medals in fourth.
The event drew about 41,000 fans, or 1,000 more than expected. All the available seating was sold out for the finals on Saturday and Sunday. "You couldn't ask for better turnout or better ticket sales," said Rob Wells, former director of sports for the Sarasota County Sports Commission. Great Britain's team manager told Scerba it was one of the best-run world championships in history.
Things went so smoothly that at the daily post-competition meetings, team managers found themselves in the rare position of having no complaints for FISA or the local organizing committee. "The FISA guy was laughing," Scerba recalled. "He said, 'We have to find something to complain about—maybe my coffee wasn't warm enough?' "
Given the narrow miss from Hurricane Irma, that result could be considered nothing short of a miracle. But hard work and smart planning helped, too. Breathing a sigh of relief just two days after the event ended, Scerba offered this advice to event organizers: "Make sure you have contingency planning in place. You can never be too prepared."