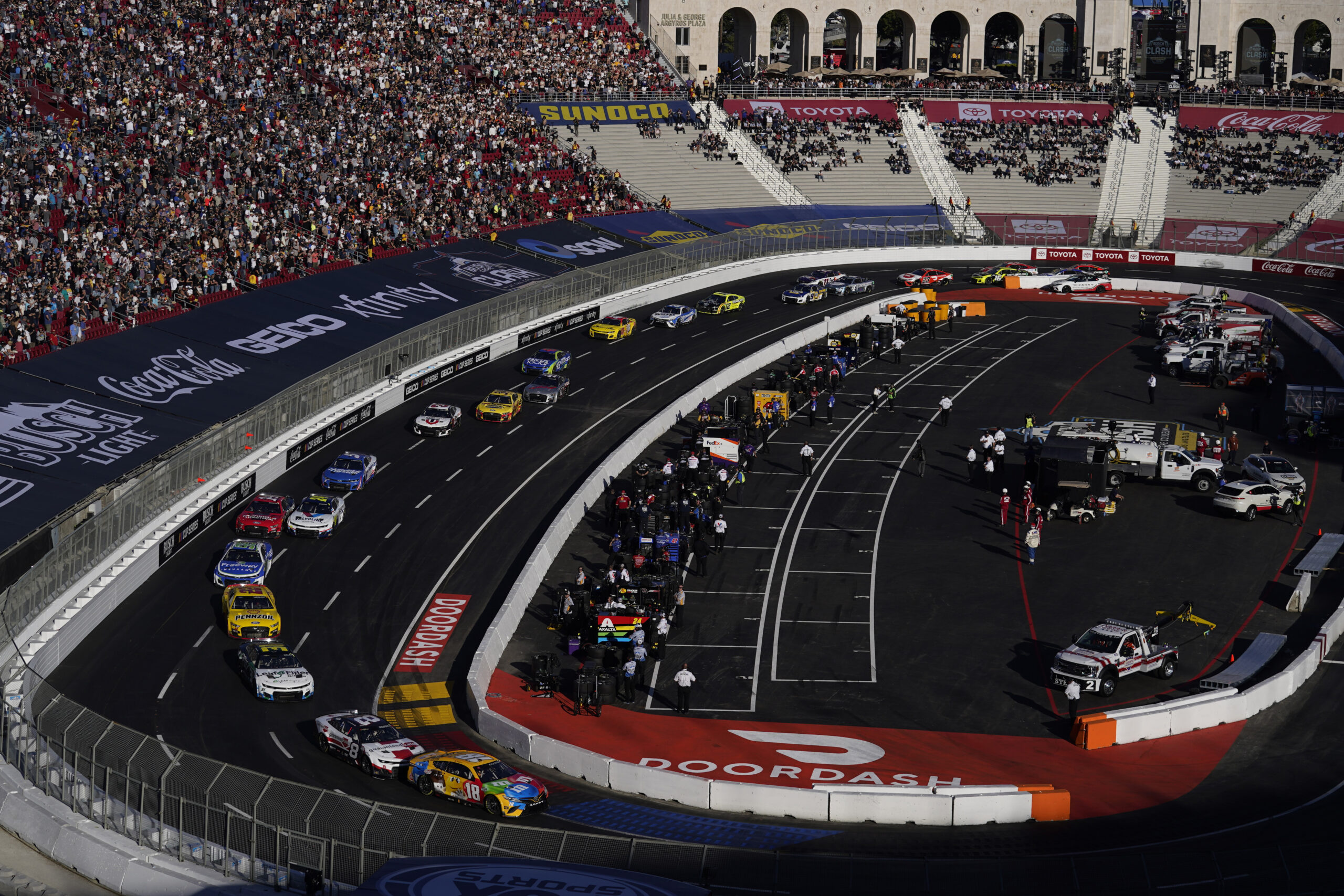 NASCAR's preseason Clash race is rolling back to the Los Angeles Memorial Coliseum in 2023, NASCAR Senior Vice President of Racing Development and Strategy Ben Kennedy announced before the series' Cup race at Sonoma International Raceway.
"Our entire industry made a bold move by bringing the Busch Light Clash to the LA Coliseum this past February and it paid off by becoming an instant classic with both new and existing fans," Kennedy said in a news release. "We are intent on showcasing our sport and drivers on the biggest stage and there is none bigger than the LA Coliseum. We're thrilled to return to the heart of Los Angeles to officially start the season and set the stage for the Daytona 500."
The 2022 Clash took place on a temporary 0.25-mile track inside the venerable Coliseum. Joey Logano won the exhibition, which was part of the launch of NASCAR's Next Gen car and NASCAR received some of its most positive reviews in years for the race. The first 43 editions of the Clash had been held at Daytona International Speedway from its inception in 1979, but NASCAR relocated it to L.A.
"I feel like I came in with pretty high expectations, and I think everything was just a little bit better," Kyle Larson said after the race earlier this year. "I think the atmosphere was amazing, just everything about it was really cool. … I hope we can do more of this in the future. I don't know what the fans think of it, the new fans that are here, but I hope they enjoyed it. That's the most important part. Just really proud of NASCAR for the effort they put in and what they were able to execute. I felt like this was a really smoothly run event, no real hiccups at all and that's all you can ask for."
The 2023 Clash will take place shortly after the 100th birthday of the Coliseum, which opened in January 1923. The Coliseum, which has hosted two Olympics and the first Super Bowl, is still the home of the USC Trojans football team. The stadium also hosted the NFL's Los Angeles Rams until they moved into SoFi Stadium in 2020.