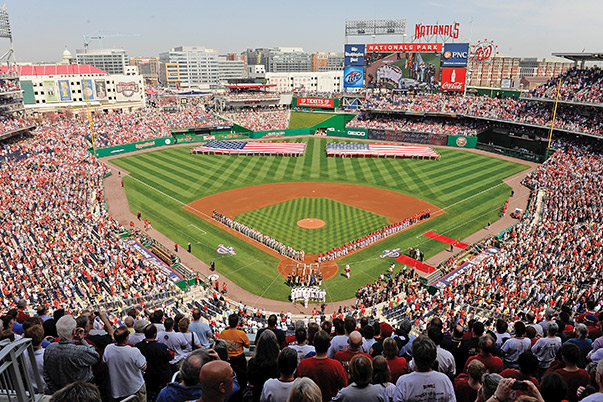 Although the Mid-Atlantic region is home to some of the nation's most famous cities and largest urban centers, the area has as many venues crafted by Mother Nature as it does facilities built by man. Organizers and athletes alike will appreciate pristine beaches perfect for water sports and pastoral farmland that sets a scenic course for cyclists and runners. Rightsholders, of course, will also find state-of-the-art stadiums, cutting-edge arenas and brand-new hotels.
Washington, D.C
Washington, D.C., hardly needs an introduction, but with so many recent additions and changes on the horizon, visitors may want to get reacquainted with the nation's capital. D.C. has seven professional sports teams and is investing in new arenas, new stadiums and new markets, said Greg O'Dell, president and CEO of Events DC, the convention and sports authority that owns and operates several venues.
A new 4,200-seat entertainment and sports arena is under construction and scheduled to open in September 2018. In addition to being the training facility for the NBA's Washington Wizards, the arena will give the WNBA's Washington Mystics a dedicated venue for their home games.
Events DC will control about 60 percent of the new arena's time for amateur and college sports, concerts and other events, especially e-sports. Events DC is aggressively pursuing e-sports at the facility, which will be wired to handle the tech-heavy competitions, as well as at other venues like the 2.3 million-square-foot Walter E. Washington Convention Center. Earlier this year, the city began sponsoring NRG Esports, which has teams competing in several events. "We're not only trying to attract events here, but also trying to build an e-sports ecosystem in D.C.," O'Dell said.
Audi Field, D.C. United's new 20,000-capacity soccer stadium, is scheduled to open for the 2018 MLS season and will feature 500,000 total square feet of mixed-use retail and residential space. The new venue will allow D.C. United to move out of RFK Stadium, which could soon be demolished to make way for redevelopment. Current plans envision using the 190-acre grounds for multipurpose athletic fields, a food hall and a 350,000-square-foot recreation complex geared toward youth and amateur sports.
D.C. will host the 2018 MLB All-Star Game at the 41,546-seat Nationals Park, and Events DC is supporting the bid to win the 2022 Gay Games. The Washington Valor of the Arena Football League is playing its first season at the
18,500-seat Capital One Arena (formerly Verizon Center), and the Washington Kastles of World Team Tennis still draw crowds to George Washington University's Charles E. Smith Center.
Capital Sports Ventures is a four-year-old local company that focuses on mass-participation events and youth and amateur sports, said Managing Director Chris Browne. It launched the recreational DC Bike Ride in 2016 and recently invested in one of D.C.'s long-running signature events: the Capitol Hill Volleyball Classic. The 2017 tournament drew 1,000 teams and more than 93,000 people.
"D.C. certainly is known—you don't have to find it on a map," Browne said. "But what people discover while they're here is there's more to the district than the federal government."
Newark, New Jersey
Newark, New Jersey, sits on the banks of the Passaic River, eight miles west of Manhattan. Newark "is an old city, but it's going through a huge renaissance," said Karin Aaron, president and CEO of the Greater Newark Convention & Visitors Bureau. And now the CVB has "taken the initiative to dive into sports" with a renewed emphasis on attracting sporting events, she added.
Two of Newark's major sports venues sit less than two miles apart. Prudential Center, nicknamed "The Rock," opened 10 years ago and can seat 16,514 during home games for the NHL's New Jersey Devils or over 18,700 for Seton Hall University men's basketball games. Red Bull Arena, across the river in Harrison, is a 25,000-capacity soccer stadium that is home to the MLS New York Red Bulls.
As part of the city's renaissance, "you see a lot of cranes in the sky, which is always a good sign," said Bill Muench, chief of sales for the Greater Newark CVB. The city has five new hotels in the pipeline, and the New Jersey Institute of Technology is building a sports complex that will be completed this fall. The school's $102 million Wellness and Events Center will seat 3,500 for basketball games, and it also will have an eight-lane pool, a diving pool, a 12,000-square-foot indoor turf area and a 205-meter rubber track.
The CVB also works with Rutgers University/Newark, a Division III school with the 2,000-seat Golden Dome Athletic Center, and Essex County College, which has a 1,000-seat indoor basketball arena. "All of that is right downtown, which is amazing," Aaron said.
National Harbor, Maryland
National Harbor isn't officially a city, but it is definitely a destination. The 350-acre waterfront development sits on the banks of the Potomac River beside Interstate 495. The "micro-city on the Potomac River," as local officials describe it, is just eight miles south of Washington, D.C.
In May 2016, Peterson Cos.—developer of National Harbor—partnered with MGM National Harbor, Tanger Outlets, and the Gaylord National Resort and Convention Center to form Visit National Harbor, dedicated to promoting the area as an "all-encompassing waterfront resort and entertainment destination," said Josh Winston, director of tourism for National Harbor. 
National Harbor has nearly as many hotel rooms as residents, with a population of 3,800 people and more than  3,000 hotel rooms. About 2,000 of those rooms are at the Gaylord, which also boasts more than 500,000 square feet of event space, including a 180,000-square-foot exhibition hall and four ballrooms. The Gaylord works well for indoor competitions, such as cheer, dance and gymnastics, and the resort has sport-court floors for basketball and volleyball, Winston said. The Scripps National Spelling Bee marked its seventh year at the Gaylord this summer.
The MGM National Harbor, a hotel and casino, opened in December 2016. The MGM has about 50,000 square feet of meeting and conference space, and its 3,000-seat theater was the site of the HBO-televised boxing match between Jason Sosa and Vasyl Lomachenko in April.
The neighboring city of Oxen Hill, Maryland, has sports fields, but National Harbor and its 700,000 square feet of indoor meeting space are best suited for "non-traditional sports that don't require a ball flying through the air at high velocity," Winston said.
The Potomac itself is a major venue, and Visit National Harbor hopes to attract sailing regattas, speedboat races and other water sports. The National Harbor Marina has 75 slips ranging up to 110 feet and just added a state-of-the-art fueling system. WaveOne Swimming often holds open-water swimming clinics and events in the Potomac, including the seventh annual HarborFest Tri Distance Open Water Swims in August.
Valley Forge, Pennsylvania
In Pennsylvania, Valley Forge can certainly carry its weight. USA Weightlifting's 2016 Junior National Championships drew more than 300 competitors to Pennsylvania's Valley Forge area, and the NGB will return next year with up to 800 athletes for the American Open Series 2.
USA Weightlifting chose the area because "in a way, it's Philadelphia light," said CEO Phil Andrews. Montgomery County has the venues and hotels, but at a lower cost than in downtown Philly, which is 25 miles to the southeast. But the NGB is returning because of the people, including the CVB staff, the volunteers and Andy Carl, sports sales manager for Valley Forge Sports, who started up the Valley Forge Tourism & Convention Board's shuttle at 3 a.m. to pick up athletes at the airport last year.
The sports commission wants to put a bigger focus on Olympic NGBs, Carl said, especially sports such as taekwondo, judo, weightlifting, wrestling and fencing—"things that just need the space as opposed to a specific facility."
For its 2016 event, USA Weightlifting used the Greater Philadelphia Expo Center, a 240,000-square-foot facility that has also welcomed wrestling and billiards competitions and set up 19 basketball courts for tournaments. Next year, USA Weightlifting will gather in the 54,000-square-foot event center at the Valley Forge Casino Resort in King of Prussia.
Events like the annual Liberty Bell Challenge lacrosse tournament often land at the Proving Grounds in Conshohocken, a private facility that is also home to Villanova University field hockey. Five multipurpose turf fields will be open by this fall, and three more are scheduled to open by fall 2018. There's also an indoor turf field.
Villanova is in the middle of a $60 million renovation of its 6,500-seat basketball arena, to be called Finneran Pavilion. Work will be complete in time for the 2018–2019 season; until then, Villanova's basketball teams will play at the Wells Fargo Center in Philadelphia and the Jake Nevin Field House on campus.
The 55,000-square-foot Competitive Edge Sports facility in King of Prussia has five hardwood basketball courts and also hosts volleyball and futsal tournaments, such as the AAU Girls East Coast National Championships and U.S. Soccer's Youth Futsal Invitational events. Oaks Center Ice has three sheets of ice with seating for about 1,000 at each rink, and Hatfield Ice Arena in Colmar has two sheets.
One of the area's largest and longest-running events is homegrown. The Pottstown Rumble, which marked its 26th year in June, is a three-day grass doubles volleyball tournament that drew 1,832 teams and used 367 nets all over Pottstown, although the main venue is the 78-acre Memorial Park.
Delaware
Delaware has three counties, each with its own geography, demographics and facilities: New Castle to the north, Sussex to the south and Kent in between.
The big news in Delaware sports comes from Kent County, where the 85-acre DE Turf Sports Complex opened in April. With its 12 synthetic turf multipurpose fields, DE Turf's "unique selling point is, 'Hey, rain or shine, you're playing,'" said Matthew Robinson, chairman of the Delaware Sports Commission board. Of the 12 fields, one is a 700-seat championship stadium, and the fields circle an indoor fieldhouse. Since opening, the complex has hosted the NXT Blue Hen First State Shootout lacrosse tournament, USA Field Hockey regionals and many other events.
DE Turf also is "attractive for non-traditional sports such as flag football and ultimate," said Robinson, who is also a professor at the University of Delaware and runs the school's sports management program. In the past, the university "has been our primary venue … but with the addition of the turf facility in Kent County, now we have facilities that match people's needs," Robinson said.
Also in Kent County, Dover International Speedway hosts Monster Energy NASCAR Cup Series races every year.
New Castle County is where organizers will find much of the state's population as well as many of its sports venues, in large part because it is home to the University of Delaware. On campus, UD has several turf fields, a natatorium, a fieldhouse, the 5,000-seat Bob Carpenter Center, the 22,000-seat Delaware Stadium for football and the Fred Rust Ice Arena for hockey and figure skating.
In Sussex County, the sports commission in 2014 relaunched the Slam Dunk to the Beach national high school basketball tournament, the only event the commission owns and operates. The annual three-day event in December features 20 teams, and the most recent one drew 12,000 attendees to Cape Henlopen High School in Lewes.
Because Sussex County sits on the shore where Delaware Bay meets the Atlantic Ocean, its breakwater and gentle waves make it popular for open-water swimming and skimboarding. The town of Dewey Beach has hosted the annual Zap Amateur World Championships of Skimboarding for 36 years, and Lewes will host the third annual Escape to Lewes Open Water Swim Classic in September.
Syracuse, New York
Syracuse is an upstate New York city that's closer to the Canadian border than New York City and closer to the Great Lakes than the Atlantic Ocean. The city sits on the banks of Onondaga Lake and just south of the larger Oneida Lake, both of which play major roles in Syracuse's sports landscape.
Although the city has a major convention complex and sports facilities at Syracuse University, "we are probably better with our natural resources—our trails and lakes—than with our man-made facilities," said Jeff Mickle, sports development director for Visit Syracuse. "People here get outdoors 365 days a year. There's no too cold, too wet, too snowy—nothing slows us down."
The annual Ironman 70.3 Syracuse includes a swim in Jamesville Reservoir, a 56-mile cycling course that crosses three counties and a running route through Jamesville Beach County Park. The Iron Girl Women's Syracuse Triathlon takes place at Oneida Shores Park.
Bass-fishing tournaments at Oneida Lake are as plentiful as the fish, and the 2017 Bass Pro Shops Northern Open #1 was held there in July. B.A.S.S. has held a dozen tournaments on the lake, and Fishing League Worldwide often chooses Oneida for competitions because it's "one of the best bass-fishing lakes in the country," Mickle said.
At Onondaga Lake, the Syracuse Chargers Rowing Club recently built a five-bay boathouse and seven-lane racing course, and U.S. Rowing held its Northeast/Mid-Atlantic Masters Regional Championship on the lake in 2015 and 2016.
Syracuse University is "always in the mix" for NCAA events and regularly hosts the first or second rounds of the NCAA Women's Lacrosse Tournament, Mickle said. On campus, the Carrier Dome can seat more than 49,000 for football and nearly 35,000 for basketball. Onondaga Community College is also landing a lot of regional and state high school championships, he said.
The Oncenter is a three-building complex that stretches over three city blocks in downtown. The complex includes the 99,000-square-foot Nicholas J. Pirro Convention Center, the 7,000-seat War Memorial Arena and the John H. Mulroy Civic Center Theaters. For the USBC Open Championships in 2018, "we're turning the entire convention center into a high-end, full-service bowling alley" with up to 60 lanes, Mickle said, and the center will also be the venue for the 2019 International Trails Symposium.
The Lakeview Amphitheater opened on the shores of Onondaga Lake in 2015 and can seat up to 17,500. Just south of the amphitheater, the 375-acre New York State Fairgrounds is "a very flexible facility" that welcomes a range of sports competition, including equestrian events and obstacle runs, and is being looked at for snowmobile and motocross races, Mickle said.
Mid-Atlantic States
The Mid-Atlantic region is in high demand for sports events because it provides the best of both worlds: major metropolitan cities with their amenities and attractions butting up against picturesque countryside and seashore. The region draws travelers from all over the East Coast, from across the nation and from around the world, in part because it's easy to get to and in part because people want to visit the region's famous cities and historic destinations. There, organizers can choose from a plethora of venues for sports events, indoors and out.