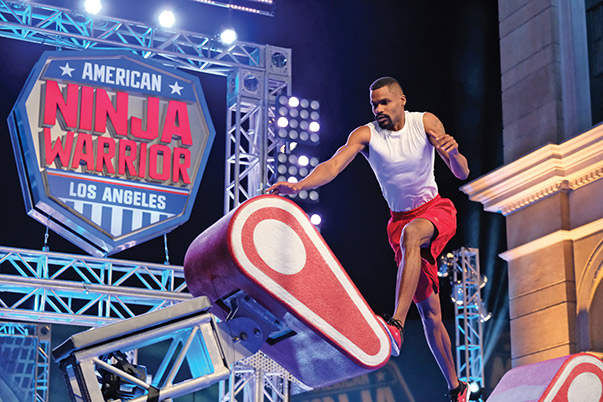 Reality shows with sports themes have taken the TV world by storm in recent years, and their popularity suggests that even more will emerge in the near future. Such shows travel to some truly iconic destinations—and also create exciting opportunities for host cities to showcase all they have to offer.
The Amazing Race
A live sports event that runs for 23 days straight? Impossible, right?
In fact, "The Amazing Race" has been pulling it off every year since its inception in 2001. The show shoots an entire 12-episode season in three straight weeks, all while hopscotching the globe. The show has crafted just the right recipe, and the proof is in the trophy case: "The Amazing Race" has won 10 Emmy Awards. CBS recently picked up another season.
The reality-TV juggernaut features teams of two racing in a variety of unorthodox transportation modes, including hot air balloons, trucks and boats. Contestants complete mental and physical challenges along the way and are progressively eliminated. The winning team receives $1 million.
Elise Doganieri and her husband, Bertram van Munster, are the show's co-creators and executive producers. Van Munster had produced shows including "Cops" and "Wild Things," but it was Doganieri who conceived "The Amazing Race." After graduating from college in 1990, she and a friend went backpacking through Europe on a shoestring budget. That trip, she said, inspired the show's central concept: "Why don't we have people who know each other travel the world and do things related to each location's culture with very little money?"
Doganieri said that in planning a new season and choosing host cities, producers have to pay attention to logistics—available flights, hotel rooms, drivers, mobile phone service, visas, permits, security, translators and, of course, budget. "It really is a giant puzzle, and all the pieces have to come together," she said. A team of about 75 travels with the contestants.
Tourism boards, film commissions and embassies play a key role in bringing the show to certain cities. Especially helpful is presenting ideas of unique locations to film, such as a beautiful beach, a unique museum, old cobblestone streets or specialty restaurants. Many cities vie for the honor, and for good reason. "It's like a one-hour commercial," Doganieri said. "We always show these beautiful cities, but we also love to go off the beaten path, and I think tourism boards really like that. It shows another side of their countries."
American Ninja Warrior
"American Ninja Warrior" shoots two episodes in each of six cities (qualifying and city finals), then holds its overall finals on the Las Vegas Strip. The obstacle course competition, now in its ninth season, has been to 18 cities, including Los Angeles, Denver, Dallas, Oklahoma City, St. Louis and Philadelphia.
The show is a spinoff of a Japanese series created in 1997. Although the original show featured physically challenging obstacles, it also had a strong comedic element. Kent Weed and Arthur Smith, executive producers for the American version, revamped the Japanese format and created the "American Ninja Warrior" that has proven so popular today. Weed said the key change was making the show more athletically challenging than the original version.
Competitors attempt to conquer a series of increasingly difficult obstacles over the course of the season. Since the show's inception in 2009, just two competitors have completed the finals course—but they did so in the same season, so only the faster of the two took home the cash prize of
$1 million. Despite those long odds, the show has seen a dramatic increase in applicants, from 1,000 in the first season to 70,000 in season eight.
Weed said the show aims to showcase new cities each season and is always looking for iconic spots. "Every city we go to, we look for something that says, 'This is what this city is,'" said Weed. "Whether it be Universal Studios in Los Angeles, the Cotton Bowl in Dallas, downtown San Antonio next to the Alamo, in front of Daytona International Speedway or the Public Square in Cleveland."
Medium to bigger cities work best for filming, Weed said, because smaller towns often don't offer anything structurally eye-catching. "When you watch the race, the camera angles shoot up toward the sky," he said. "We need buildings, height, something that offers a backdrop, like a capitol building in the background."
Producers do consider every proposal they get from a city. "Lincoln, Nebraska, had a wonderful pitch a year ago, with a lot of passion," Weed said. "We're considering that. It's not a big town, but passion goes a long way. We respect and embrace that."
Success requires a team effort, Weed said. "Cities that roll out the red carpet, like Denver or Cleveland, and really embrace it — that benefits the community. Thousands of people come out to watch, and it creates an event atmosphere." When the show rolled into the Mile High City in May, it hosted a fan festival for the first time, allowing fans to try their hand at an obstacle course, meet the stars and get autographs.
Spartan: Ultimate Team Challenge
"Spartan: Ultimate Team Challenge," like ANW, airs on NBC and is produced by Weed and Smith's company, A. Smith & Co. Productions. The show is based on the popular obstacle competition Spartan Race, founded by Joe De Sena and his partners in 2010. Spartan Race continues to grow in popularity with more than 1 million participants annually and 170 events in 28 countries.
Spartan Races started as an athletic competition, not a television show, but "we always knew it was made to be filmed, photographed and shared," De Sena said. "We began speaking with producers from the start, who agreed."
The first step was a show on NBC Sports Network centered around Spartan Race events across the globe. But the franchise had a bigger target in sight. After partnering with A. Smith & Co., organizers created Ultimate Team Challenge, now in its second season. The show features teams of five—two men, two women and an elite Spartan athlete, either a member of the Spartan Pro Team or another top athlete, such as an NFL or MLB player. Competitors battle it out on a military-style obstacle course over fire, water and mud for the opportunity to win $250,000.
The show's success requires viewers to feel a connection with the athletes, said Kristen Stabile, executive vice-president of productions for A. Smith & Co. "The contestants must be relatable and the competition itself must be easily understood," Stabile said. "They need a reason to root for or against them."
Both seasons have been filmed in Atlanta. One key aspect in bringing both Spartan Race and the show to new spots is financial support from the community, De Sena said. "If we are rolling in 30-40 people to do filming, that's extremely expensive," he said. "We need financial support, an epic location and a great story. The benefits are all the dollars we bring to the community and all the exposure."
Drone Racing League
The Drone Racing League offers a different twist on reality sports. With all events held indoors, it combines traditional live sports with digital sports. Pilots race custom-built drones at over 80 mph through nontraditional venues such as subway tunnels, abandoned factories and old paper mills. And at the end of its latest season, the DRL World Championships were held at Alexandra Palace in London, built in 1873.
Founded by Nick Horbaczewski, the show's first season aired in 2016 and the second season started in June, both on ESPN. The DRL is currently broadcast in more than 75 countries and is reaching tens of millions of viewers. Allianz Insurance has signed on as the title sponsor for the league.
What's the secret? "It's exciting to watch," said Ashley Ellefson, director of operations for the Drone Racing League. "We're tapping into VR [virtual reality] meets e-sports meets car racing—but it's real. You can put the goggles on and fly along with one of the pilots as they're racing through the course. It's a viewer experience that doesn't exist anywhere."
As for choosing locations, Ellefson said, "If you were a bird, where would you want to fly? Everything is driven by the venue and the location. Venues that are going to create the best racing are indoors—150,000 of square footage—wide-open spaces with sweeping turns and big ceilings where we can really make use of 3D space."
Ellefson noted that during the 2017 racing season, DRL staged one of its events in a Mardi Gras float warehouse in New Orleans, a one-of-a-kind location that you wouldn't see anywhere else. The show's producers worked with the local sports commission as well as the owners of Mardi Gras World to create a special backdrop for the race. "It's incredibly valuable for us to leverage the CVBs, sports commissions and the host cities for their local knowledge," said Ellefson. "A lot of times they will know about venues that are closing down or have just opened or are being built."
Ellefson said she is currently sifting through about 20 different proposals from U.S. cities and is looking at Asia, Australia, Europe and South America as potential hosts for the 2018 season. The show is always talking to interested parties, seeking interesting locations and organizations who are eager to join forces with the DRL. "We are looking for partners that understand the global reach for the TV show," she said. "We have a production crew of 150-plus that use 500 hotel room nights. We really look for places that are looking to drive awareness and be a good partner with us to work toward a longer timeline with regard to ROI."
Ellefson said DRL is just the beginning of a new movement in the world of reality TV sports. "We are blazing the trail where it's both a live sporting event—where we have people there watching and cheering and there are stakes at hand—but it's also a TV show. DRL is really a TV property and a sport. I think that's very unique about us."
And Even More…
And the list of reality sport competitions continues to grow longer.
CBS Sports recently teamed up with Tough Mudder to create a new series that began in July. "Tough Mudder X," "America's Toughest Mudder" and "World's Toughest Mudder" will all now debut on CBS, with encore presentations set to air on CBS Sports Network during prime time.
And the search for Olympic contenders has produced "Scouting Camp: The Next Olympic Hopeful." The competition features athletes in bobsled, skeleton, track cycling and rugby, with the top contestants in each invited to join U.S. national team camps. This is a partnership between the U.S. Olympic Committee and 24 Hour Fitness. The journey will be highlighted on Team USA social and digital channels, and the full program aired on NBCSN in August.
Bright Future
There are clearly plenty of opportunities for cities to host reality TV sports events. The key is to be passionate about hosting. Getting CVBs, tourism boards, sports commissions and local government officials on board is a huge plus as well.