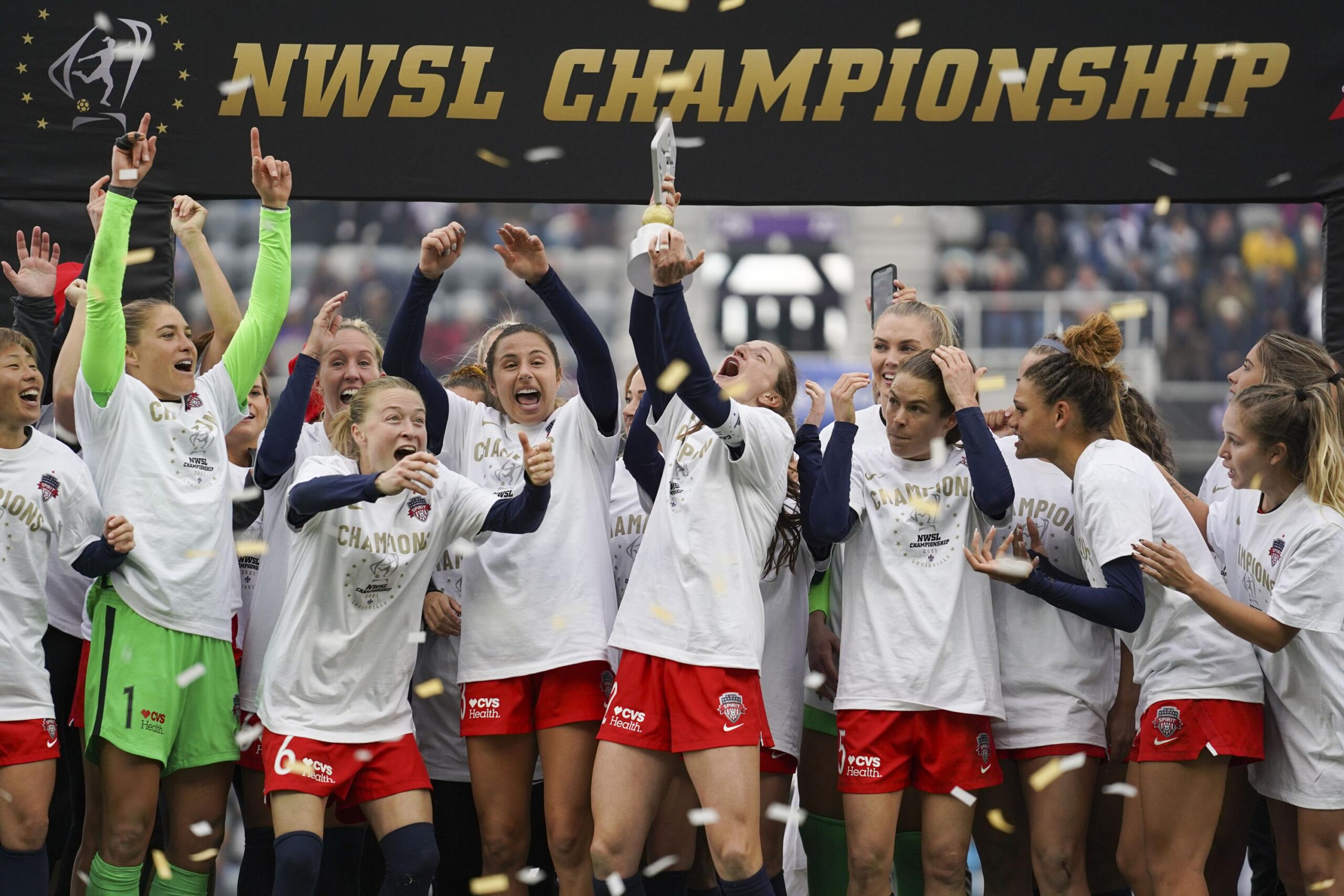 The National Women's Soccer League Championship will air in primetime for the first time ever in a major announcement between the NWSL, Ally Financial and CBS Sports.
The 2022 Ally Financial NWSL Championship, presented by Budweiser, will air on CBS and stream on Paramount Plus on October 29 from Audi Field — primary home of the defending NWSL Champion Washington Spirit and home of Major League Soccer's D.C. United.
The game was moved from its originally scheduled time of noon ET following a recent effort by Ally, CBS and the league.
"We are delighted to bring the NWSL Championship to D.C. this year and, thanks to the continued collaboration with our partners at CBS and Ally, equally excited to present the match in its first-ever prime-time slot for fans tuning in across the country," said NWSL Commissioner Jessica Berman. "As we continue to advance the women's sports landscape in the U.S. and around the world, this is a particularly significant moment for the league and an opportunity our players wholly deserve. We look forward to celebrating the end of a fantastic 10th anniversary season in person and on the air with what will surely be an exciting final."
Match coverage will begin at 8 p.m. ET on CBS, Paramount Plus and internationally on Twitch, with pre-match coverage at 7 p.m. ET on Paramount Plus.
"Like sports fans across the country, we knew it was important to create a pathway to primetime for this year's NWSL championship game," said Andrea Brimmer, Ally's chief marketing and public relations officer. "We increased our media investment with CBS to help make it happen, delivering the first action in our promise to watch the game, change the game."
Fans can register for priority access to tickets for the 2022 NWSL Championship at Audi Field in Washington, D.C. by clicking here. Priority pre-sale begins September 7 and tickets are available to the general public on September 8.
"We are thrilled to present the NWSL Championship Game in primetime, creating more exposure and reach for this fantastic league as we showcase the best in soccer to a passionate fanbase as well as a new audience," said Dan Weinberg, executive vice president, programming, CBS Sports. "We appreciate the partnership with the NWSL and Ally, as together we make league history in a historic year, celebrating the 50th anniversary of Title IX."
The 2022 NWSL playoffs will feature the top six teams at the end of the regular season. The quarterfinals are set to begin the weekend of October 15–16 across CBS Sports Network and Paramount Plus, and the semifinals will take place the weekend of October 22–23 on CBS Sports Network ahead of the Championship game on October 29. All playoff matches will stream internationally on Twitch.