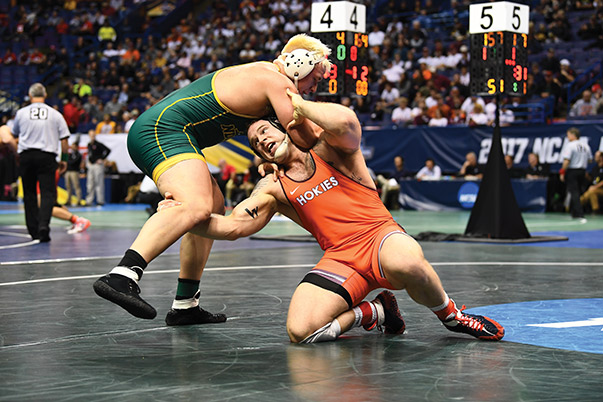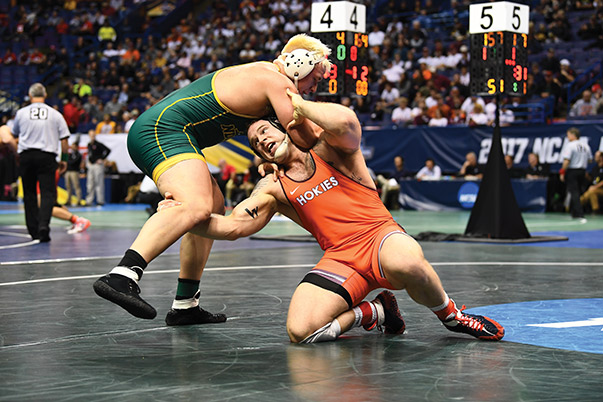 No collegiate conference has put its stamp on wrestling more than the Big Ten. Penn State recently won the team title at the NCAA Division I Wrestling Championships at Scottrade Center in St. Louis—the school's sixth title in the last seven years and the 11th straight win for a Big Ten member.
And if a city can claim to be as dominating as a wrestling host as the Big Ten is on the mat, it's St. Louis, where the championship event was held for the eighth time since 2000. This time around, the city broke the attendance record for the event, with a paid attendance of 111,454 over four sessions. Technically, the official record for the event stands at 113,013 in 2015, but that was when the NCAA counted 600 seats per session dedicated to athletes not competing. "We actually had and sold more seats (this year)," said Anthony Holman, NCAA associate director of championships and alliances. "The counting has changed since the last time we were there. We only record the paid attendance."
This year's NCAA wrestling championships also received a boost when ESPN announced that it would televise each of the three evening sessions live on its flagship outlet, with daytime sessions carried on ESPNU. "That really helped in our promotion," Holman said. "That was something we were excited about." ESPN reported an average total live audience—combining television and live streaming viewers—of 753,000 for the finals, up 12 percent from the prior year. Average viewership across all sessions was 314,000, an increase of 24 percent from 2016.
On the Saturday night of the individual championships, there was no drama in the team standings because Penn State had already assured itself of the team title. But the Nittany Lions provided plenty of dramatic matches in primetime, claiming victories in all five of the individual classes in which the team competed.
The event has prompted the NCAA to contemplate a change in the future with regard to gate time entries for spectators. Evening session gates opened 90 minutes before the first match, but daytime sessions saw gates open just 60 minutes before competition. Now the NCAA is putting some thought into opening the gates 90 minutes prior for those sessions as well. Another behind-the-scenes change that might be implemented is earlier morning access to the venue, which would allow the athletes with coaching supervision to work on their weight-cutting exercises or to relax before the weigh-ins.
To benefit the wrestlers, more space was allotted this year inside Scottrade for practice. Equipment stored inside Scottrade was moved elsewhere to create more practice space. "We were just making sure the student-athletes are getting what they need to be at their best for their competition," said Chris Roseman, vice-president of the St. Louis Sports Commission. "More practice areas for them—that's key to those guys and those coaches and their training partners."
Cleveland will host next year, with general admission seats already sold out. And St. Louis was recently awarded the event again for 2021. "When we aren't hosting the event, we go to the event," said Roseman. "When it's not in St. Louis, we pick up on things that work and don't work in other cities and tweak them. We make it better each year, so that's the benefit of hosting the event multiple times."