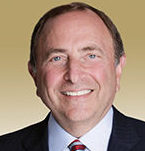 The National Hockey League commissioner has overseen a period of considerable expansion of the league, including several new events.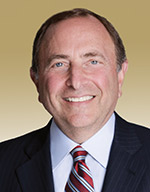 Gary Bettman was named commissioner of the National Hockey League in 1993, making him the longest-serving leader of the major North American sports leagues. In that time, the league has expanded to 30 teams and will add a new franchise, the Vegas Golden Knights, next season. In the meantime, the NHL has created a popular outdoor series of events and in September launched a revamped World Cup of Hockey with eight international squads. That move came as the league was deciding whether to send players to the 2018 Olympic Winter Games, as it has for every Games since 1998. In April, Bettman announced the league would skip next year's event, citing the need to shut down the season for three weeks to make it happen. In this interview, Bettman discusses the decision to leave the Olympics, Las Vegas as a hockey market and the NHL's outdoor schedule.
A number of factors were at play in your decision not to send NHL players to the 2018 Olympic Winter Games, including costs. In the end, was the shutdown of the season the largest issue for the league?
The league has never been anti-Olympics. But we're anti-disruption to the season and it disrupts the season in a whole host of ways and you don't need me to list those ways. But it is a terrible disruption to the season with no offsetting benefit.
Is the door shut for any participation at future Games?
I would never say never. But location might make a difference. So, for example, I know Calgary may be bidding on a Winter Olympics. An Olympics in North America is different on a whole host of levels. It doesn't mean it's not disruptive, but it's not as disruptive. If it's here, relative to coverage and time zones and travel, it's a different equation.
Looking back at the five Olympics in which NHL players participated, did that participation help with the league's exposure around the world?
No, not really. We're a worldwide brand. We have a worldwide presence. We're the most international and have been of all the North American sports leagues—25 percent of our players come from outside of North America. I don't believe it helped at all.
The league recently revamped its World Cup of Hockey, staged in Toronto before the 2016–2017 season. What was your takeaway from that event?
The World Cup was great. It accomplished everything we hoped to. It was a success in terms of the competitiveness of the tournament and in terms of attendance and fan interest. We were able to do a whole host of things around the World Cup including legacy projects and the fan village. In terms of re-establishing itself as an event on the world stage, we created an event that was a destination and we re-established an event that hadn't taken place in over a decade. So I'm very excited about the future opportunities the World Cup presents. Having said that—and I may be anticipating your next question—doing the World Cup or not had nothing to do with the Olympics decision.
The World Cup nonetheless gave you some international exposure…
That may be, but one had nothing to do with the other. The World Cup was with our players, our control, our sponsors, our media, our ice, our officials, our rules, and our ability to market and promote the hockey that's taking place. And it wasn't during the season.
How often will you stage that event?
On a periodic basis. A lot of people have suggested every four years. That may be the right framework but that's something that we'll continue to explore.
The Vegas Golden Knights debut next season. Do you think people will be surprised by how strong a hockey market Las Vegas will be?
We're not going to be surprised but I suppose there are some skeptics that will be surprised. But the reaction the franchise is getting, whether it's 14,000 or so season tickets, whether it's the interest that was evidenced when we had the announcement of the name and somewhere between 5,000 and 6,000 people showed up to hear the name announced, the reception the team is getting is great. There are two aspects to this. One is a lot of people, if you don't live in Las Vegas, don't know Las Vegas other than the Strip. It's a metropolitan area of 2 million people or more that's growing rapidly. It's one of the fastest-growing markets in the United States and there are people looking for things to do like you have in other major cities, including professional sports. So there is a community there that was and is looking for something like this. And, by the way, our view of the market is obviously something that subsequently has been ratified by the National Football League's decision to go there. They've obviously gotten as comfortable with the market as we were. But secondly, what I think will be intriguing and exciting and special is this franchise was born in Las Vegas. Its history will start in Las Vegas and there are lots of people who are very excited and passionate about the fact they will have been there from day one.
At the same time, it's such a popular visitor destination. Do you expect fans from other NHL cities will travel to Las Vegas more than they might for other away games?
Well, the building will be largely filled by local season-ticket holders based on how they sold it. My guess is there will be a vibrant secondary market for people when they come into town who want to travel to see their team on the road in Las Vegas. One of the great things for us about being in Las Vegas is it's a unique city. It has a unique visibility worldwide and I think it's going to raise the profile of hockey and the NHL.
The league recently announced two preseason games in China for next season. What's your view of the potential for that market?
I was there two weeks ago and I had a number of meetings including with China's minister of sport. There is an incredibly large commitment to develop winter sports and hockey in particular. We're looking for ways to work together to help them do that.
Would it be a lost opportunity to not be at the 2022 Olympic Winter Games in Beijing then?
Our discussions were about the long-term growth of the game, not about two weeks.
You've staged a different number of outdoor events each season the last few years. Is there an ideal number?
It's case by case. We sometimes are impacted by when venues may or may not be available. We went to St. Louis this year because of the team's 50th anniversary. Toronto was done to celebrate our 100th anniversary. And Pittsburgh's 50th anniversary was also this year and we had an outdoor game there with the Flyers. We look to see what makes sense in light of what celebrations we're looking to focus on. The fact of the matter is we look to do it in a way that ties in with everything else we're doing.
Will the novelty of the outdoor games ever wear off?
Sometimes you hear the media say that. Those are typically people who watch on TV and don't go to the games. If you've been to these games, you understand that our fans, our clubs and the communities they play in can't get enough of these games. It takes the game back to its roots. It takes it outdoors into the elements, which makes it the ultimate sports reality show and subjects it to the elements in ways we don't traditionally do. And the sense of community is great. We generally play in buildings between 18,000 and 20,000 people. To do it in buildings with 40,000, 60,000, 80,000 or 100,000 people, which we've done—even more than 100,000—brings a special atmosphere to what is already the best in-person experience in sports.
When you measure success for your events like the Winter Classic or now the World Cup of Hockey, do you factor in room nights and travel by fans?
All of these events have huge economic impact—both by local people and people who generally travel from all over for these events. What comes to mind as you're saying it, I was in Nashville to make an announcement and I was getting a cup of coffee at a local coffee place and there was a table full of people wearing Tampa Bay Lightning jerseys because they were in town for a game. That's why it goes to your earlier point. I think a lot of people are going to go to Las Vegas to see their teams play on the road. Road trips are in our DNA.
The NBA recently announced the launch of its own e-sports league. Can you envision a similar push toward an e-sports league for the NHL?
This is something we've been focused on for more than a year, it just hasn't gotten any attention. I view e-sports not as a single-player game. I think to the extent we get involved in e-sports—and it's something we're working on—is we'll build a team-oriented game with competitions among people to represent their NHL team in a broader competition. I view a social element to this where you try and put together a team and you're looking for a goaltender or a left wing and it will be very participatory. It's still in the developmental stage.
The playoffs are underway. What's your travel schedule like during the playoffs?
It's interesting. In the first round, I like to spend the first couple of nights watching on TV because if you're at a game, you don't know what else is going on. Yes, I have my app so I can follow things, but I'm less in touch. The first couple of nights, I'll watch all games simultaneously—I have a setup to do that. But starting after the first week, most nights I'll be at a game.
As NHL commissioner for 24 years, you are currently the longest-serving commissioner in pro sports in North America. What's been the key to your longevity?
First of all, thank you for pointing out that I'm the oldest.
I believe I said "longest-serving"…
[Laughs.] No, I understand. That means I'm also the oldest. You know what, I and the great people I get to work with have a passion for the game. Everybody works hard and we try the best we can to serve the interests of the game and the interest of our fans and to grow the game. And I have great support from what I think are the best owners in sports.