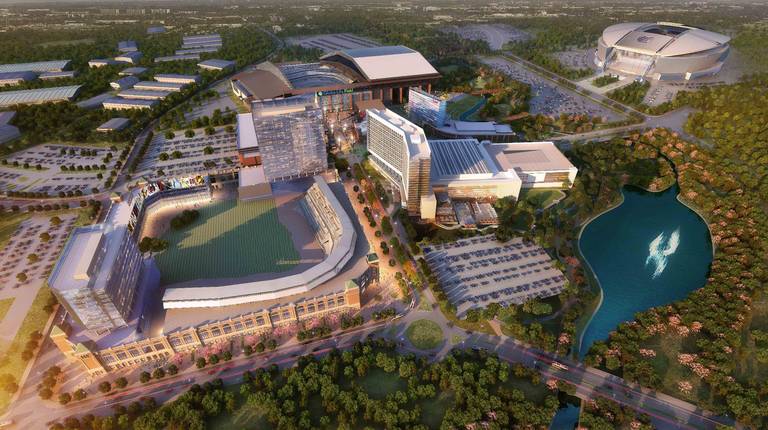 Arlington, Texas, will get a new 150,000-square-foot convention center as part of an expanded $810 million mega-project in the city's entertainment district that will start construction in 2020 and be ready by 2023.
The project, approved by the Arlington City Council, will be developed as a public-private partnership with Loews Hotels, the Texas Rangers, Cordish Companies, the city of Arlington and Tarrant County, and will include a new Loews hotel. It will be located in the Arlington Entertainment District that includes the $250 million Texas Live! entertainment complex, two Six Flags complexes and the homes for the Rangers and Dallas Cowboys: the soon-to-open Globe Life Field and AT&T Stadium. The entertainment district also is home to Esports Stadium Arlington, which will host the 2020 EsportsTravel Summit in June. The site is also home to the Rangers' existing home, Globe Life Park, which will remain and be converted for other sports use including the home for the XFL's Dallas Renegades and the USL League One soccer franchise North Texas SC.
"Arlington has been recognized as a leader in hosting sports and entertainment events and we believe, along with our great partners, that with the right bold vision and investments, we can become just as successful with meetings and conventions," Arlington CVB President and CEO Ron Price said.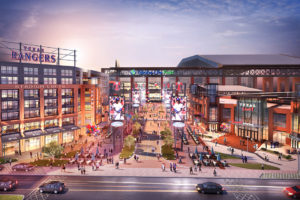 The planned convention center will have 150,000 square feet of indoor space, plus 66,000 square feet of outdoor space and a future expo hall that will connect via a skybridge to a Loews Arlington Hotel, which will have 888 rooms and 1,500 parking spaces. The Loews hotel project will be located across the recently opened Live! by Loews Hotel, which has 300 rooms.
"The Texas Rangers are proud to call Arlington our home as the city and its leaders continue to create one of the nation's premier sports and entertainment destinations," Rangers Co-Chairman and Managing Partner Ray Davis said. "With its opening next March, Globe Life Field will be the finest ballpark in Major League Baseball, and the development projects announced this evening are another very exciting addition to the area."
The Arlington CVB said the city lost out on $16 million in hotel stays between November 2018 and November 2019 because of missed business opportunities that the new convention center would attract.
There are plans to develop the southwest corner of Globe Life Park stadium into 200,000 square feet of office space including 280 residential units along with 100,000 square feet of restaurant, retail, parking and small business incubator space on the southeast corner of the intersection built by the Cordish Companies.
Between the new Globe Life Field, Texas Live!, Live! by Loews Hotel and the newly approved project, the total investment into the area totals over $2.25 billion.
"We continue to build on the economic momentum in our world-class Entertainment District," Arlington Mayor Jeff Williams said. "This project and the recent National Medal of Honor Museum will add significantly to the city's sales tax revenue, allow us to continue to keep our taxes among the lowest in the area and provide the quality services our residents have come to expect with minimal public investment."