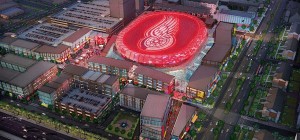 A new arena for the NHL's Detroit Red Wings has been slated to open in summer 2017. The Olympia Development of Michigan has announced that the new arena will be part of the creation of a sports and entertainment district that will connect existing and new development efforts in downtown and midtown Detroit along Woodward Avenue with five walkable, livable mixed-use neighborhoods.
"It's always been my dream to see a vibrant and energized downtown Detroit," said Mike Ilitch,  owner of the Detroit Red Wings and chairman of Ilitch Holdings, Inc. "I want people to look at Detroit's new sports and entertainment district and see what I see: the potential for something very special. I couldn't be more excited and proud to bring this vision to life."
According to the Olympia Development of Michigan, the construction of the district and the arena is expected to create approximately 8,300 construction-related jobs and 1,100 permanent jobs in Detroit. The project is expected to spur at least $1.8 billion in economic impact for the city, region and state.
Development of the new, mixed-use neighborhoods in the district will occur concurrently with the construction of the new arena. Construction is scheduled to begin fall 2014.