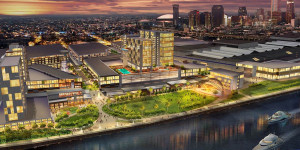 New Orleans Governor Bobby Jindal has given final approval to the Ernest N. Morial Exhibition Hall Authority to begin executing the Convention Center Development Project, which will revitalize the New Orleans Ernest N. Morial Convention Center.
"This is a historic moment for the city and state," said Melvin Rodrigue, Ernest N. Morial Exhibition Hall Authority chair. "This action by the governor allows us to take aggressive steps to develop a long under-utilized part of the city's riverfront and to make the kind of improvements in our hospitality and entertainment offerings that will ensure the city will continue to stay competitive as a visitor destination of choice for millions of people. This Convention Center District Development Project will be a demand generator that will benefit the local hospitality industry and economy for years to come."
Convention center officials estimate that the project could entail up to $700 million in private investment, which is expected to produce thousands of new jobs and sales and occupancy tax revenues for the city.
"The time is now to seize this landmark opportunity and to give visitors and locals new options for enjoying and exploring our city," said Bob Johnson, president and CEO of the Ernest N. Morial Convention Center. "With the bill becoming law, we are now free to begin exploring options to identify the right master developer to lead us through this process and generate the outside investment that will make this project one of the largest infrastructure project for Louisiana in recent history."
Proposed aspects of the project include the construction of a new headquarters hotel on the upriver side of the convention center, a linear park along Convention Center Boulevard, outdoor entertainment, arts and cultural venues and new retail and housing options.