New Sports Venues to Watch in 2021
Construction has continued despite the pandemic, with several venues coming online
Posted On: February 18, 2021 By :
As the demand for spaces to host sporting events continues to grow with an eye toward sports-related travel in a post-coronavirus world, destinations across the country are examining their inventory, identifying needs and building accordingly. Here are 15 new sports complexes to keep an eye on in 2021.

Bedford Park, Illinois
OPENING: Fall
Midway Central Station is an indoor 116,000-square-foot, two-story venue that consists of eight high school regulation basketball courts, 16 NCAA regulation volleyball courts, a family entertainment center and a destination bar/restaurant with meeting rooms for special group events. The SFM-operated complex will also have a redemption arcade and esports café. The complex plans to host basketball, volleyball, pickleball, mat sports and cheer/dance events once open.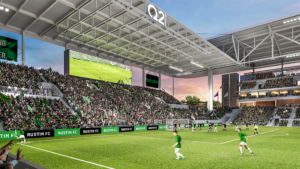 Austin, Texas
OPENING: Spring
One of three venues opening this year that will be home to Major League Soccer teams, Q2 Stadium has been designed to be a multipurpose venue, including other professional and amateur sporting events, concerts, community activities and cultural events. MLS expansion team Austin FC will play in front of more than 20,500 fans when at capacity with future expansion potential for another 1,500 seats. Approximately 30 percent of the seats feature breathable mesh seating.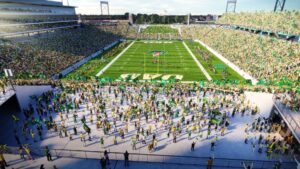 Birmingham, Alabama
OPENING: Fall
Located near the Birmingham-Jefferson Convention Complex, the stadium will be home for the reinvigorated UAB Blazers football program as well as  the future host of the opening and closing ceremonies for the 2022 World Games. The Blazers will play in the venue that will accommodate 47,100 including 24 suites, 1,100 stadium club seats and Game Day Cabanas on the sidelines. Birmingham-based insurance company Protective Life signed up for a 15-year naming rights agreement.

Bridgeport, West Virginia
OPENING: Summer
The Bridge is an indoor/outdoor, 156,000-square-foot, three-story venue. It will consist of six hardwood basketball/volleyball courts, a family entertainment center, an indoor aquatics with 25-meter competition pool, a fitness center, one indoor turf field that measures 40 yard by 70 yards, an indoor climbing facility, one outdoor turf field, as well as meeting rooms for special and group events. The SFM-operated complex will be located in a region where the community is focused on hosting local and regional tournaments.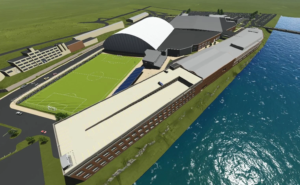 Hamilton, Ohio
OPENING: December
The $144 million facility is set to be the largest indoor sports complex in North America at 1.3 million square feet once open. The sports complex will include about 700,000 square feet with two turf fields, 10 hardwood courts, a baseball facility, concessions and convention space on the former site of a Champion Paper Mill. The complex will be under the brand of Spooky Nook, an indoor sports company in Pennsylvania; the operators told the New York Times that 35 weekends for next year have already been booked.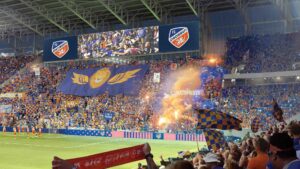 Cincinnati, Ohio
OPENING: May
The home of FC Cincinnati after two years of playing on the University of Cincinnati's campus, West End Stadium will seat up to 26,000 and include 53 suites, the most in any non-NFL stadium in Major League Soccer. Seats will be as close as 15 feet to the playing surface and every seat is covered by a 360-degree roof canopy. The most eye-catching spot will be "The Bailey" where the supporters section will be located with 3,170 safe-standing seats.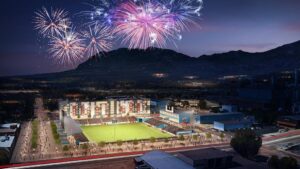 Colorado Springs, Colorado
OPENING: Summer
The USL Colorado Springs Switchbacks FC's new 8,000-seat stadium will have the same name as its previous stadium and will be the highest elevated professional stadium in the USL Championship and the United States at 6,035 feet. The stadium will feature a patio deck to watch the game along with field-level club areas. Family-owned and operated, the stadium will also offer indoor and outdoor areas for special events with 117,000 square feet of event space, including views of Pikes Peak and the Rocky Mountains.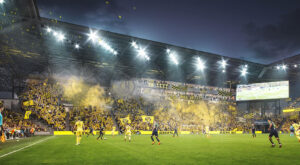 Columbus, Ohio
OPENING: Summer
Columbus is retiring the first soccer-specific stadium in the United States, Mapfre Stadium, and moving the MLS Cup champion Crew into a new stadium that will seat 20,000. The "Nordecke" supporters section is built at a 37-degree incline with 3,356 safe-standing seats — which, importantly for Columbus, is a few hundred more than its regional rival Cincinnati. The supporters section will also have an outdoor beer garden and the field is 22 feet below grade to enhance crowd noise.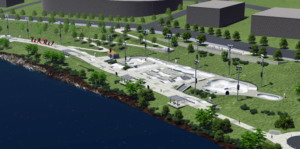 Des Moines, Iowa
OPENING: May
The 88,000-square-foot attraction will showcase Olympic-caliber park and street courses and include a promenade, flow bowl, amoeba pool, snake run, and a skateable art piece entitled WOW. Designed and constructed by California Skateparks, the venue is poised to host local, regional, national and Olympic-qualifying events. The skatepark will be tied into the Principal Riverwalk, a 1.2-mile loop that features pedestrian bridges, an amphitheater and a restaurant/bar overlooking the river.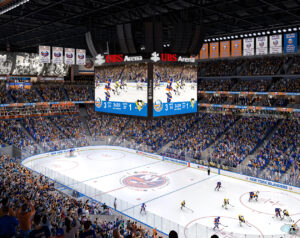 Elmont, New York
OPENING: Fall
After decades of searching for a new home, the four-time Stanley Cup champion New York Islanders will have one on Long Island. The 17,000-capacity for hockey venue will also host more than 150 major events annually. It will have two outdoor terraces and eight bars inside the arena with views of the ice. The exterior will "pay homage" to New York landmarks such as Grand Central Terminal and is part of an Oak View Group mixed-use entertainment district that includes a 250-room hotel.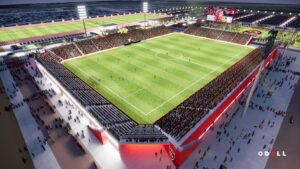 Gila River, Arizona
OPENING: Summer
Arizona's highest-level professional soccer team is moving this year from south Scottsdale to Wild Horse Pass within the Gila River Indian Community to a new stadium that will increase capacity to 10,000. The new venue will also have improved VIP luxury suites, speed entry and exit from the stadium complex and additional training fields. The stadium will include an enhanced video board and a new family-friendly general admission section opposite the supporters' area.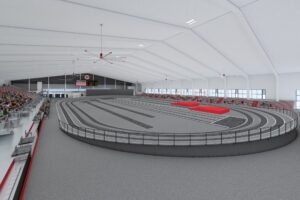 Louisville, Kentucky
OPENING: February
The 24-acre multisport venue, which broke ground in August 2019, hosted University of Louisville Cardinal Invitational along with two other events after opening in February. Louisville Urban League built the center and ASM Global will manage the space, which has 90,000 square feet of floor space, 4,000 seats, a 200-meter banked indoor track and competition areas for jump, vaults and throws. The venue also features a 400-meter outdoor track. The indoor track's Mondo hydraulic floor can be lowered to provide space for a variety of other events.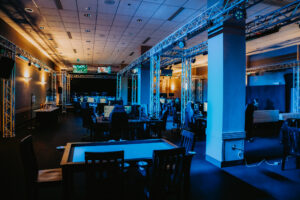 South Bend, Indiana
OPENING: February
Bendix Arena, a new esports venue built inside the Century Center Convention Center, seats more than 500 people in its 6,000-square-foot competition center. The venue also features a LAN gaming center with 36 PCs plus Nintendo and Xbox gaming stations. The space was designed by the esports firm SimplyNew and includes partnerships with Bethel University and the South Bend Lions soccer club to use the space for practice and competition. Already-planned enhancements include show lighting, a robust sound system, new truss system, gaming pods and a broadcast studio.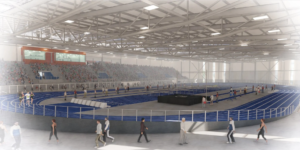 Spokane, Washington
OPENING: Fall
Operated by the Spokane Public Facilities District, the 135,000-square-foot venue will host amateur, collegiate, national and international competitions. Its marquee feature is a 200-meter, six-lane hydraulically banked indoor track but the overall complex also has 16 volleyball courts, nine basketball courts and space for 21 wrestling mats. There are 3,000 permanent indoor seats with 1,000 portable additional seats available depending on the event.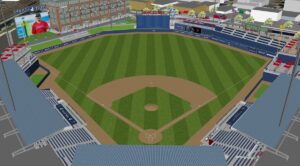 Worcester, Massachusetts
OPENING: Summer
The new home of the Triple-A Worcester Red Sox, the ballpark in Worcester's Canal District will have a capacity of about 10,000. Full-color videoboards will be located in left field and right-center field as well as a digital scoreboard along the "Worcester Wall" in right field. The goal is for the facility to host at least 125 events per year including 68 baseball games, road races, collegiate and high school sporting events and more.
Posted in: Action Sports, Amateur Sports, Baseball, Basketball, Collegiate Sports, Esports, Football, Hockey, Main Feature, NHL, Professional Sports, Running, Soccer, Sports Venues, Swimming, Track & Field, Wrestling, Youth Sports