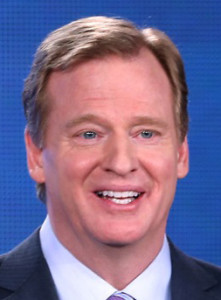 The National Football League and its commissioner, Roger Goodell, have been named the recipients of the National Football Foundation Gold Medal.  The award is the highest honor presented by the organization, recognizing individuals who reflect the leadership values promoted by amateur football.
"Nobody better understands the impact that football can have on a community than Roger Goodell," said NFF Chairman Archie Manning. "The NFL and Roger Goodell have been staunch supporters of the NFF for many years and our mission of using football to promote the scholar-athlete ideal and leadership in the community. We are thrilled to shine a light on their long list of contributions by presenting them the NFF Gold Medal."
Goodell becomes the 59th recipient of the award. Among those who have also received the NFF Gold Medal are actor John Wayne, MLB Hall of Famer Jackie Robinson, as well as seven U.S. presidents.
"We are proud that the National Football Foundation has selected the NFL to receive this prestigious honor," said Goodell. "I am privileged to be part of the NFL and we will work hard every day to uphold the values represented by the award."
The NFL has been a long-time supporter of the NFF. The league endows the NFF National Scholar-Athlete Awards and helped launch the organization's Play It Smart program, which places academic coaches on football teams in disadvantaged communities.