Super Bowl Off to Super Start
The Super Bowl is the biggest event organized by arguably the biggest professional sports league in North America. So perhaps it's fitting that one of the biggest markets in the world—New York City—has already played host to a dizzying number of events this week. But this Super Bowl, which will be played at MetLife Stadium, is not just a New York affair. New Jersey has played a key role as well, hosting Media Day at Prudential Center in Newark and team press conferences at their hotels in Jersey City.
Media Day on Tuesday marked the third time the NFL has sold tickets ($28.50 apiece) for fans to witness (and listen to on closed-circuit radios) the chaos of more than 5,000 credentialed media trying to interview players and coaches on each team. The media presence was thick, with reporters swarming Peyton Manning's booth for the Denver Broncos…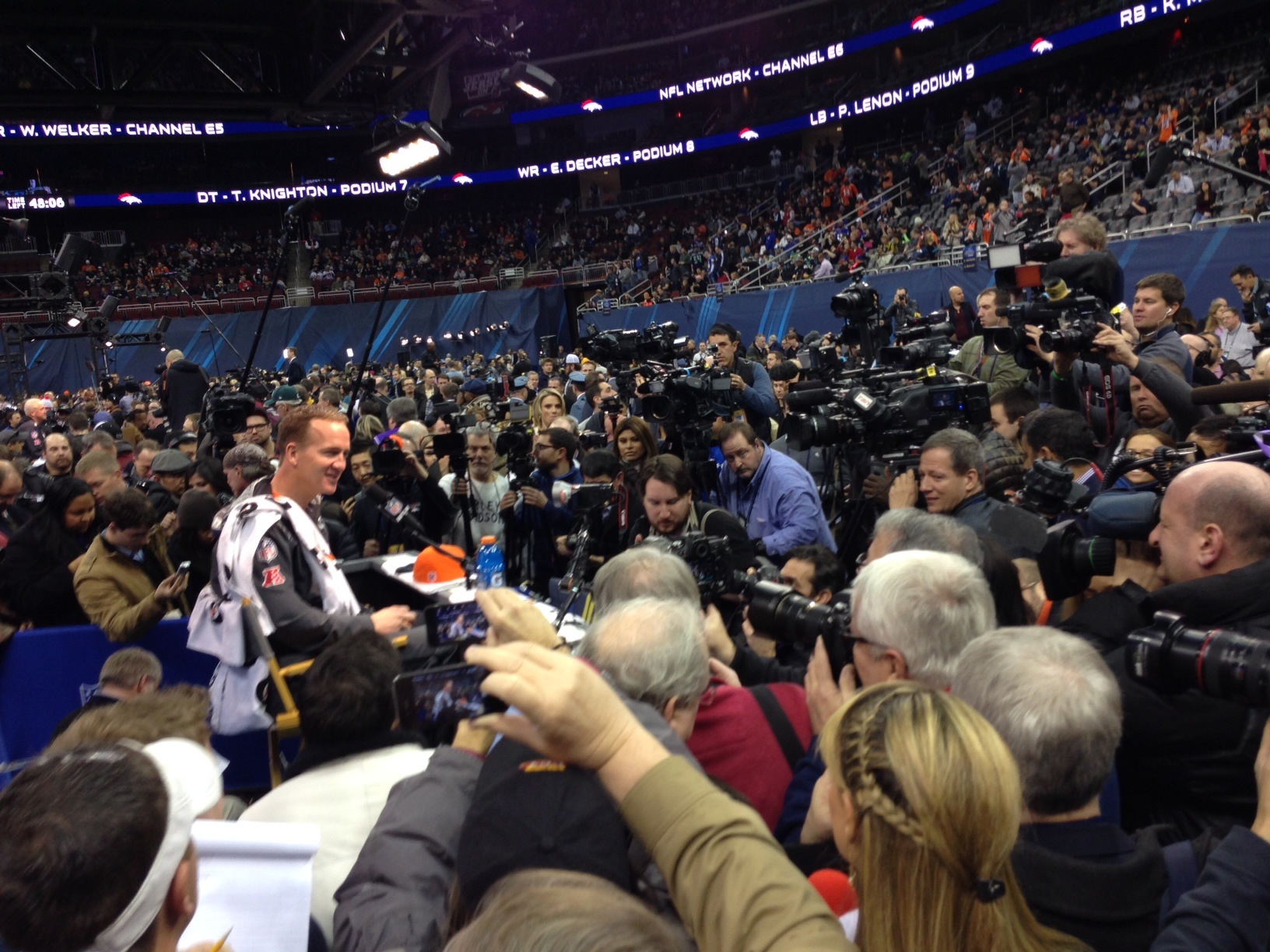 And Richard Sherman for the Seattle Seahawks…
But for fans in the stands, the view from above looked like ants scurrying. To help the experience, not only could fans tune into any player's booth they wanted to on the floor, but video monitors overhead projected their live video feeds so they could see the occasionally raised eyebrows that some of the questions on Media Day elicit. ("Can I have a hug?" was a common question by one media attendee…)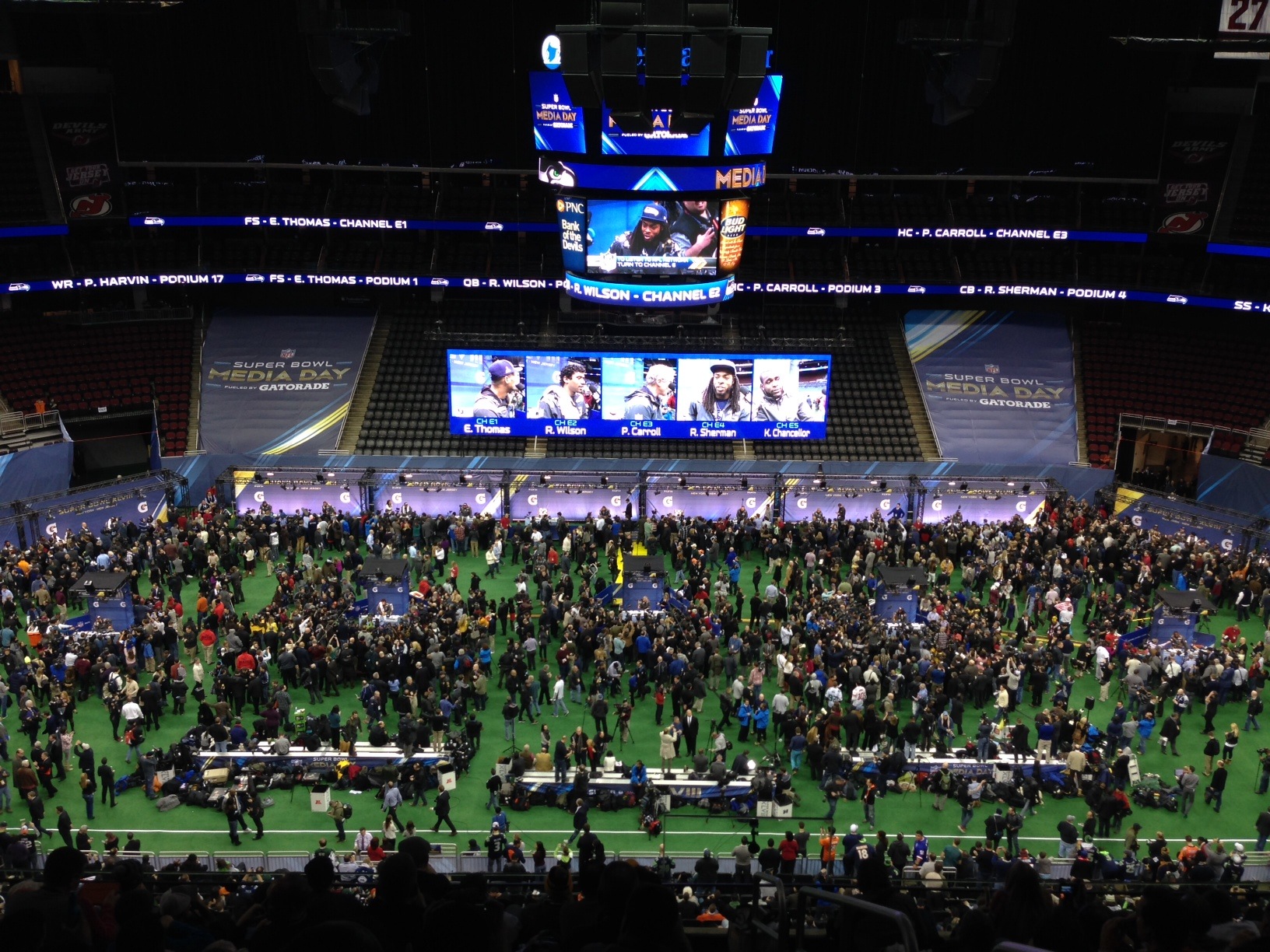 As for the game itself, NFL officials and top federal, state and local law enforcement briefed the media Wednesday on plans to secure the event. From U.S. Homeland Security Secretary Jeh Johnson to New York Police Commissioner Bill Bratton, the message was the same: If fans see something out of the ordinary at the game or any ancillary activities, they should tell law enforcement. In addition, the league announced a laundry list of items that fans will not be allowed to bring in on game day. Those items include food, drinks, banners, beach balls, camcorders, camera lenses larger than 6 inches, containers, footballs, fireworks, Frisbees, laser lights, mace, noisemakers, strollers, tripods, umbrellas and, of course, weapons, knives and explosives. Fans will be allowed a clear plastic, vinyl or PVC bag as long as it doesn't exceed 12 inches by six inches by 12 inches, but as NFL security chief Jeffrey Miller advised, given the long list of prohibited items, "We highly recommend you don't bring any bags with you."
On top of securing the stadium and mass transit stations on game day, the New York Police Department is taking the lead on securing the massive Super Bowl Boulevard that has closed Broadway from 34th through 48th streets. It's an enormous undertaking that replaces the traditional NFL Experience usually held at a convention center in the host city.
The highlight of the boulevard is an eight-story toboggan run that will cost $5 (proceeds going to Hurricane Sandy relief), the only aspect of the otherwise-free Super Bowl Boulevard that will cost fans to attend. Despite frigid temperatures leading up to the game, it didn't appear to stop those in the city from having a little fun.