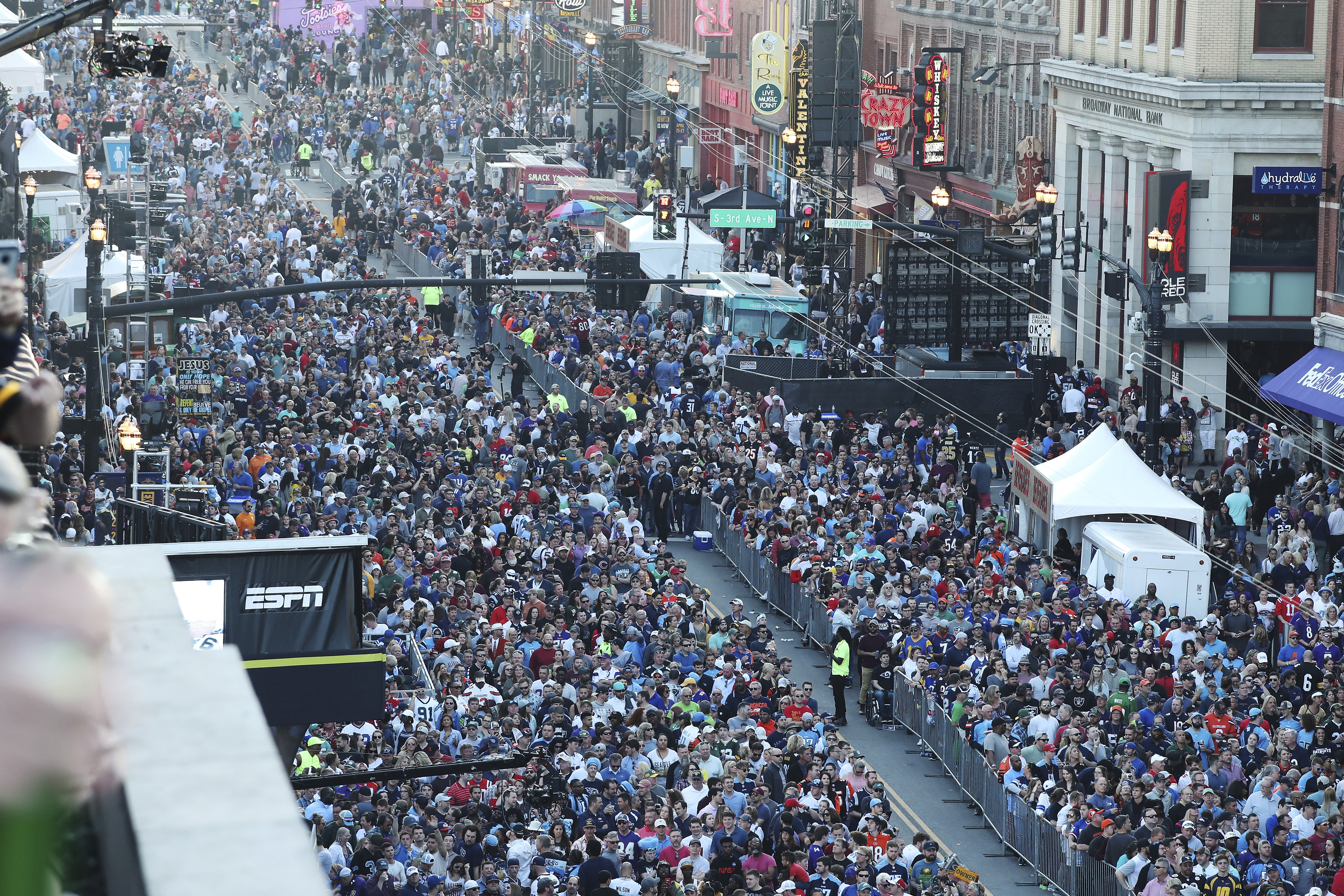 Nashville, Tennessee, shattered attendance records for an NFL Draft, with the league estimating that 600,000 people attended the three days of the draft held downtown. The closet previous estimate was 275,000 when Philadelphia hosted in 2017.
In addition, the league reported that the event set new records in media consumption, with an estimated 6.1 million viewers across NFL, ESPN and ABC television and digital channels. The combined telecasts reached 47.5 million viewers over the three days, up 5 percent from 2018, according to Nielsen. The 2019 draft marked the second consecutive year that all seven rounds were aired on broadcast television.
"The 2019 NFL Draft was a tremendous continuation of the celebration of the NFL's 100th season and an opportunity to welcome the next generation of stars," said NFL Commissioner Roger Goodell in a statement. "Dramatic and emotional storylines played out in cities across the country with the energetic host city of Nashville serving as a breathtaking backdrop to hundreds of thousands of passionate fans who lined the streets and enjoyed a unique NFL Draft Experience. We congratulate our newest players and their families and thank the Tennessee Titans, the Nashville Convention & Visitors Corp., the city of Nashville, the volunteers and everyone who made the draft such a memorable, entertaining and successful experience."
The 2020 NFL Draft will be staged in Las Vegas. Representatives of several cities that have expressed interest in bidding were in attendance in Nashville, including those from Houston, Kansas City, Cleveland and Denver. From 1965 to 2014, the event was staged in New York, with Radio City Music Hall hosting from 2006–2014. In 2015, the league began a rotation for the event, with Chicago hosting in 2015 and 2016, Philadelphia in 2017 and Dallas/Arlington in 2018.