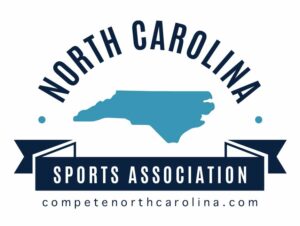 The North Carolina Sports Association has announced a new visual and digital identity designed to reflect its commitment to growing and promoting sports events across the state.
The association's new logo features a revitalized look focused on the iconic blue color often associated with the state. A retro typeface aims to pay homage to the old-world charm and Southern hospitality found in many of the state's small towns, according to the association.
The statewide collaboration of sports and hospitality industry representatives helps sports-event organizers and rights holders explore the communities and venues across the state interested in hosting their events. Members include convention and visitors bureaus, sports commissions, parks and recreation departments and venue operators.
"We are really pleased with the new identity for our state association," said NCSA Chair Bonny Bernat. "It speaks to both the 'at home' feel that our partners have come to experience when hosting events in North Carolina, but at the same time, provides an updated look and feel that is refreshing while truly identifying North Carolina in the competitive sports tourism marketplace."
To accompany the new logo, a new website was launched at www.competenorthcarolina.com. New social media accounts were also created to reinforce the branding and highlight the members and venues in North Carolina.