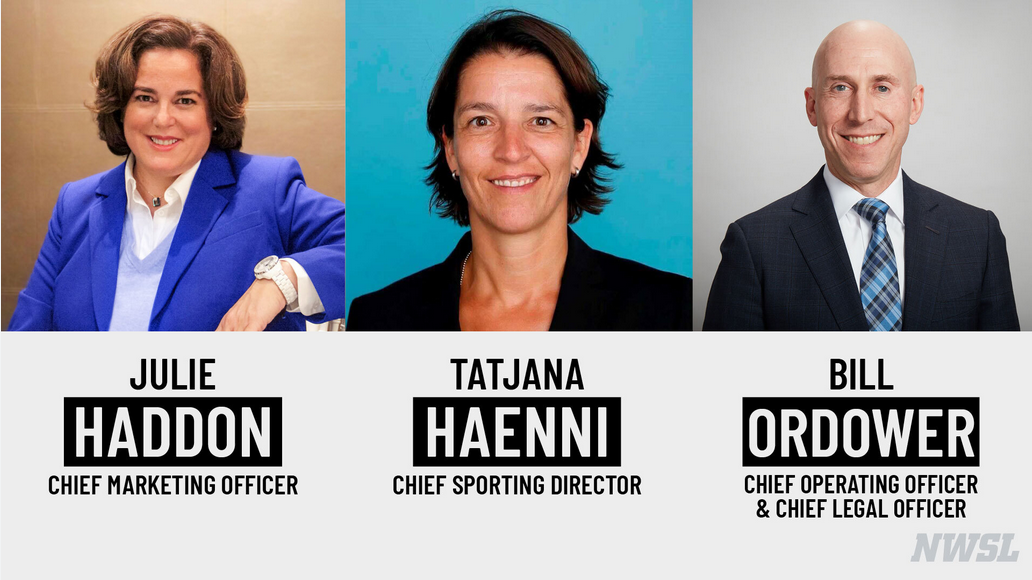 The National Women's Soccer League has announced the hiring of three senior executive roles, including Julie Haddon as chief marketing officer, Tatjana Haenni as chief sporting director and Bill Ordower as chief operating officer and chief legal officer.
Both Haddon and Ordower will join the league immediately, while Haenni will transition into her role over the coming months.
"I am excited to welcome Julie, Tatjana and Bill to the NWSL family," said NWSL Commissioner Jessica Berman. "Throughout the hiring process we were intentional about finding individuals who not only have the experience and qualifications necessary to succeed in these roles, but also a genuine enthusiasm for the future of the league. I am confident Julie, Tatjana and Bill will add tremendous value to the league's front office operations, and I am excited to have them on board as we continue taking the NWSL to new heights."
Haddon will oversee the planning, development and execution of the league's advertising, media, fan/player marketing, promotions, social media, influencer, research and brand efforts across all platforms. In addition, she will drive development and implementation of emergent growth strategies across the league, lead licensing and e-commerce, and establish a marketing innovation pipeline to increase audiences and maximize league revenue opportunities.
"I couldn't be prouder and more honored to lead marketing for the NWSL," said Haddon. "Working with a leader like Jessica, the players, clubs and the league staff to help grow and scale the NWSL into a global sports powerhouse is the opportunity of a lifetime. Soccer has always been the greatest game in the world, and I am thrilled to work with this remarkable organization, at this remarkable moment in time."
Haenni will collaborate with players, league officials and stakeholders to implement strategies that distinguish the NWSL from other women's professional soccer leagues. Haenni will also work closely with a myriad of national and international entities, including FIFA, CONCACAF and U.S. Soccer, to support and advance the NWSL's goals and initiatives while leading the development of procedures, policies and programs to identify, attract and retain players, coaches and referees.
"I have spent the majority of my professional career developing strategies to expand and elevate the women's game on a global scale and I'm excited to now have the opportunity to apply those strategies to the NWSL," said Haenni. "I look forward to working alongside my colleagues to create policies and programs that ensure the league continues to be both a destination for top talent and an organization at the forefront of advancing the sport."
Ordower will oversee the NWSL's player affairs and operations including the negotiation and administration of all player rosters and contracts, disciplinary process and game and medical operations. He is also responsible for all legal matters, including expansion, team acquisition and investment.
"I'm excited to join the league at such a pivotal time," said Ordower. "As women's soccer continues to gain traction in the global sports landscape, it is imperative that we remain strategic, focused and innovative to maintain our position as the best women's professional soccer league in the world. I look forward to working with our clubs, players and partners to develop and enhance the league in meaningful ways."