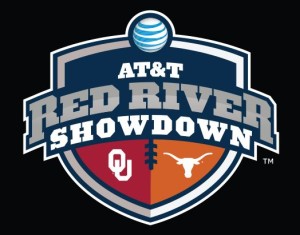 The annual football game between the University of Oklahoma Sooners and the University of Texas Longhorns has been renamed the AT&T Red River Showdown. The name is part of a brand refresh for the series, which includes a new game logo.
"We're excited to continue connecting college football fans to this iconic game for years to come," said Mark Wright, AT&T vice-president of media services and sponsorships. "Texas and Oklahoma fans are passionate about their teams and this game in particular. We love being able to help fans enjoy the matchup as part of such a long-standing football tradition."
The game began in 1900 and has been played in Dallas since 1912 and at the Cotton Bowl since 1929. Dallas' Cotton Bowl stadium is located equidistant from both universities.
"The Oklahoma-Texas game played annually at the Cotton Bowl is one of the grandest traditions in all of college football," said Joe Castiglione, University of Oklahoma vice-president for intercollegiate athletics programs and director of athletics. "We will continue striving to make this contest a truly memorable experience for the student athletes and fans of both the University of Oklahoma and the University of Texas amidst the unique and colorful atmosphere of the State Fair of Texas."
The game was known as the Red River Shootout until it was renamed Red River Rivalry in 2005 in coordination with the 100th meeting.
"We look forward to working with AT&T representatives and the University of Oklahoma to generate excitement for the new name and brand and continuing our relationships with the State Fair of Texas," said Steve Patterson, the University of Texas men's athletics director.
The 109th AT&T Red River Showdown is scheduled for October 11, 2014, at the State Fair of Texas in Dallas.