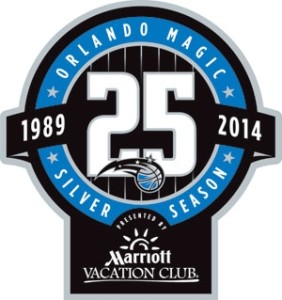 As part of the Orlando Magic's 25th anniversary "Silver Season" celebration, the team has named Marriott Vacation Club as its presenting partner for the 2013–2014 season.
"For nearly 30 years, we've been providing exceptional vacation experiences to our owners and guests at our resorts around the world and especially right here in our hometown of Orlando, Florida. We look forward to a fantastic season and partnership," said Stephen Weisz, Marriott Vacations Worldwide Corporation president and CEO.
The partnership includes a co-branded 25th anniversary logo; branding in key aspects of the team's marketing and communications efforts for its Silver Season; and signage for the Marriott Vacation Club in the Amway Center.
"For 25 years the Magic has represented excellence, and we are proud to partner with an outstanding brand like Marriott Vacation Club to celebrate this momentous season," said Alex Martins, Orlando Magic CEO.