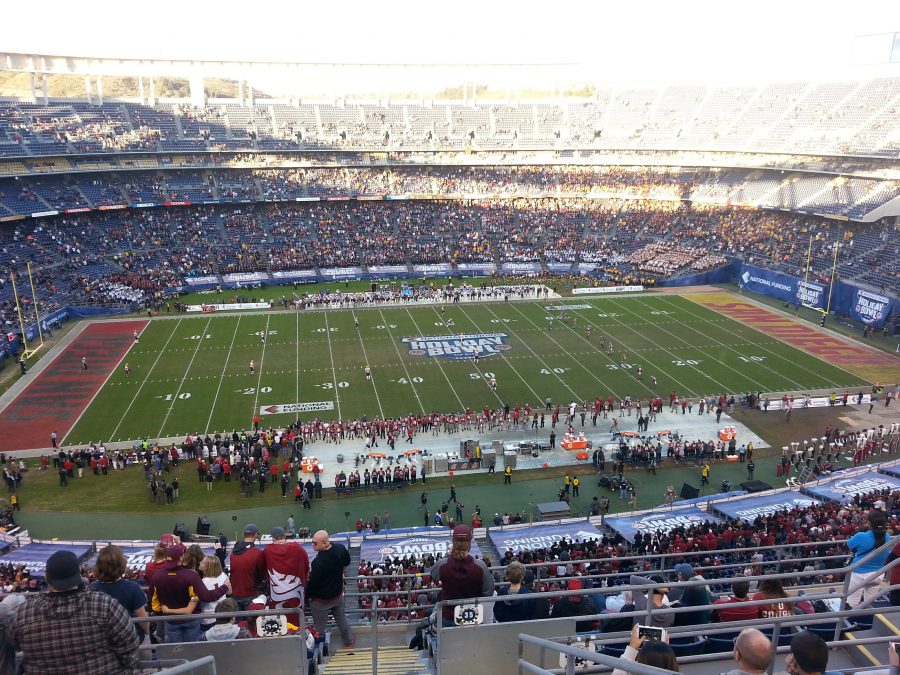 The Atlantic Coast Conference will replace the Big Ten as one of the two conference affiliations with the San Diego County Credit Union Holiday Bowl starting with the 2020 game.
The Pac-12 will remain one of the participating conferences in the game, which traditionally has been known for high-scoring games and was the site of BYU's 1981 national championship victory and the final college game for legends such as Barry Sanders.
"Pitting the Pac-12 up against the ACC, two of the highest-scoring conferences in the country, is going to feed perfectly into our reputation," Holiday Bowl CEO Mark Neville said.
No ACC school has played in the Holiday Bowl. If bowl eligible and not in a College Football Playoff game, Notre Dame is also available to ACC bowls; it also has never played in the Holiday Bowl.
"We are pleased to partner with the San Diego County Credit Union Holiday Bowl and look forward to the annual postseason match up with the Pac-12," said ACC Commissioner John Swofford. "The Holiday Bowl provides an outstanding destination and national platform for our student-athletes, teams and fans and we look forward to this new relationship."
There has been a Pac-12 school in 21 consecutive Holiday Bowls and 24 in total. The only conference schools that have not been to San Diego in the postseason are Stanford and Oregon State; Arizona State, Washington and Washington State have each made a conference-high four appearances.
"We are very excited to continue our more than two-decade relationship with the San Diego County Credit Union Holiday Bowl," said Pac-12 Commissioner Larry Scott. "The experience for our student-athletes and fans has been incredible thanks to the phenomenal hospitality of the San Diego community, and the game itself has created some of the most memorable moments in college football's rich 150- year history."
The 2019 game, the final one matching up the Pac-12 against the Big Ten, will be on December 27 at SDCCU Stadium. The 2018 game saw Northwestern rally from a 20-3 halftime deficit to beat Utah 31-20. It generated a record estimated economic impact of $49.5 million for the San Diego region.