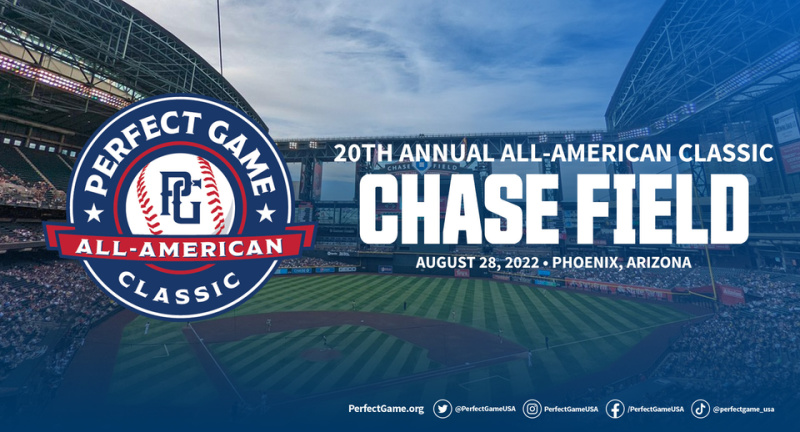 Chase Field in Phoenix, home to the Arizona Diamondbacks, will host the 2022 Perfect Game All-American Classic with more than 50 players from the U.S., Canada and Puerto Rico participating.
The game will be held August 28 with former Diamondbacks All-Star Luis Gonzalez serving as honorary chairman. Rosters will be selected by a panel of talent evaluators assembled by Perfect Game and announced in July.
"The entire Perfect Game family is looking forward to bringing the All-American Classic to Chase Field," said Perfect Game Chief Executive Officer Brad Clement. "We also want to take this time to thank the San Diego Padres and the city of San Diego for having been wonderful hosts for 12 of the past 13 All-American Classics, including last year's successful event. We're excited to provide the great baseball fans from Arizona and the entire southwest an opportunity to watch the next generation of elite baseball talent compete for territorial bragging rights at Chase Field."
Along with the game, Perfect Game and the Perfect Game Cares Foundation will host a series of related events at Chase Field and other locations throughout Phoenix, which is the headquarters for Perfect Game West. Perfect Game annually holds numerous events in Phoenix and neighboring locales such as Peoria, Surprise, Glendale, Goodyear, Scottsdale and Mesa.
"We are thrilled for this opportunity to use the sport of baseball to help support child-related causes in and around Phoenix," said Perfect Game Cares Foundation Executive Director Jennifer Ford. "For two decades, Perfect Game All-American players and sponsors have actively joined forces with the Perfect Game Cares Foundation to make a difference in communities that are passionate about baseball."
Eighty-seven players on MLB rosters on Opening Day 2022 have played in the All-American Classic in their careers, with Perfect Game alumni on 28 out of 30 MLB rosters.
"The Arizona Diamondbacks and Chase Field are honored to welcome Perfect Game," said Diamondbacks Chief Executive Officer Derrick Hall. "We anticipate great support from the baseball-loving fans in and around the Phoenix area as they will have a unique opportunity to watch some of the sport's future stars display their tremendous athletic skills on the Chase Field diamond before they become household names. We're also looking forward to supporting some very important causes and efforts to grow the game of baseball through the various activities planned by the Perfect Game Cares Foundation."