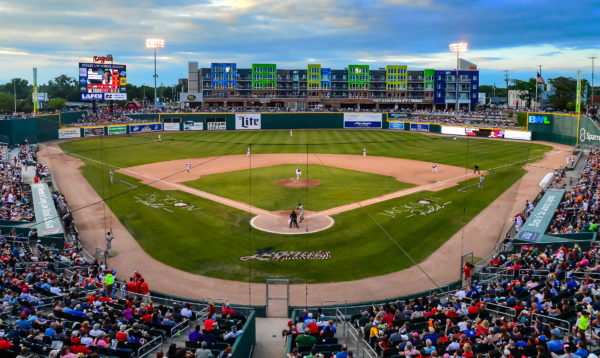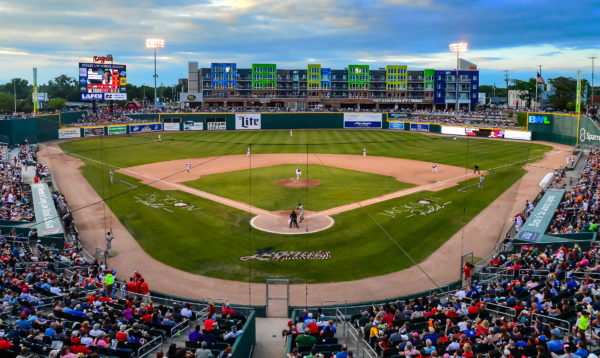 The Great Lakes form the largest surface freshwater system on Earth. The lakes—Erie, Huron, Michigan, Ontario and Superior—are surrounded by eight U.S. states on the south and the Canadian province of Ontario on the north. Such a massive natural resource naturally influences the region's landscapes, resources and visitors. But cities don't have to sit right on a lakeshore to offer event organizers a plethora of outdoor beauty. The Great Lakes region is also home to famous manmade sports facilities, including the 109-year-old Indianapolis Motor Speedway, purpose-built sports venues for everything from volleyball to badminton and massive convention centers with room for any type of indoor event.
Lansing, Michigan
As the Michigan state capital, Lansing is "large enough to have resources to host events, but we're the right size that you're still noticed and appreciated when you're here," said Mike Price, executive director of the Greater Lansing Sports Authority.
Despite Michigan's snowy reputation, Lansing is a four-season destination with diverse offerings. In the winter, hockey and figure skating are big. In warmer months, soccer and lacrosse events take over. "We really have facilities that allow us to be flexible and host any type of sporting event," Price said.
Rugby is gaining ground, and the sports authority is investing resources to keep it growing. The city hosted the 2017 Michigan Rugby Cup in August at Hope Sports Complex, and the event will return this fall to the same site, which has nine grass fields and a lighted turf championship field. Michigan State University's Rugby Football Club hosted its own rugby sevens tournament there in March. "We're working with (MSU) to develop and grow some larger rugby events," Price said.
Hope Sports Complex is the main hub for other field sports as well as archery competitions. Lacrosse has been growing at the venue over the past several years. The Indian Summer 7v7 Lacrosse Tournament is held every October, and the annual Great Lakes Lacrosse Invitational uses the venue as well as fields at Waverly High School every July.
Since 2015, Lansing has developed a partnership with USA Archery, hosting the 2017 U.S. Team Trials for the World Archery Youth Championships, the 2016 U.S. National Outdoor Collegiate Championships and smaller events.
Wrestling is also strong, Price said, and most tournaments use the Lansing Center that fronts the Grand River just two blocks from the capitol. The convention center has a 72,000-square-foot, column-free exhibit hall that can be split into three smaller sections and more than 13,000 square feet of flexible ballroom space.
About Lansing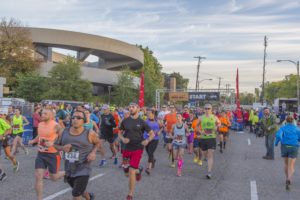 Key venues: Hope Sports Complex (nine grass fields, one lighted turf championship field with seating for 2,000); Lansing Center (125,000-square-foot convention center); Summit Sports and Ice Complex (177,000-square-foot facility with two ice rinks and a 54,000-square-foot fieldhouse)
Recent Events: 2018 USA Archery JOAD and Indoor Nationals; 2018 NUWAY Wrestling Nationals; 2018 Stunt National Championship
Upcoming Events: 2018 USA High School Clay Target League National Championship; 2018 PDGA U.S. Women's Disc Golf Championships; 2021 NCAA Division III Women's Golf Championships
Hotels: 5,500 rooms
Indianapolis, Indiana
Indianapolis is a city rooted in sports. But it's also a city that made a conscious choice to ensure its sporting future.
The Indianapolis Motor Speedway opened in 1909, and the Indianapolis 500 was staged for the 102nd time there in May. Sports are "ingrained in our culture and our history," said Lisa Wallace, senior communications manager for Visit Indy.
The city also led the way in using sports as an economic development tool. About 40 years ago, civic leaders and business owners banded together to develop a strategy to keep the city thriving as a major sports hub. In recent decades Indianapolis has hosted more than 400 national and international sporting events. In short, the sports strategy "worked out really well," Wallace said.
And it's still working out. In 2021, Indianapolis will welcome the NBA All-Star Game, the Big Ten Women's Basketball Championships, the NCAA Men's Final Four and the Big Ten Football Championship. In 2022, the city will host the College Football Playoff National Championship, the NCAA's annual convention and the Big Ten men's and women's basketball championships.
And of course, the car racing isn't going away. "If they don't know us for anything else, they know us for the Indy 500," Wallace said. The speedway has diversified recently, hosting concerts and the Bloomington Gold all-Corvette car show.
Beyond motorsports, swimming is a big market for the city, largely because of the Indiana University Natatorium, which recently underwent a $20 million renovation. The 4,700-seat venue has hosted numerous NCAA championships and will stage the U.S. Olympic Team Trails–Diving in 2020.
The Indiana Convention Center hosts many youth events, including the annual JAMfest Cheer Super Nationals and the Nike Mid-East Qualifier volleyball tournament, which packed the center with 50,000 attendees and 120 volleyball courts in March.
About Indianapolis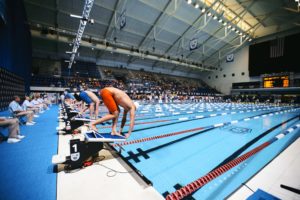 Key Venues: Indiana Convention
Center (566,000 square feet of contiguous exhibit space); Lucas Oil Stadium (67,000 seats and 183,000 square feet with the field and exhibit halls); Bankers Life Fieldhouse (18,500 seats)
Recent Events: 2018 JAMfest Cheer Super Nationals; 2018 NFL Scouting Combine; 2018 USA Paralympics
World Para Swimming Series
Upcoming Events: 2019 NCAA Rowing Championships; 2019 USA Volleyball Girls Junior National Championships
Hotels: 32,000 hotel rooms in the Indianapolis area, including 7,100 downtown
Aurora, Illinois
Aurora, Illinois, is the last stop on the BNSF Metra rail line out of Chicago, but with 200,000 residents, it is also the second-largest city in the state. That means Aurora offers the best of all worlds: easy access to Chicago and its big-city offerings but also plenty of its own amenities for visitors.
"There's obviously a lot of things to do here that a smaller area may not be able to offer," said Pete Garlock, director of sales for the Aurora Area Convention & Visitors Bureau and the Aurora Area Sports Alliance. That also means if organizers "want to keep it small you can, but if you want to make a big splash that's available too," he added.
Much of the city's sports market comes down to one venue: Stuart Sports Complex. A few years ago, the complex roughly doubled in size to more than 30 multipurpose fields and eight ball diamonds. "So it goes without saying that we do a lot of softball and a lot of soccer, but this year out of nowhere, we've become a destination for ultimate," he added. Stuart was the venue for the 2018 Neuqua Knockout high school ultimate tournament in April, and the Great Lakes Ultimate Events Beachfront Instant Classic Invitational, or "BICI," is set for June. USA Ultimate will hold its Masters Championships in July at the complex, and the Without Limits Heavyweights event will take place there in August. "We need to trademark, 'Aurora: The Ultimate Destination,'" he said with a laugh.
Volleyball is another venue-driven market thanks to the Great Lakes Center, which has hosted many tournaments on its 12 courts.
And the community keeps adding to its roster of venues. The Go For It Sports dome in nearby Yorkville opened in December and joins the Aurora Sports Dome, which has a 60,000-square-foot turf field and clubhouse for soccer, baseball, football and more.
Aurora's tennis scene is also poised to boom. In April, Eola Tennis Academy added four indoor courts, for a total of 21. Those join nine indoor courts at Vaughan Athletic Center and another eight indoor courts (and six outdoor) at the Rush Copley Healthplex.
About Aurora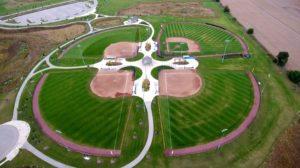 Key Venues: Stuart Sports Complex (317 acres, 30 multipurpose fields, two regulation-size baseball fields with lights, six flex baseball/softball fields with lights); Great Lakes Volleyball Center (60,000-square-foot facility with 12 courts); 18-hole Orchard Valley Golf Course
Recent Events: 2016 PepsiCo Showdown Soccer Tournament; 2017 National Latino Amateur Boxing Association National Championships; 2017 NCAA Division I Men's & Women's Golf Championships
Upcoming Events: 2018 Neuqua Knockout; 2018 Aurora Kickers Puma College Soccer Showcase; 2018 PBA Xtra Frame Parkside Lanes Open
Hotels: 17 hotels and 1,400 lodging rooms
Wisconsin Dells, Wisconsin
Wisconsin Dells in central Wisconsin is known as "the water park capital of the world," but it also sits on the Wisconsin River and is home to plenty of lakes. The city's abundance of water attractions, whether man-made or provided by Mother Nature, make it a draw for event organizers, athletes and their families.
As a well-known destination for young families, Wisconsin Dells attracts many youth sports events. Several properties boast huge water parks as well as function space: Kalahari Resorts and Convention Center and Chula Vista Resort each have 100,000 square feet of event space, and the Wilderness Hotel and Golf Resort offers 30,200 square feet of meeting space.
"Separate from our sports facilities, a lot of our larger hotels and resorts are actually some of the coveted places for indoor events, like cheer and dance," said Rhonda Parchem, marketing and communication manager for the Wisconsin Dells Visitor & Convention Bureau. Universal Cheer Association College Spirit Camp will take place in August at Chula Vista, and Kalahari hosts Champion Spirit Group's annual Duel in the Dells Nationals.
Kalahari broke ground this past fall on a $35 million, 112,000-square-foot expansion that will nearly double its convention space, bringing the total to 212,000 square feet when complete in fall 2019. The expansion will include a number of meeting and event spaces, the largest being a 52,000-square-foot ballroom.
Other youth sports—basketball, baseball, softball and soccer—use Woodside Sports Complex, which is a combination of three separate facilities in three different locations. Mauston Sports Complex in Mauston has eight turf baseball/softball fields and is just steps from Old Towne hotel, a modern property designed to look like a Wild West town. Woodside's Wisconsin Dells Sports Complex has six multipurpose turf fields, four turf ball diamonds and two grass fields, along with batting cages and concessions. The third piece of the Woodside complex is indoors. With 90,000 column-free square feet and 70-foot ceilings, the Woodside Dells Dome can accommodate 10 basketball courts, 16 volleyball courts, 32 wrestling mats or a full-sized softball, soccer, lacrosse or football field.
About Wisconsin Dells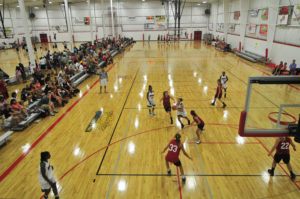 Key Venues: JustAgame Fieldhouse (53,000 square feet); Woodside Sports Complex (combination of three facilities including Mauston Sports Complex, Woodside Dells Sports Complex and Woodside Dells Dome); Kalahari Resorts and Conventions (expansion of convention space to 212,000 square feet to be complete in fall 2019)
Recent Events: Junior Volleyball Association Showcase; Wisconsin Basketball Coaches Association All-Star Games; Jimmy V Classic; Malecek Team Wrestling Camp
Upcoming Events: 2018 USA Jump Rope Nationals; 2018 USSSA Wisconsin State Tournament; 2018 Universal Cheer Association College Spirit Camp
Hotels: Approximately 8,000 hotel rooms and 3,200 campsites
Pocono Mountains, Pennsylvania
Pennsylvania's Pocono Mountains, a four-county region covering 2,400 square miles, is home to 80 percent of the state's resorts and is less than 100 miles from both Manhattan and Philadelphia. "It's an oasis in the middle of the urban sprawl," said David Jackson, vice-president of sales for the Pocono Mountains Visitors Bureau.
Outdoor adventure sports are the region's "real mainstay, which makes sense for us," Jackson said. The four counties are home to six ski resorts, so winter sports of all types are popular.
The Ironman 70.3 Pocono Mountains, which raced in the region in 2011 and 2012, opened the gates to other outdoor adventure sports, including Ragnar relays, Rev3 triathlons, fun runs and obstacle races. "At that point, we validated that if we can handle Ironman, we can handle any of the other sports," Jackson said.
Spartan Race is returning to Blue Mountain Resort in July for the seventh year in a row. Reebok Ragnar Pennsylvania runners will start in Lancaster, Pennsylvania, in June and cross 200 miles to the finish line at Split Rock Resort in the Poconos. But races aren't confined to the resorts. Skirmish Paintball covers 750 woodland acres about 10 miles from Split Rock, and the site also hosts the Savage Race obstacle run. Run for the Red Marathon winds through the mountains to the city of Stroudsburg.
The Warrior Dash has raced in the Poconos for several years at one of the region's iconic venues: Pocono Raceway. The NASCAR track hosts auto races in June, July and August. With capacity for nearly 77,000 spectators and plenty of acreage, the speedway can host motorcycle events, air shows, obstacle races, concerts and more.
Kalahari Resorts and Conventions is one of the region's four major water parks and a major player in indoor sports. Kalahari is adding another 105,000 square feet of convention space by late 2019, bringing the total to 205,000. The expansion will include a new 38,000-square-foot ballroom.
About Pocono Mountains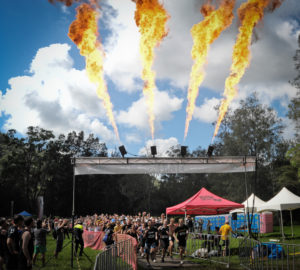 Key Venues: Pocono Raceway (77,000 seats); Kalahari Resorts and Conventions Pocono Mountains (as of December 2019 it will have 205,000 square feet of convention space)
Recent Events: Rev3 Triathlon; USARA Adventure Race National Championships; Reebok Ragnar Pennsylvania relay
Upcoming Events: Pennsylvania Spartan Super 2018; Pocono 400 Monster Energy NASCAR Cup Series; 2018 Warrior Dash Pennsylvania
Hotels: 10,000 lodging rooms
Lake Erie Shores and Islands, Ohio
There are no shortage of activities along the southern shores of Lake Erie in Ohio. "We have great opportunities for sports, but it's also a great place to bring your family and friends," said Amanda Smith Rasnick, director of group sales for the Lake Erie Shores and Islands Convention & Visitors Bureau.
The region's biggest sports markets "are all about our natural venues, and Lake Erie is our biggest facility," she said. The lake's waters welcome swimming competitions and triathlons, fishing tournaments and boating races. The first Dragons and Bacon Fest last fall included a dragon boat race that launched from the Paper District Marina in Sandusky, and the event will return in September.
Boat ramps in Sandusky, Huron and Port Clinton are often used as the launching point and gathering place for events, such as FLW's Yeti College Fishing bass tournament that was held on Lake Erie last year and will return in September. The tournament is one of several FLW and Bassmaster events that use the lake, which is known for its bass and walleye fishing.
The CVB represents Erie and Ottawa counties, including Sandusky, Port Clinton, Put-In-Bay and Kelleys Island. Sandusky is the largest of those cities and is home to Cedar Point, a massive amusement park that's as much of an attraction as the lake it fronts.
Cedar Point plays its own role as a sports venue. Cedar Point Run and Ride returns in June for its fifth year and includes races ranging from a one-mile fun run to a half-marathon—and every racer gets a ticket to the park for race weekend. Cedar Point also hosted the Santa Hustle 5K and half-marathon in December, while the Halloween Hustle course wound through Sandusky.
Cedar Point Sports Center, which also fronts Lake Erie, is a new venue less than four miles south of the amusement park. The complex's first phase, Sports Force Parks, includes nine multipurpose turf fields that can be used for softball, baseball, soccer or lacrosse; it also boasts a championship softball/baseball stadium. The complex also offers miniature golf, bungee jumping and an aerial ropes course. Osborn MetroPark provides an additional 14 soccer fields.
The area has plenty of indoor venues for bowling, cheer, dance and more. Kalahari Resorts and Conventions in Sandusky has 215,000 square feet of function space. The 38,200-square-foot Kilimanjaro Ballroom is the resort's largest single space, but it breaks down into six smaller rooms. The resort welcomes cheer and dance competitions, such as the Midwest Cheer and Dance Open National that's held there annually.
About Lake Erie Shores and Islands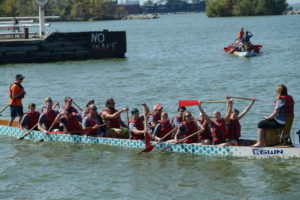 Key Venues: Lake Erie; Sports Force Parks at Cedar Point Sports Center (10 multipurpose fields); Kalahari Resorts and Conventions in Sandusky (215,000 square feet of indoor event space)
Recent Events: Santa Hustle 5K and 15K; annual Midwest Cheer and Dance Open National; Sports Force Parks tournaments
Upcoming Events: 2018 Dragons and Bacon Fest; 2018 Cedar Point Run and Ride; 2018 FLW Yeti College Fishing tournament
Hotels: 8,000 rooms