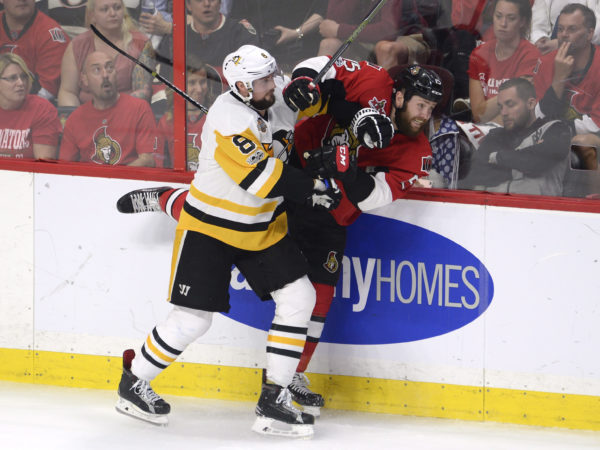 Anyone who has seen ice hockey players smashing into the boards at 25 miles per hour has likely cringed and wondered, "How do they skate away from that?"
Hockey insiders have the same concerns, judging by an impromptu conversation between David Morehouse and Jerry MacCleary at a Pittsburgh Penguins game earlier this year. Morehouse, president and CEO of the Penguins, said he was tired of seeing his guys being injured along the boards. That pushed MacCleary, chairman and CEO of the Pittsburgh polymer manufacturer Covestro, into action.
Despite initiatives undertaken to make the sport of hockey safer, the dasher boards and glass that encircle a rink have remained relatively unchanged over the years. The hard barriers in sturdy aluminum framing tend to be unforgiving. Collisions between players have led to injuries that include bone fractures, joint damage and head trauma.
The outcome of that game-time conversation between Morehouse and MacCleary was "Rethink the Rink," a partnership between the Penguins, Covestro and Pittsburgh's Carnegie Mellon University. The goal of the program is to design more forgiving boarding that will increase player safety without changing the game.
Bob Walker, head of external communications for Covestro, posed the key question: "Is there something that might be softer to 200- or 220-pounders making impact but that also maintains the puck reaction?"
The highlight of the partnership was a Make-a-Thon, a recent five-day spring-break engineering marathon for students who studied the problem of injuries along the boards and created prototypes of potential new board systems. "Players are bigger, faster and stronger than ever before, and so our challenge is to find new ways to keep them safer and reduce injuries," Morehouse said.
Students went beyond polycarbonates and polyurethane to explore ideas that stretched the bounds of innovation. According to Diana Haidar, an assistant teaching professor in mechanical engineering at the university, one suggestion was to create a magnetic barrier around the ice as well as magnetized pucks and player equipment to keep players safer. Another concept brought forward by students involved creating boards that are made of something similar to rubber bands. The hope was to provide some elasticity upon contact, similar to the ropes used in a boxing ring.
Walker said the designs and concepts outperformed what organizers had expected. "We're very optimistic there's something here," he said.
Covestro plans to hire several student interns with the goal of installing a prototype at the Penguins' practice facility as early as September for testing by the NHL, USA Hockey and amateur players and officials.
"It's important to note that this is a process, but it's gone way beyond what we anticipated," Walker said. "What's really exciting is that if this is a solution, it could be used not only horizontally in the NHL and professional ranks, but vertically to youth ranks as well."
Presented by