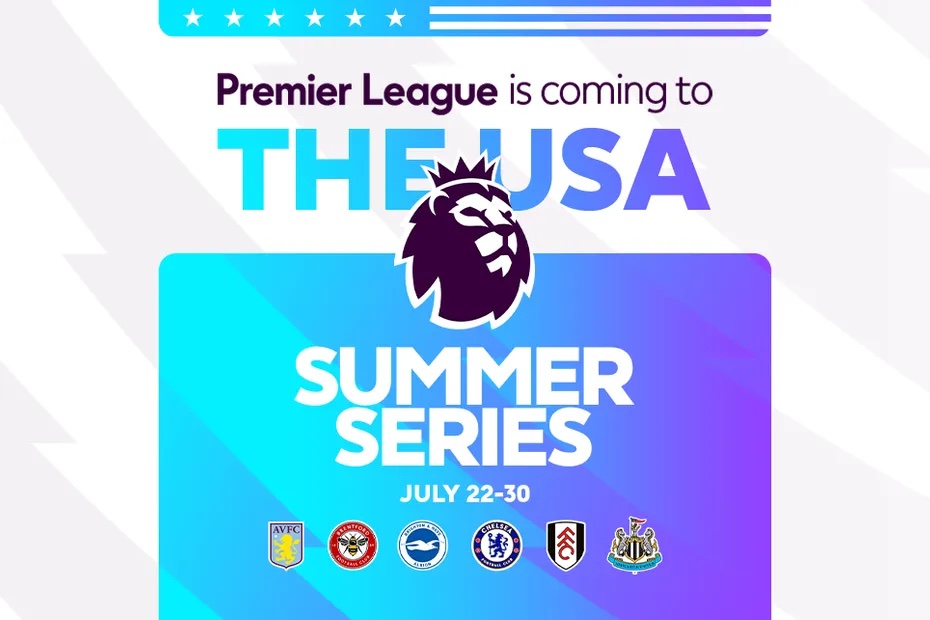 The Premier League has confirmed its first preseason tournament in the United States will take place in July with a six-team event headlined by Chelsea and Newcastle United heading to five cities throughout the East Coast.
Along with Newcastle, which currently sits third in the Premier League and Chelsea, a Champions League winner and multi-time winner of the Premier League, also participating will be Aston Villa, Brentford, Brighton & Hove Albion and Fulham. The six teams will play a total of nine matches between July 22-30 at Lincoln Financial Field in Philadelphia; Mercedes-Benz Stadium in Atlanta; Exploria Stadium in Orlando; Red Bull Arena in New Jersey and FedEx Field in Washington, D.C.
The Premier League has previously hosted preseason tournaments since 2003 in China, Hong Kong, Malaysia, Singapore and Thailand. This will be the first time the league organizes a preseason tournament in the U.S., where several clubs traditionally spend the preseason playing high-profile friendly matches across the country.
"We are delighted to be bringing six clubs to the USA in July for the first-ever Premier League Summer Series," Premier League Chief Executive Richard Masters said. "Our clubs have incredible supporters in the US, who passionately follow their teams throughout the season. We have seen this dedication first-hand from the tens of thousands who have attended our Mornings Live fan events and are excited to be building on this by bringing live Premier League action to five cities this summer. We are currently enjoying one of the most competitive Premier League seasons of all time at both ends of the table and I am sure we will see some thrilling matches during the tournament."
The tournament will be a mix of matches and training camps with a range of events for fans and local community groups. The League will work with a range of grassroots and community organizations in each host city to create a program of community and youth soccer initiatives.
The tournament builds on the success of the eight Premier League Mornings Live fan festival events the Premier League and its broadcast partner NBC Sports have hosted since 2018. NBC Sports will be the host broadcaster across the networks of NBCUniversal and Peacock.
Tournament Schedule
All Times Local
July 22 at Lincoln Financial Field, Philadelphia
Chelsea v Brighton & Hove Albion, 7 p.m.
July 23 at Lincoln Financial Field, Philadelphia
Fulham v Brentford, 4 p.m.
Newcastle United v Aston Villa, 7 p.m.
July 26 at Mercedes-Benz Stadium, Atlanta
Brentford v Brighton & Hove Albion, 5:30 p.m.
Chelsea v Newcastle United, 8:15 p.m.
July 26 at Exploria Stadium, Orlando
Fulham v Aston Villa, 7 p.m.
July 28 at Red Bull Arena, New Jersey
Brighton & Hove Albion v Newcastle United, 7:30 p.m.
July 30 at FedEx Field, Washington, D.C.
Aston Villa v Brentford, 12 p.m.
Chelsea v Fulham, 2:45 p.m.