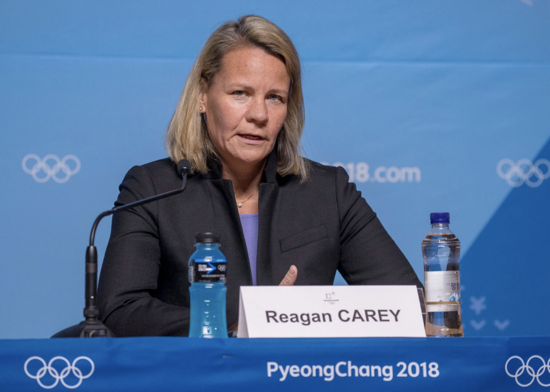 Reagan Carey, the former director of women's ice hockey and general manager for the women's national team at USA Hockey, has been named the Premier Hockey Federation's next commissioner.
Carey's tenure at USA Hockey was highlighted by a gold medal victory at the 2018 Olympic Winter Games. She starts with the PHF on May 10 as the league's third-ever commissioner.
"Throughout my career, I have been fortunate and honored to have played a part in growing and improving the landscape of women's hockey at all levels," said Carey. "I continue to be energized and committed to moving the needle in the right direction and will be dedicated to the work required to build trust and elevate the PHF into a beacon for professional women's hockey. I'm excited for the opportunity to continue making history with a relentless pursuit of success on all fronts. Through our work we will aim to honor past pioneers of our sport, and inspire young girls to see a vibrant future in the game by ensuring that athletes who want to train and compete at the highest professional levels will always have a home at the PHF."
Carey's career with USA Hockey stretched from 2010–2018. Her resume includes U18 titles in 2011, 2015, 2016, 2017, World Championship wins in 2011, 2013, 2015, 2016, 2017, 2018, and the 2018 Winter Olympics.
Most recently Carey has worked in various consulting roles and speaking events in both the sport and corporate world. Additionally, she has been a member of the Maine Girls & Women in Sports Committee helping generate content, programming, and opportunities for girls and women in sport. Carey in 2018 was inducted into the Maine Sports Hall of Fame.
"Having been a part of both the U18 program and U.S. Women's National Team during Reagan's tenure with USA Hockey, I've seen her passion and dedication in action and always appreciated how much she cared about the athletes," said Shiann Darkangelo, captain of the Toronto Six. "I am very excited for the knowledge and expertise she will bring to the PHF in this important leadership role to help continue the growth of our game."
Carey succeeds Tyler Tumminia, who served in the role on an interim basis during the league's sixth season and permanently throughout season seven. The PHF  over the past 18 months has established a joint venture ownership model and announced a commitment to invest more than $25 million over the next three years to provide competitive compensation and benefits. A search committee chaired by Tobin Kelly of the PHF board of governors was formed to identify and evaluate candidates for the role after Tumminia left as commissioner.
"The search committee had the opportunity to speak with many exceptional candidates who were considered for the role of PHF Commissioner over the course of this process," said Kelly. "What stands out about Reagan Carey is not only her incredible depth of experience in the world of women's hockey but the collaborative approach she brings to the position. In all of our many conversations, Reagan's commitment to communication and her values that advocate for what is right and put players first, make her the perfect leader for the next phase of growth in the PHF. We are all excited about welcoming Reagan as she takes the lead in moving the PHF forward."