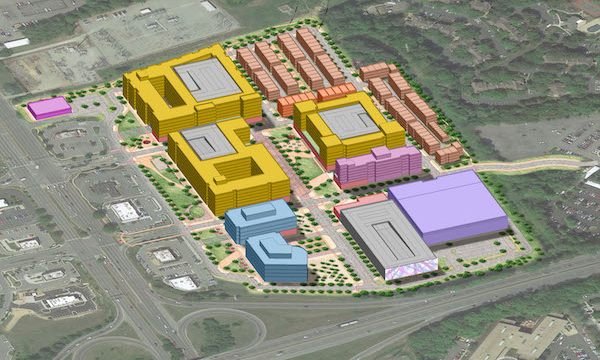 Officials in the Richmond Region have unveiled plans to have a two-rink indoor hockey facility as part of its overall plans for a 100,000-square-foot mixed-use district on the site of a former mall in Chesterfield County, Virginia.
The venue, built on the site of the former Spring Rock Green shopping area, would house two National Hockey League-sized ice rinks. The facility would be open for youth tournaments and skating programs plus public skating.
"Richmond Region Tourism is very excited about this new development, which would add to our sports tourism infrastructure," Richmond Region Tourism President and Chief Executive Officer Jack Berry said of the ice venue in a statement to Richmond BizSense this week. "The area needs additional indoor hockey regulation-sized sheets of ice to be attractive to hosting hockey tournaments, figure skating competitions, as well as serving a need for our residents."
The mixed-use district as envisioned would be completed in fall 2023 with more than 1,000 residential units, a 190-room hotel and more than 290,000 square feet of office, retail and restaurant space. The proposed hockey facility would be in addition to another county-owned venue, the River City Sportsplex, that hosts lacrosse, soccer and field hockey tournaments.
"We had a group come to us to say they wanted to build a two-sheet tournament-level facility in the area," Chesterfield Economic Development Director Garrett Hart told Richmond BizSense. "You have to have two sheets, a sports bar and all those things. They wanted to do that in Chesterfield and needed a location."