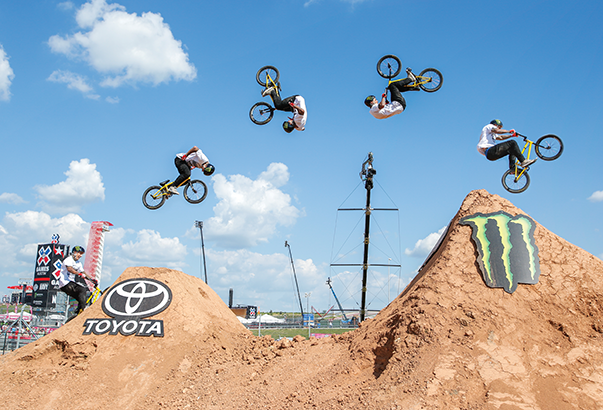 When it comes to action sports, "97 percent of the consumers that watch don't know the difference between the kickflip and heelflip, and they don't care," said Rick Bratman, CEO of ASA Entertainment, which stages action sports events all over the United States. "They want to see big tricks. They want to see crashes. They want to see great runs."
And cities want to see action sports events—such as snowboarding, surfing, BMX and motocross—coming to town. Destinations are scrambling to win such events, which often feature festivals and fan experiences in addition to competitions, turning a single sporting event into an entertainment-filled weekend.
Event organizers are seeing more bids from cities that want to get their hands on these events, which attract the coveted millennial market. And it's not just a domestic phenomenon. Some sports have seen an influx of international athletes, and promoters are looking to take their events abroad as well.
New Homes
The Summer X Games have been on the West Coast, the East Coast and down South, but when they descend on Minneapolis July 13–16, it will be the first time the extreme-sports event has been held in the North Central part of the country. "It's good for the brand to show up in other regions," said Tim Reed, vice-president of the X Games. "The best way to build the brand and bring in new fans is for them to experience it in person."
The X Games will be held at U.S. Bank Stadium, home of the Minnesota Vikings, which was a major factor in choosing the city, Reed said. And, for the city, winning the event "is a game-changer, no doubt about it, not only in terms of economic impact but also from an exposure standpoint," said Matt Meunier, senior national sports account executive for Meet Minneapolis.
About 200 athletes generally participate in the Summer X Games, and organizers expect 30,000–45,000 ticketed attendees per day. "The X Games' reach—it's really a global brand, and we're able to benefit from that," Meunier said. "We like to say that it upped our cool quotient a little bit."
The Summer X Games have been held in early June since moving from Los Angeles to Austin in 2014, but with the move to Minneapolis they will return to dates later in the summer, more typical of earlier years in the event's history. July works well for ESPN's broadcast schedule, and "it will be nice to be back in the true summer months when the kids are out and people are out," Reed said. "That's a welcome change for us."
X Games isn't the only event exploring new ground. Another action sports stalwart, Dew Tour, held its summer skateboard competition and festival in June in Long Beach, California, with events around the Long Beach Convention Center. The event drew an estimated 32,000 spectators. Last year, Dew Tour named TEN: The Enthusiast Network as its strategic partner to oversee execution and event staging. While the tour used to have multiple stops, the new approach has seen a focus on expanded singular summer and winter events. Participants praised the Long Beach event. "The setup at Dew Tour is different from any other contest," said Kelvin Hoefler, a Brazilian skateboarder who won the competition. "It's challenging and fun to try to do your best in each section."
The winter event, which will be staged in December in Breckenridge, Colorado, is on a similar track. In June, U.S. Ski & Snowboard announced that the event would serve as an Olympic qualifier for men's and women's halfpipe, and slopestyle snowboarding and skiing.
BMX Gains Ground
BMX made its debut as an Olympic sport during the 2008 Games in Beijing, and that exposure led to "tremendous growth" in international interest, said John David, chief operating officer for USA BMX. European participation has been at an all-time high, and South America has seen even more growth.
"The Olympic movement has been a huge catalyst down there to help grow the South American market," David said. "Colombia, Brazil, Argentina, Chile—they're producing some great BMX racers."
As much as the international BMX market is booming, America is still the heart and soul of the sport. Forty years ago, when the founders formed what would become USA BMX, they wanted the birthplace of BMX racing to be the sport's leader and for "the best riders in the world to aspire to come here to race," David said. "While it's evolved on the Olympic level and the international level, no matter what, USA BMX will always have the highest purse payouts and the best racing."
As part of that vision, USA BMX will relocate its headquarters from Arizona to Tulsa in 2019. Last year, Tulsa voters passed an economic development measure that included $15 million to demolish the former Drillers Stadium and build new facilities, including a new stadium, a training center and office space for USA BMX's headquarters. "We feel like that is going to be absolutely transformative for the sport," David said.
Tulsa is an ideal location in the center of the country, and community involvement from local officials and residents is "unlike anything we've ever seen," he added. The new training facility will also help athletes. USA BMX's current track in Chula Vista, California, is primarily dedicated to U.S. riders, which makes it challenging for international riders to get on the track. The new, larger facility in Tulsa will feature an indoor arena where more riders will be able to train "at the highest level of anywhere in the world."
USA BMX stages roughly 30 nationals every year and is currently out to bid for the 2018 races. When choosing a host city, USA BMX takes a "zoom-in, zoom-out" approach. First and foremost, it starts with the venue, whether it's one of the 300 racetracks in the nation, an arena or an equestrian facility. Organizers then consider the city's location, accessibility, hotel base and—most critically—the quality of partnerships with the CVB or sports commission. USA BMX has seen an increase in the number and quality of bids coming in, as more local officials come to understand the value of sports tourism and are asking how to get involved and invest in local clubs.
For example, USA BMX built a relationship with the Harris County-Houston Sports Authority and helped local officials plan the 20-acre North Houston Bike Park that will include a USA BMX-sanctioned racetrack and freestyle amenities when it opens in 2018. That track helped Houston land the 2020 UCI BMX World Championships.
"This is a place that doesn't even have a BMX track, and they've said not only do we want to build it and work with USA BMX, they've won a major event," David said. "It shows the power of sports tourism and building these relationships."
The World Awaits
The last time the UCI BMX World Championships was held in the United States was in Louisville, Kentucky—in 2001. So it's significant that, after 16 years, it will return to America in July. The host city will be Rock Hill, South Carolina, which won the bidding over the other finalist, Bangkok, Thailand.
"You're bringing the world to your doorstep, so it's very important from an awareness standpoint about Rock Hill, very important from an economic development standpoint," said John Taylor, director of Rock Hill's Parks, Recreation and Tourism
Department. The city is just across the border from Charlotte, North Carolina.
So how did a city with just shy of 70,000 residents win an international event that's expected to attract 20,000 people from more than 40 countries? It started with facilities. Rock Hill is known for sports tourism, Taylor said, and started earlier than most cities in building venues.
First was a softball-baseball complex. Then came a tennis center, followed by a soccer and lacrosse complex, and now cycling facilities. Rock Hill had the space; the city owned 208 acres as part of the Riverwalk development that "lent itself to doing this cycling thing," Taylor said. The Giordana Velodrome opened in 2012, but city officials wanted to broaden their cycling horizons by adding a road course, BMX track and cyclocross course. For the BMX track, local officials asked for input from USA BMX and USA Cycling because "we wanted to be sure to design it to Olympic standards because we wanted to bring big events into our community," he said.
The city-owned and -operated Novant Health BMX Supercross Track opened in August 2014 with both amateur and elite supercross start hills and a pump track. Since opening, the track has hosted USA BMX regionals and nationals, the USA Cycling National BMX Championships and UCI BMX World Cup events. "We own our own facilities in the city, so being a full-service city did not hurt us," Taylor said. "We can make sure their event goes off well. Our organization—our reputation within the state for amateur sports tourism events—I think was key."
City officials expect more than 3,300 riders for the World Championships and estimate the event will generate $13 million in economic impact.
It's a win for the United States to get a prestigious global event and, locally, it shows how diverse South Carolina is, said Auvis Cole, sports sales manager and interim executive director for the Rock Hill/York County Convention & Visitors Bureau. "You don't have to be a big city to land a large, prestigious international event like this," Cole said.
Supercross Soars
"Slow and steady" isn't usually how anyone describes supercross, except when it comes to the sport's comeback. Like most industries, sports or otherwise, supercross was hit hard by the Great Recession in 2007 and 2008. In the years since, gains in attendance and viewership for the sport have been on "a steady and long climb," said Todd Jendro, vice-president of operations for motor sports at Feld Entertainment, which organizes the Monster Energy AMA Supercross series.
There are 17 rounds on the Monster Energy AMA Supercross schedule, with events starting in January and ending with the series finale the first week of May in Las Vegas, where it's been held for the past 20 years.
In April, Feld reported ratings for the Monster Energy AMA Supercross were up 21 percent year-over-year through 13 races. While overall attendance varies from year to year, Feld is seeing annual growth of 3 to 7 percent, he said. Average attendance per event is in the 45,000 range, and some have attracted as many as 69,000 people.
With those gains in mind, Feld is looking at once again expanding into international markets. Before the recession hit, supercross had toured in Switzerland, the Netherlands, Canada and Spain, "but we halted our international expansion for some time," Jendro said. "Now, as we're climbing out of that hole, we're working on some international expansion in 2019 and beyond."
In the Unites States, between supercross and Monster Jam, "we play just about every major city," he said, booking the best facilities available. "We're always pushing ourselves to be sure we're in the finest and most modern sporting venues," Jendro said.
For 2018, Feld will also work on expanding the Pit Party experience as the focus continues to be on "that relationship between the fan and the athlete," he said. The Pit Party is a festival outside the venue where fans can meet riders and enjoy live music, vendors and sponsors. Typically, about 20,000 fans make their way through the area, where 40 race teams are signing autographs and taking photos.
The Future is Female
Twelve years ago, when ASA Entertainment had the idea of developing a women's action sports series, "we kind of got laughed out of the room," CEO Rick Bratman said. Now he's the one smiling. The company's Supergirl Pro Series—which includes the Paul Mitchell Supergirl Pro, the Supergirl Skate Pro and the Supergirl Snow Pro events—is its fastest-growing segment. "Most of the people I've talked to in the industry are lamenting that men's business is flat or down, and the women's side is what's sustaining the retail side," Bratman said.
When ASA held the first Paul Mitchell Supergirl Pro surf competition 11 years ago, 300 people attended. Last year 120,000 showed up. The growth in the past decade has come full circle, not only from an athletic perspective, but also from a cultural one, he said. The Supergirl surf tournament has grown to include 15 live concerts, an all-female DJ competition, an all-female e-sports competition and events that feature yoga, Zumba, film, fashion, hairstyling, skateboarding, painting and other "cultural and lifestyle activities that resonate with millennial women."
ASA organizes about 150 events annually. The company is based in Florida, and many of its surf events are in California, but when looking for host cities for other events, like its Action Sports Event World Tour or Big Air Triples, the most important factors are "partnership and longevity," Bratman said. "We want locations that believe that hosting a millennial-focused festival that uses action sports as a foundation piece is a really positive thing for the community and want to work with us to help grow it," he said. ASA's events can "be anywhere: inside, outside, in a parking lot, on a grass field, on a beach or in a soccer stadium, he said. "For us, it's more about the partner."
While the Paul Mitchell Supergirl Pro is ASA's largest event, its most unique is the ASA High School Tour, a national bullying prevention effort. ASA builds a half-pipe in the quad area of high schools and brings in top skateboard and BMX pros. While "we're blowing their minds with these incredible half-pipe shows, they're weaving in anti-bullying themes," Bratman said.
ASA pioneered the head-to-head approach in action sports events, to avoid having audiences watch repetitive runs that can all start to look the same. ASA calls the new format "battles," and it allows audiences to stay engaged longer, according to Bratman, who explained, "Now, it's as simple as, 'Is that guy better than that guy?'"
Freestyle Lifestyle 
Action sports inhabit a unique space where lifestyle meets athletics. But "lifestyle" goes beyond hip-hop concerts, clothing and gear. It goes to the heart of why many individual sports are growing while some team sports struggle.
"From a lifestyle perspective, one of the challenges the team sport has is the commitment to attend," David said, explaining that BMX and other action sports are "free-flowing" and work better with the busy schedules families juggle today. "If I want to go race Friday and Saturday, great; if not, I can go next week. You can do that and be very competitive and still have a great time."