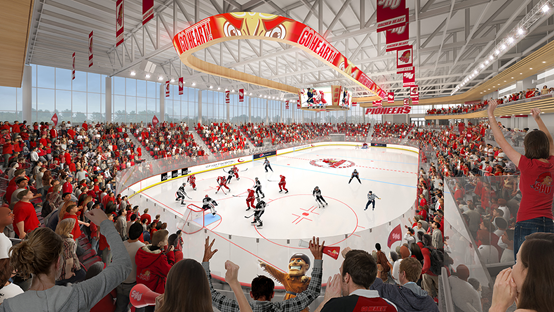 The new Martire Family Arena at Sacred Heart University will be using Smart Windows, built by View, Inc., at the future home of the school's men's and women's NCAA Division I hockey programs, club hockey programs and the university's nationally ranked figure skating team.
The arena is the centerpiece of Sacred Heart's campus expansion program and will have increased natural light throughout the rink. The arena will also feature several amenities for students and guests, including a pro shop, food venues, suites, meeting rooms and offices. The $70 million arena located on the university's West Campus in Fairfield, Connecticut, is scheduled to open in January 2023.
"Skating arenas rarely have windows, but we're building a venue unlike any other," said Marc Izzo, vice president of construction and facilities management at Sacred Heart University. "Incorporating View Smart Windows throughout our extraordinary ice-skating facility will give players, students and guests a completely new and cutting-edge experience."
The smart windows will automatically adjust in response to sun and glare within the rink based on electrochromic coating, which can also reduce building energy consumption from HVAC and lighting.
"The opportunity to transform educational and athletic facilities to improve both sustainability and student wellbeing is massive," adds Brian Klansky, regional vice president at View. "We're thrilled to partner with Sacred Heart to integrate wellness and sustainability into the entire student experience."