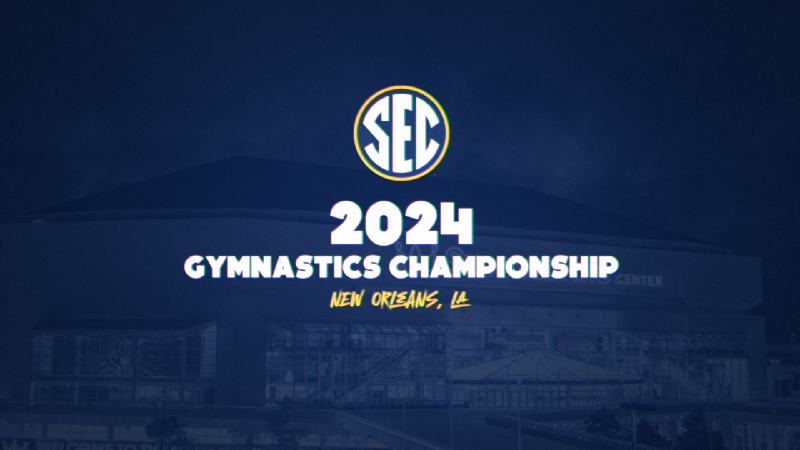 The Southeastern Conference will host the 2024 SEC Gymnastics Championships at Smoothie King Center in New Orleans on March 23, returning to the site of the 2019 championships where an event-record crowd of 10,505 attended the two-session competition.
"The Greater New Orleans Sports Foundation is proud to once again partner with ASM Global to bid upon and manage the 2024 SEC Gymnastics Championship in New Orleans," said Sports Foundation President and Chief Executive Officer Jay Cicero. "The 2019 Championship was a great success, and we are excited to be given another opportunity to put SEC Gymnastics on display in South Louisiana. We look forward to creating an unforgettable experience for the universities, their student athletes and all SEC fans."
The Smoothie King Center is adjacent to Caesars Superdome and situated on the 55-acre campus of the Louisiana Stadium and Exposition District. It is home to the New Orleans Pelicans and has hosted regionals for the NCAA Division I Men's and Women's Basketball Tournaments and two Women's Final Fours in 2004 and 2013.
"New Orleans has proven to be an exciting location for the SEC Gymnastics Championship in the past and we are pleased the event will return to the Smoothie King Center in 2024," said SEC Commissioner Greg Sankey. "The city of New Orleans is widely known for hosting the premier championship events in all sports and will once again provide a memorable venue for our student-athletes, their families and fans. We look forward to another successful SEC Gymnastics Championship in New Orleans."
Previous neutral host sites include Birmingham, Alabama (2001, 2002, 2003, 2006, 2011, 2014 and 2022); Duluth, Georgia (2004, 2005, 2008, 2012, 2015 and 2023); Huntsville, Alabama (2021); North Little Rock, Arkansas (2007, 2013 and 2016); Nashville, Tennessee (2009); Jacksonville, Florida (2010 and 2017) and St. Louis, Missouri. (2018).
"We are thrilled the Southeastern Conference has chosen to bring the SEC Gymnastics Championship back to New Orleans and the Smoothie King Center in 2024," said Smoothie King Center General Manager Evan Holmes. "The record-breaking attendance at the 2019 Championship held in New Orleans was a testament to not only the regional appreciation for elite gymnastics but also the city's ability to create a one-of-a-kind environment for student-athletes, fans, and coaches."