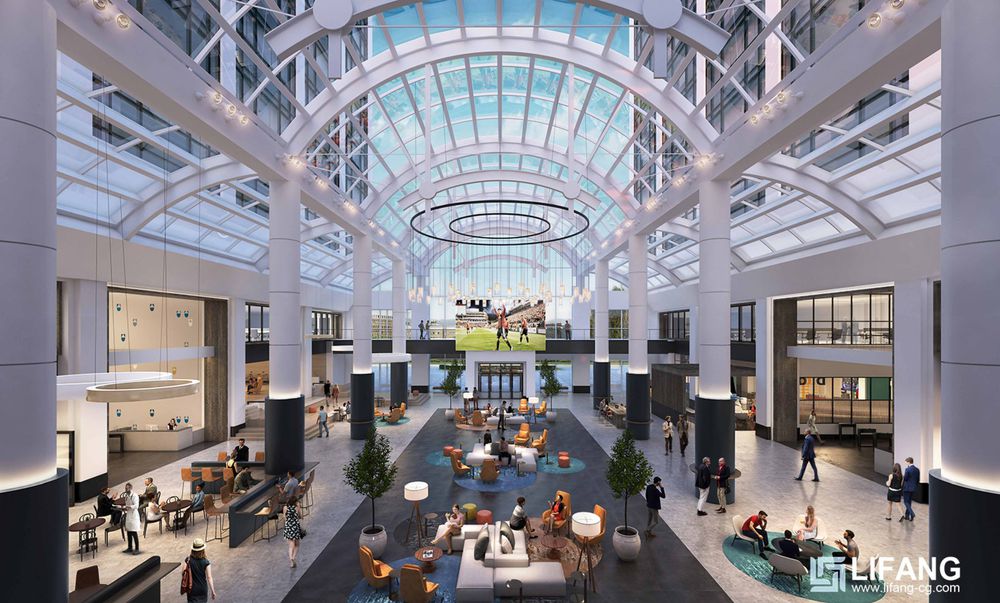 Skillshot Media has announced plans to create an esports gaming hub at Uptown Atlanta, a 47-acre mixed-use community being redeveloped by Rubenstein Partners. As part of the deal, Skillshot will relocate its Alpharetta office and production studios to Uptown and partner with Rubenstein to establish the venue for esports events. The new space will also provide classroom and training areas for local students.
The venue will serve as a production studio, collaborative learning center and retail space in addition to being a host for esports events in a 35,000-square-foot atrium. The atrium will be able to accommodate 300 to 400 gamers for in-person events and feature a large LED screen with new digital infrastructure to support live streaming to gamers worldwide.
Skillshot will work with industry gaming partners in the build out of the venue, including HyperX, which will be the official peripheral partner of Skillshot at Uptown.
"With this partnership, Skillshot at Uptown becomes the Metro Atlanta hub for digital media, gaming and esports," said Todd Harris, chief executive officer of Skillshot Media. "The Rubenstein vision for Uptown as a high-tech and high energy mixed-use environment is a perfect match with Skillshot Media's aspiration to foster community engagement with gaming. The gaming industry, at $180 billion, is bigger than movies and North American sports combined. Skillshot and Uptown are now well-positioned to serve this massive and broad gaming ecosystem with support for student workforce training, professional esports teams, studio content and broadcasting, and hosting live gaming events."
Skillshot is aligned with the Atlanta Esports Alliance, a division of the Atlanta Sports Council that is responsible for securing bids for large-scale sporting events to the city. Skillshot is also partnered with the University System of Georgia and the Georgia Film Academy to offer students workforce development programs for college credit.
"Skillshot Media's new production studio and learning center will be a game changer in Georgia as the state's esports ecosystem continues to grow and thrive," said Asante Bradford, the Georgia Department of Economic Development's Senior Industry Engagement Manager, Center of Innovation – IT. "I look forward to seeing the opportunities Skillshot's collaborative partnership with both the University System of Georgia and the Georgia Film Academy creates for the next generation of software developers and gamers."
Once complete, Uptown will encompass nearly 1 million square feet of office space, 120,000 square feet of retail and a variety of community gathering spaces.