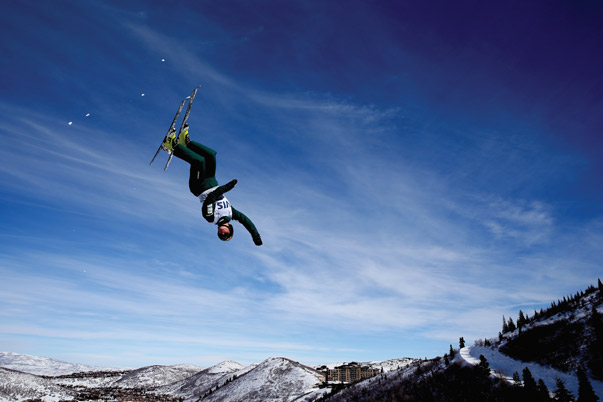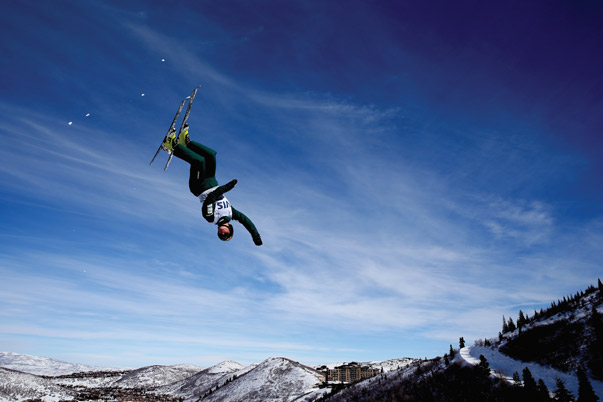 The Rocky Mountains span 3,000 miles, stretching from British Columbia to New Mexico—and, along the way, they lend their soaring peaks and sweeping vistas to five states: Idaho, Montana, Wyoming, Colorado and Utah. In the Mountain West, organizers will find Big Sky Country, vast mountain ranges and passionate sports communities. Whether it's for youth and amateur athletics or extreme adventure sports, whether events are held on a ski slope or a soccer field, fans in these Western cities are as plentiful as the region's winter snow and summer sun.
Park City: Mountain Playground
Park City, Utah, is no stranger to the international stage. The mountain resort town 30 miles southeast of Salt Lake City is home to the Sundance Film Festival every January. It was a host city for the 2002 Olympic Winter Games, and Utah Olympic Park (UOP) continues to welcome World Cups and Olympic qualifying events throughout the year. People from all over the globe visit the vaunted slopes at Deer Valley Resort and Park City Mountain Resort every winter.
Park City has also been chosen to host the 2019 FIS Freestyle and Snowboard World Championships. It will attract the world's best skiers and snowboarders for a dozen competitions over 10 days. The FIS Freestyle Ski World Cup goes to Deer Valley every year, and the U.S. Snowboarding and Freeskiing Grand Prix uses Park City Mountain Resort's half-pipe.
Fifteen years after being built for the Olympics, "the Olympic legacy is alive and well at UOP," said Bob Kollar, vice-president of special events for Visit Park City. The park is still an active Olympic training center that often hosts World Cup events for bobsled, skeleton, luge and other sports, and continues its athlete development programs.
Because traditionally most of Park City's action happens in the winter, about 20 years ago "local officials decided to drive summer traffic," Kollar said, by focusing on warm-weather sporting events and arts and culture activities such as festivals, live music and farmers markets. Tournaments that come to town won't find a facility with double-digit fields; they'll use fields at schools, parks and recreation facilities—all within a 10-minute drive, Kollar said. And that's fine because "from our perspective, you're selling your tournament as a sporting event-slash-vacation," he said.
Park City Sports Complex opened in 2006 with two lighted multipurpose fields, a softball/baseball diamond, a stadium field for soccer and lacrosse and an indoor ice arena. Ecker Hill Middle School has two softball diamonds and a multiuse field that can accommodate four full-size soccer fields. The Ski Town Shootout lacrosse tournament draws about 100 teams in early June, and the Triple Crown World Series brings a week of girls' softball and a week of boys' baseball to town in July. The Park City Extreme Cup soccer tournament draws about 450 teams, "so they pretty much play on every flat piece of grass in the county," Kollar said.
Even bare of snow, the mountains are a major player. The Mountain Trails Foundation, which builds and maintains about 400 miles of single-track trails, runs the Mid Mountain Marathon on a trail from Deer Valley to a finish line at the UOP Nordic ski jump. Deer Valley has the Discrete Peak Series, and Park City Mountain Resort hosts the two-day North Face Endurance Challenge Series. During the Red Bull 400, competitors run 400 meters—straight up the K120 Nordic Ski Jump at UOP. Park City Point to Point brings about 400 endurance mountain bikers.
Montrose:
Brink of Booming
Montrose, Colorado, is a mountain town in a valley nestled between the San Juan Mountains and the Uncompahgre Plateau. The town of 19,000 hasn't lost its down-home character and hometown friendliness—and it still has its Western sense of adventure—but it is changing as it grows. "People here are making choices to reinvest in their own community," said Erica Weeks, program coordinator for the city of Montrose. "We're on the brink of booming."
Much of that investment is in sports facilities and sports tourism. About five years ago, the city created the Office of Business and Tourism, home to Visit Montrose, to market the community and the region. Four years ago, the local competitive baseball organization asked the city to take over the program. Since then, "we have been developing the competitive sports program on both the youth and adult level," Weeks said. The city is working to make Montrose's youth league the nation's first Changing the Game Project-designated league, a program that emphasizes the value of youth sports and the importance of positive coaching over winning. As part of the program, Montrose requires coaches, parents and players—both for local events and incoming tournaments—to sign statements saying they understand the philosophy and agree to abide by it.
Every year the city invests in upgrades at its main outdoor venue, Sunset Mesa Sports Complex, where teams find sweeping views of the San Juan Mountains along with three baseball fields and a practice field, two full-size soccer fields, two under-12 fields and one under-10 field. The fields at the complex can also accommodate lacrosse.
The region also has other types of sports in view. What "we are trending toward is extreme adventure sports," Weeks said. "We are at the center of this amazing mecca for outdoor recreation." Montrose is surrounded by three national forests, two national conservation areas, one national park and mountain ranges that offer ice climbing, rock climbing, mountain biking, fat biking (off-road bikes with wide tires), trail running, cross-country skiing, snowshoeing, rafting, kayaking, fly fishing and more.
The Montrose Water Sports Park was completed in 2015 on the Uncompahgre River, which runs through town. It features six drops, terraced spectator areas, beaches, trails and ADA accessibility, which will also allow for adaptive sporting events. The park is home to the annual Fun on the Unc (FUNC) Fest in July, featuring kayak and standup paddleboard competitions. Just upstream, Mayfly Outdoors, a Montrose-based reel company, is planning a mixed-use riverfront development that will focus on commercial space for outdoor recreation companies, such as kayaking and fly-fishing shops, as well as retail, restaurants and residential units.
The city is also hoping to become a destination for longboarding events. Officials are in talks with Velosolutions to build an asphalt pump track for longboarding marathons and 24-hour endurance events. Planning is in very early stages, and nothing is final, but the idea is to construct the track in 2018 and host an opening event in June featuring longboarding on the track, climbing in Black Canyon of the Gunnison National Park and a wakeboarding competition at Ridgway State Park.
Casper:
Hip and Happening
Wyoming is the 10th-largest state in the United States by square mileage, but it's one of the least densely populated. Cheyenne, the state's capital and largest city, is tucked in the far southeast corner of Wyoming, closer to Fort Collins, Colorado, than to its nearest in-state neighbor—and that makes Casper the state's natural gathering place. "Our location in the center of Wyoming is one of the biggest benefits we have because it's easy for everybody to get to Casper," said John Giantonio, director of sports and events for Visit Casper and director of the Casper Sports Alliance.
Wyoming is "the cowboy state," and while the Western way of life is alive and well (and the cowboys are very real), the modern city is "going from hip to more hip," he said, with downtown redevelopment, restaurants, breweries and shops.
The city's signature event is the College National Finals Rodeo, which has been held at the Casper Events Center every year since 2001 and will continue to be held there through 2022. Although the CNFR is a major event, and the city hosts some other rodeos there and at the Central Wyoming Fairgrounds, "what we have the most of, and do the best with right now, is high school state championships," Giantonio said. The city will host the championships for all divisions of wrestling, track, volleyball and basketball through 2022. Nearly all of these competitions happen at the Casper Events Center, which can accommodate as many as 10,400 people, or about 8,800 for basketball. (Track events go to Kelly Walsh High School.) The center also hosted the 2013–2016 NJCAA Division I Volleyball Championship and the 2016 AAU Volleyball Super Regional and Grand Prix Tournaments.
Casper Mountain, home to miles of trails, the Hogadon Ski Area, and the new facility of the Casper Mountain Biathlon Club, "is where we're really expecting and seeing a lot of growth," Giantonio said. "Our sports complex really is the mountain."
Officials in Casper are also going after events that can use the region's many mountain trails, such as mountain biking, trail running, snowshoeing, fat biking and cross-country skiing. Casper Mountain hosted the Skunk Hollow Sneaker Chase trail run this past summer and the Cowboy State Games winter triathlon in January with 5K snowshoe, fat bike and Nordic skiing races. The Casper Mountain Challenge in June will include eight-hour and four-hour races.
Hogadon is a small downhill skiing area, but "we've developed Olympians on that hill," Giantonio noted. Last year, the biathlon club opened a new center with a 30-point range and has added 10 kilometers of competition-standard trails. In January, the National Guard Western Region Biathlon Competition drew 125 competitors to the center, which also hosted a competition for the Cowboy State Games, said Cathy Nyrkkanen Rosser, the center's managing director. The center also plans to build 5 kilometers of paved roller ski loops by mid-2018.
"This venue has brought a lot of exposure to our trails and to the mountain itself," she said. "(Participants) come here and they're blown away; it puts the idea out there that Casper can be a destination for cross-county skiing and biathlons."
Billings:
Big Beauty
Montana is a "huge sports state," said Alex Tyson, executive director of Visit Billings. "We have long winters, and people start playing sports very young. We love sports, and we like to cheer people on."
And with 108,000 residents, Billings is Montana's largest city—and the second-largest in the four-state region of Montana, Wyoming and the Dakotas. The city is home to MetraPark, the largest event venue within a 500-mile radius. The MetraPark complex boasts Rimrock Auto Arena, which can seat 10,500 for basketball games and 8,700 for hockey, rodeos and indoor football; the 77,400-square-foot Expo Center; the 28,800-square-foot Montana Pavilion; the 9,600-square-foot Super Barn; a half-mile dirt track and grandstands; and several other pavilions and exhibit halls.
The Billings Bulls, an NA3HL hockey team, play at Centennial Ice Arena, and the Cincinnati Reds' rookie league team, the Billings Mustangs, calls the 3,070-seat Dehler Park stadium home.
"We don't just get events because we're big," Tyson said. "We also have the restaurants, hotels, retailers and attractions to make sure everyone has a good time in and out of the gym."
The city is home to Montana State University–Billings, an NCAA Division II school, and Rocky Mountain College, which plays NAIA Division I. "We have great relationships" with both, Tyson said. The city hosted the NAIA Women's Division I Basketball National Championships in March and will do so again next year. Six NAIA schools in the Frontier Conference are within a six-hour drive of Billings, which made the city an attractive option. The 2016 AAU Grand Nationals Wrestling Championships were held at MSU's Alterowitz Gym, and the city joined with MSU to host the 2014 and 2016 NCAA Division II West Region Cross Country Championships, which used Billings' Amend Park.
Indoor sports are big for Billings, especially youth volleyball, Tyson said. A local middle school teacher and coach is the driving force behind Big Sky Volleyfest, which Visit Billings helped grow from 50 teams using school gyms to 100 teams playing on an imported sports court at MetraPark's Expo Center. The event will likely expand again into the Montana Pavilion.
But the outdoors offer big beauty, and Billings is becoming a destination for road races. The Montana Marathon is a Boston Marathon qualifier that starts on a country road and ends in downtown Billings, following a road that hugs the city's sandstone cliffs, known as the Rimrocks. The Montana Women's Run draws about 8,000 runners every Mother's Day weekend, and this summer will mark the second annual 406 Duathlon Challenge.
Salt Lake City:
Olympic Pedigree
In 2015, Visit Salt Lake launched an ad campaign called "There's nothing to do in Salt Lake," intended to tackle head-on the city's image and "make fun of ourselves a little," said Clay Partain, director of sports market sales for Visit Salt Lake. The idea was to let people know Utah's capital has more than 200 bars and restaurants in its downtown, along with 7,000 hotel rooms, two malls that flank the Salt Palace convention center and a light rail that takes people straight from the airport to what Partain calls "the great urban scene going on here."
The city is also known for the University of Utah, a Pac-12 school that hosted the first and second rounds of the NCAA Men's Basketball Tournament this year at Vivint Smart Home Arena, home to the NBA's Utah Jazz. Nitro Circus chose the school's 45,000-seat Rice-Eccles Stadium for its inaugural Nitro World Games action sports showcase last year. And with four ski resorts located in Salt Lake County, the region is a winter sports magnet.
But where the city is really growing—and what Visit Salt Lake is focusing on—is youth and amateur events, as well as Olympic sports. Over the past few years, Visit Salt Lake has partnered with the Utah Sports Commission to win several national governing body events. Salt Lake City welcomed the 2016
USA Weightlifting National Championships and Olympic Trials in May, and it will host USA Fencing's 2017 National Championship and July Challenge this summer and the USA Taekwondo National Championships in 2018—all three at the Calvin L. Rampton Salt Palace Convention Center. USA Curling's 2018 Arena National Championships will be held at the Utah Olympic Oval. "We're becoming kind of a household name in Colorado Springs," Partain said, referring to the home of many of the Olympic NGBs.
With 515,000 square feet of contiguous exhibit space and a 45,000-square-foot ballroom, the Salt Palace remains the city's biggest sports venue, but a new facility "is getting close to rivaling it," Partain said. The Salt Lake City Regional Athletic Complex, or RAC, opened in May with 16 multiuse fields and "has been a complete game-changer for us," he added. The complex hosted USA Rugby's Women's Super Series last summer and will welcome the U.S. Youth Soccer Region IV Presidents Cup in June. Women's Collegiate Lacrosse Associates (WCLA) Division I and Division II National Championships will be held there in May.
Volleyball, basketball and soccer are the city's main youth sports. The Big Mountain Jam basketball tournament produced by Jam On It draws more than 500 teams to the South Towne Exposition Center, which has 243,000 square feet of contiguous exhibition space.
Triple Crown Sports chose Salt Lake City for its first and only volleyball event after meeting with elite teams and top clubs from the West Coast to the Midwest. The Triple Crown Volleyball NIT Championships drew 212 teams this year and expects more than 425 teams next year, according to Sean Hardy, national volleyball director for Triple Crown.
Pocatello:
New Additions
Pocatello sits in the southeastern quadrant of Idaho where I-86 intersects with I-15, about a 2.5-hour drive to either the west entrance of Yellowstone National Park or to Jackson Hole, Wyoming. With 55,000 residents, Pocatello is the fifth-largest city in the state and home to Idaho State University, an NCAA Division I school that's part of the Big Sky Conference.
ISU's Holt Arena is an 11,700-capacity indoor stadium that hosts the Simplot Games, a high school track meet that's been held in Pocatello since 1979. The games, held in February, drew 2,100 athletes from 19 states as well as Canada, Mexico and Australia this year. The arena is also the site of the USA Wrestling Western Regional Championship, which has been drawing teams from 11 states to Pocatello for eight years. The arena's 79,000-square-foot floor can accommodate 22 simultaneous matches.
Although ISU athletics are a major boon for the city, the biggest news on the community sports front is the Mountain View Event Center (MEC), which opened in January. The 40,000-square-foot multiuse venue was built to host mid-size sporting events as well as conferences and trade shows. The center "is really what people have been wanting and waiting for," said Raul Cano, executive director of both the Pocatello-Chubbuck Auditorium District and the MEC itself.
The 28,000-square-foot gym can fit two full-size high school basketball courts, one collegiate basketball court or six volleyball courts. In its first month of operation, the MEC hosted three basketball tournaments, a volleyball tournament, a boxing event and the USA Wrestling Mountain View Duels. The volleyball world is "on fire" with enthusiasm for the city, and the MEC will host upcoming tournaments for the Intermountain Volleyball Association and Eastern Idaho Volleyball Association.
The MEC isn't Pocatello's only new sport facility. The $18 million Portneuf Wellness Complex opened in 2015 and "is a beautiful facility, especially for a community this size," Cano said. The complex has six full-size multiuse fields, a standalone championship field, two basketball courts and a sand volleyball pit. A two-mile paved trail winds through the complex, which sits on the shores of a 7-acre lake that offers swimming and fishing. A mountain-bike park was built into the existing terrain, and an outdoor amphitheater can seat up to 11,000 people on the surrounding grassy hillside.
The Bannock County Fairgrounds is the site of another signature Pocatello event: the Idaho High School Rodeo Association finals. The fairgrounds feature an arena, several exhibition buildings, barns, a baseball field and tennis courts.
Mountain West:
High-Quality Events
The Rocky Mountain region's sports markets and facilities are just as diverse as its landscapes. Volleyball is booming across the Mountain West, and cities are courting field sports such as soccer and lacrosse. But with the Rockies as the spine of these five states, the mountains are always major magnets for sports. Whatever you're looking for—skiing and snowboarding at resorts, winter events at former Olympic facilities, mountain biking and fat biking, trail running, snowshoeing, cross-country skiing or biathlon—the Rocky Mountains have the perfect location.