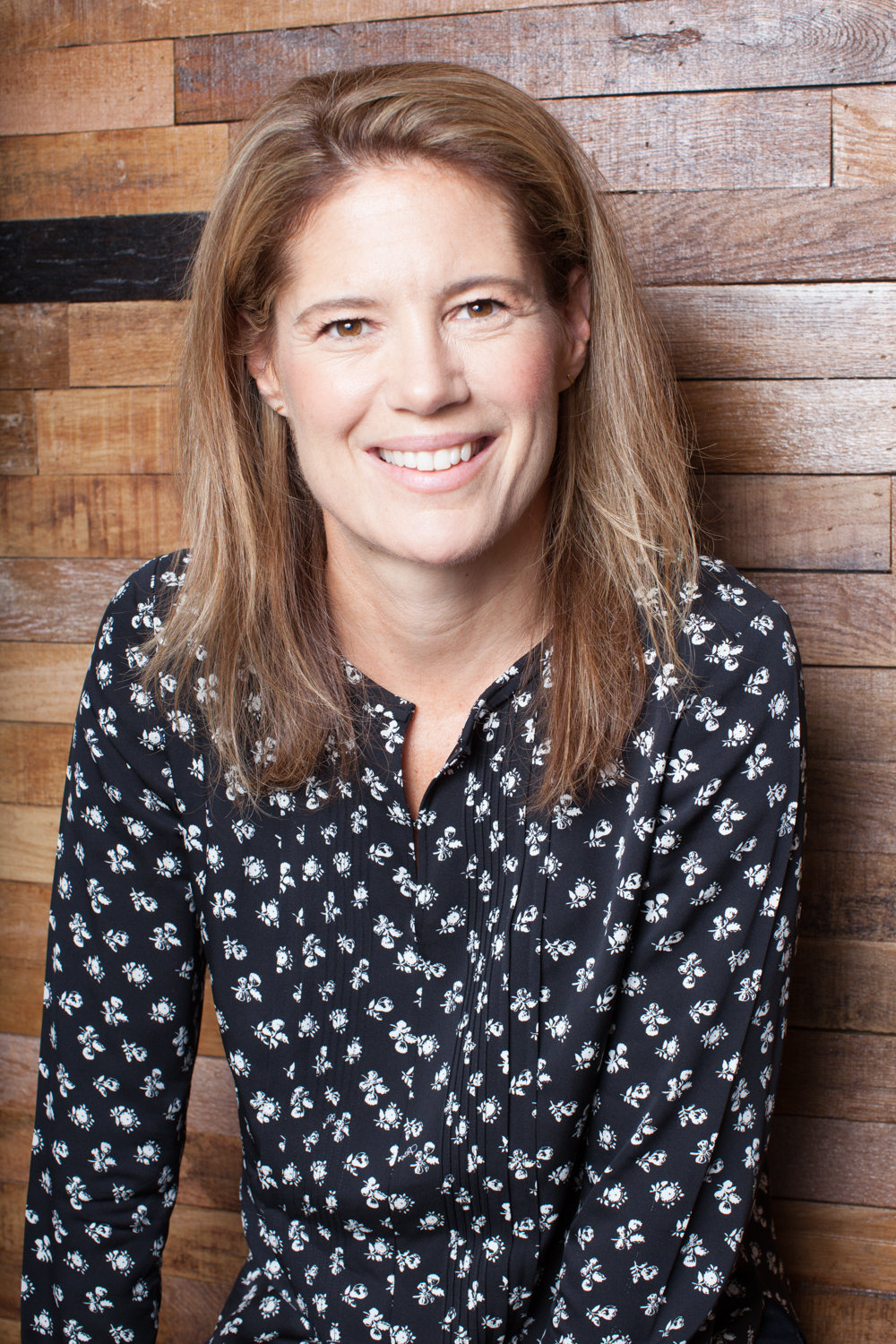 The new CEO of World Surf League has a vision for new venues where the sport can ride
A
t first glance, you wouldn't necessarily equate surfing with technology. A wave, a board, a surfer would seem all you would need. But in reality, the World Surf League is in the midst of an innovation period that will see a new breakthrough this season: an event at a man-made wave facility. Leading the helm into the new era is CEO Sophie Goldschmidt, who began her role in August. Before that, she worked in a variety of executive roles with the Rugby Football Union, the NBA, the WTA and Adidas. She most recently was group managing director for CSM Sports and Entertainment. With WSL, she is leading the top professional league of a sport that will make its Olympics debut in 2020 in Tokyo. But first up is the groundbreaking event May 5–6 and another in September at Kelly Slater's Surf Ranch in Lemoore, California, which if successful could lead to even more inland events and infinite possibilities.
You have a wide background in professional sports. What was your interest in leading the World Surf League?
I've always been a big fan of surfing. I'm still unfortunately very much a below-average surfer. But I was intrigued by the opportunity. My interest has been captured in a few ways over the years, just the beauty of the sport itself, the amazing locations that surfing takes place in, the athletes and their athletic performance, the bravery that they show. Then I went on the journey to explore more as I was seriously considering this role. I got a better understanding of what a tipping point it is for the sport with the Olympics in 2020. There's this new amazing wave technology with the Kelly Slater Wave Co., which we now own outright—that's a real game-changer for the sport. And with the performance of these athletes I saw an opportunity to make them even more recognizable and appreciated and help them become household names, which they totally deserve. I feel like some of them are talked about—the greatest ever such as Kelly Slater—but many of them are still quite unknown and I think there's a real opportunity to grow their profile.
In addition, with the world and consumers now being more about experiences and adventure, I'm not sure there's any sport that sits at the cross section of where sport and lifestyle intersect better than surfing. I think that's what people find aspirational these days. We've got some really interesting statistics around the appeal of surfing. I think that's also demonstrated by our significant reach across our social channels and the engagement we get. For all those reasons it was an incredibly exciting opportunity for me and I felt like it was a once-in-a-lifetime chance to get involved with a sport that's on the precipice of going to a whole new level. I've been here now almost six months and it's certainly lived up to its expectations.
As you mentioned, WSL has bought into the Kelly Slater Wave Co. What was the league's interest in that investment?
It may surprise many, but surfing has actually been very innovative as a sport and very progressive over the years. It has used technology in all sorts of ways, whether it's board design or how we broadcast the event through drone technology. We were actually one of the first sports to stream live events back in the early 2000s. So this technology just continues to emphasize that point. Huge credit is due to Kelly Slater and his team who have been working on this system for over 10 years. We got involved and bought it about 18 months ago. For us, it was an opportunity to take the sport to markets it's never been to before. There may be certain countries that don't have waves. But most important is that it also completely changes the way we can present the sport, both as a live experience for fans who may be attending events and also from a broadcast perspective.
One of the beauties but also challenges of surfing competitions at the moment is that when they take place in the ocean it's hard to determine exactly when the events are going to take place. We have these event windows. During those windows, the competitions will take place over several days. It depends on the swell and the winds and also other variables. It's fascinating. But from a broadcast perspective that can have its challenges. With this wave technology, we can say at 8:00 on a Saturday night we're literally going to push a button and amazing world-class waves will roll out. From a broadcast perspective, that's kind of a game-changer for us. Sometimes, depending on the different surf spots we're competing at, some of the competition may take place quite far out to sea. We don't build spectator seating at venues because exactly where the surf is going to hit will vary. But this is going to be like stadium surfing. We're going to have seats coming up in some instances out of the water or over land so the wave will actually be coming toward you. From a fan-engagement perspective, I think it's going to be pretty incredible.
Is there concern in the surfing community that this may take the emphasis away from your ocean events?
It's important to emphasize that we see this wave technology as being additive. It's not in any way going to take away from the ocean. If anything, the ocean will become even more important than ever to us. It's the heart of the sport. And we're still going to be very focused of prioritizing our events that take place in the ocean. But we feel that we can slightly have our cake and eat it too. This provides now almost a different discipline and allows us to go to different markets and complements the ocean activities very well. And importantly, it will also be able to help us broaden our audience because we will be going to markets that otherwise wouldn't be able to experience live surfing. And from a broadcasting perspective, the conversations we're having with broadcasters and media companies around the world in many instances has completely changed because we now have this new product that is much more broadcast friendly for traditional linear TV companies and some other media platforms as well.
You did a test event at the Surf Ranch last year. Were there any surprises or things you learned that changed the way you'll do things at your event in May?
There were a lot of surprises, but good surprises. Following that event, our ambition for what we could do went through the roof. I'm fortunate. I have worked in a bunch of different sports so I knew it would be a game-changer for surfing. But I think even compared to how any other sport is currently presented, this takes it in a whole new direction. The fact is these systems are just beautiful. You can imagine them being lit at night and how you can capture the atmosphere. It can take sports presentation in a totally new direction. I think we were energized and enthused by that. If anything, we've just become more ambitious. The other thing that was interesting was this is a big change and it's hard for some people to accept. The sport has evolved and that's why we're emphasizing that the ocean is hugely important and we're not losing our focus on that. I think there were skeptics about what this technology would do. But we had some of our original founders of professional surfing invited to this event, some of the true legends of the sport who represent the heritage and culture of surfing, and they were crying with joy when they saw this wave—they couldn't believe it. That for me was a pretty key moment. I thought if they're behind it and see how special this is, it shows we're really on to something. And they absolutely saw it as being complementary. Being able to represent the sport in an entirely different way—I think that was also very reassuring.
You've got a world-class facility now in Central California, but what happens from here? How many of these can you potentially build? Are they portable?
No, they are permanent developments and they take a decent amount of time to build. A lot of that depends on securing the land and permitting. And they're sizable. We're still working through and still very much in development phase—the minimum and maximum size is still being determined. But the prototype we've got at the moment in Lemoore is the size of about five football fields. That's on the large side. We can build in smaller dimensions than that. But you need a decent amount of space to really create the right size of wave and all the experiences that go with it. The number is limitless. Having said that, we're very focused on being strategic with the deployment of these wave facilities. We want to control the experience and brand positioning. They're being positioned as high-performance facilities. That's phase one. At the moment we obviously have the one in Lemoore. But we're about to break ground on one in Florida. We're close to finalizing the development in Tokyo. We're also looking to build one in Brazil, Australia and then Europe will follow after that. That's going to keep us pretty busy for the next couple of years.
But in phase two I think we will be expanding significantly beyond that. Since we announced the technology and had the test event, the demand has been pretty incredible. It's a great situation to be in. We've got a much longer list than we can currently supply. But we want to be strategic about these. The initial positioning is very important and how they can really be an enabler for the WSL. We absolutely want to host events there. We're hosting the specialty event in May, the Founders Cup of Surfing presented by Michelob Ultra Pure Gold and we're having this Championship Tour event in September, and we're going to learn a lot from those events. But I expect us to have more events in the future.
The event in May will have a festival component for spectators. That must be easier to pull off there than an event in the middle of the ocean…
Absolutely. There will be a big music element and a food and drink component. We want to make it an all-day festival atmosphere to appeal to a broader audience. We'll have seven or eight hours of surfing each day, so there's a lot of surfing to take in, but there will be breaks throughout the day so people can enjoy some of the other opportunities as well.
You're also going in an interesting direction with a mixed gender, team format. How did that come about?
We've been thinking for a while about how we can try different things. We thought launching this facility publicly for the first time would be fun to try something else out. Now we're having so many more countries represented on our world championship tour so it's a five-team event made up of the U.S. Brazil, Australia, Europe and the rest of the world. We think that's going to be a fun dynamic. There will be co-ed teams both men and women on the same team—some male captains, some female captains—so that dynamic will be interesting as well. It will allow a new competitive dimension to the format. Again, we'll learn and evolve. We're very much in the development phase across many areas of the sport, but we're really excited to see how this works.
You have one of the widest footprints of any sports organization, including a number of classic surfing locations where the tour has gone. What is your philosophy about entering new markets?
We're getting more and more interest, which is really positive. I think as the profile of surfing is on the rise, I think the Olympics inclusion has opened people's eyes. Also, there are so many more places around the world that have decent quality surf at certain points in the year. As we look to expand even more globally we're definitely open to going to different locations. It's always finding that balance. You want to be able to have that mix and be able to go to some of the most iconic, historic locations as well. But the athletes love trying out new spots. This year, the women are going to Jeffreys Bay in South Africa for the first time, which they're really excited about. We're going to Bali for the first time in a few years for both men and women. And we've got other conversations happening. I expect in 2019, 2020 and beyond there will be a few new ocean locations added to our calendar as well.
Your events are held around the world throughout the year. How often are you traveling?
[Laughs.] I've been traveling a lot. I think it's important, still being fairly new to the job, that I see as much as possible in my first few years just to really understand the opportunities with each event and different locations. Once I've been around the world once to see most of our key events and our various office locations and have had the opportunity to meet with our key stakeholders and partners, I think then my travel schedule will probably be reduced quite a bit. But that's part of the job when you're working for a global organization. There's nothing better than seeing people face to face and doing business and building relationships in person. But it's been a busy first few months and I expect that to be the case in the short to medium term. Long term, I think it will balance out between more office time and travel on the road.
WSL recently announced a deal with Facebook as the exclusive digital home for your live events through 2019. Why Facebook?
We were delighted with that deal. We've been working with Facebook for the last couple of years and have had a really positive relationship. We were excited that they wanted to extend and expand with us pretty significantly. It was the most significant sports rights deal they had done with a top-tier sport on a global basis. So we were thrilled to be able to expand with them in that way.
There are a few reasons we felt it was the right fit. Firstly, we're still really about audience growth and making sure as many people as possible can engage with our top-tier content and Facebook is the largest media platform in the world by some distance, so it was a great fit from that perspective. In addition, the fact that there was no paywall, for us it's important that the vast majority of our content is available for free to consumers and fans around the world. Facebook allows us to do that. Also, they're very innovative. They're a leading technology innovation company and we want to push the boundaries. We see ourselves as pioneering, so having the opportunity to work even more closely with a company like Facebook allows us to push boundaries and do things differently. Our audience is pretty young, and that's one of the attractions of surfing and the WSL content, so that was also a good fit. It's been structured in such a way that we still have the ability to share our content and distribute it through other linear platforms. We will have a lot of content still available on our own channels as well. We think it's important to have that direct engagement, but Facebook allows us to take things to another level as well.
We touched on the Olympics adding surfing to the program in 2020. What kind of exposure are you anticipating getting from the Games?
The Olympics is a great opportunity for any sport. The global platform it provides is phenomenal. For us to be a part of that and for our surfers to compete on that stage and have the opportunity to interact with other athletes and everything that comes with the Olympics is great. Without being too arrogant, I think the Olympics will also benefit a lot from surfing. I think it brings different demographics. It brings a younger demographic, which we know the Olympics need and that's probably one of the reasons surfing has been included. It will bring a whole new atmosphere and audience to the Olympics. I see it as a win-win situation. But I think the sport doesn't live or die by the Olympics. It's been very much established at the professional level and the ultimate goal of any professional surfer is to be the world champion on the WSL tour. Raising the profile of surfing only enhances that. We're really happy to be in the Olympics and are working closely with the IOC to do whatever we can to make the sport as successful as possible.
Would you like to see Olympic surfing hosted in one of your man-made wave facilities?
We would love to see the Olympics take place in one of our wave facilities. We're very focused on trying to get a wave facility built in time in Tokyo. There's no guarantee that will happen or that it will take place in one of our wave systems because at the moment there is a commitment to hold a competition on a beach. But if we can get a facility built to be used as a practice facility or to actually host some of the competition, we think that would be significant for the sport. But it's too early to think it will happen. Either way we'll be very supportive and do whatever we can to make the Olympics and surfing a success.
As you mentioned earlier, a lot of people might look at surfing as relatively simple with a wave and a board but there's a lot going on. This must be an exciting time for you… 
Agreed. It's why I took the job. I think we're on a fun journey. And with a bit of luck, if we get things right we can achieve some pretty special things for the sport at large over the next few years.