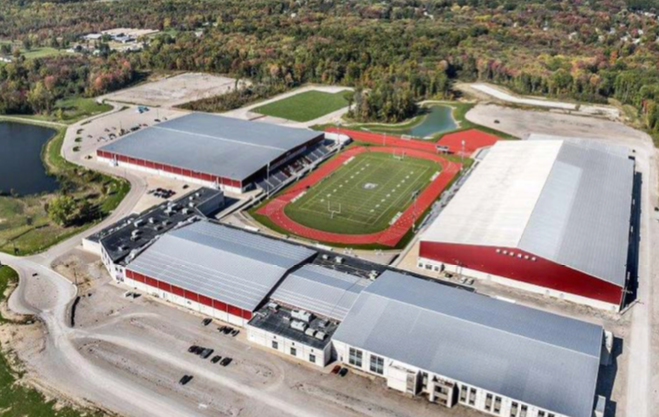 Spire Institute, a Geneva, Ohio-based multisport complex, has been acquired by Axxella, a Baltimore investment firm with plans for expansion.
Spire features an outdoor track-and-field arena and indoor facilities that can host events with up to six basketball courts or 12 volleyball courts. The complex also features two full-sized indoor soccer fields and one outdoor stadium field and is home to a 50-meter swimming pool.
Built on 177 acres, the 750,000-square-foot venue includes The Academy at Spire, a national and international academy for high school and postgraduate athletes with a focus on swimming, basketball and track and field.
The leadership team overseeing new projects and programs at the venue will include Axxella CEO Jonathan Ehrenfeld and COO Michael Hannon. Ted Meekma of Ted Meekma Consult LLC and Rich Odell of Heads Up Educational Consulting will also play strategic roles in program and facility development, and staffing and operations.
Prior owners invested more than $100 million in the property. Axxella officials intent to build on that by expanding the number of academy sports, camp programs, leagues, club programming and training activities at the complex. Future investment will also be aimed at academics, special events and tournaments, recreation programs and student residence housing.
"Our intent is to build upon the work already begun at Spire," Ehrenfeld said. "We recognize the importance of this complex to Northeast Ohio. As we build out the programming and facility footprint of Spire to appeal to a broader local, regional, national and international audience, we will do so in ways that will cause the surrounding community to always be proud of the tremendous resource that is Spire."