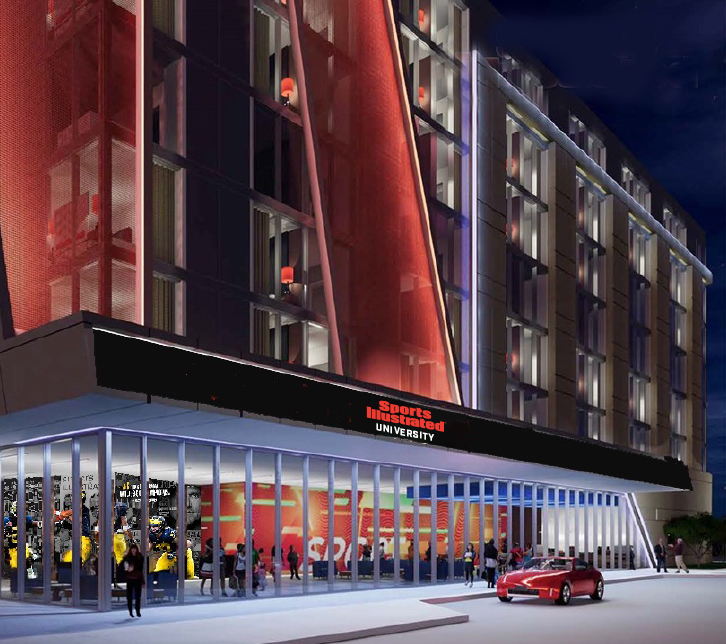 Travel + Leisure Co. and Sports Hospitality Ventures will roll out a series of sports-themed resort and lifestyle complexes branded with Sports Illustrated with the first location in Tuscaloosa, the home of the University of Alabama, scheduled to open in late 2025.
Every Sports Illustrated Resorts campus is expected to feature a full-service hotel, vacation club and residential condominiums with designs showcasing nearly 70 years of Sports Illustrated content. All resort campuses will also include a host of branded attractions from live action sports and entertainment to dining, wellness and relaxation.
"This project is a tangible demonstration of our multi-brand strategy to grow our business with new exciting partnerships," said Michael Brown, president and chief executive officer of Travel + Leisure Co. "As the world's leading membership and leisure travel company, we are uniquely positioned to be able to partner with brands and hospitality companies to develop customized vacation club products for their customers."
As the companies begin work on the Tuscaloosa resort campus, additional college town destinations are expected to be announced in the future. The broader portfolio of properties is expected to include beach clubs and experience parks located in leisure destinations. The first property opened in 2022 in Cap Cana, Dominican Republic.
"Sports Illustrated Resorts are about hospitality, lifestyle, leisure and entertainment where we celebrate not only the legacy of Sports Illustrated, but the path it is on now," said Christopher Schroeder, chief executive officer of Sports Hospitality Ventures, LLC. "People are seeking differentiated experiences that allow them to be more active and participatory, and Sports Illustrated Resorts are delivering the ultimate experiences for guests through the hospitality destinations we are creating."
Sports Illustrated Resorts is focused on opening properties in major leisure destinations, high traffic urban centers, university towns and sports and entertainment districts. For the cost of an initial membership, Sports Illustrated vacation club members will receive flexible points-based currency to make repeat resort reservations and utilize offerings from across the portfolio.
Sports Illustrated residences will be fractional and wholly owned condominiums managed through a partnership between Travel + Leisure Co. and Sports Hospitality Ventures. Travel + Leisure Co. acquired the rights to the vacation ownership business for Sports Illustrated and will develop and operate the sales and marketing of the new Sports Illustrated vacation club, as well as certain Sports Illustrated residential condominiums.
"We're excited to be working with the Sports Hospitality Ventures team to create a custom club experience for passionate sports fans," said Geoff Richards, chief operating officer of vacation ownership at Travel + Leisure Co. "Our vision for this entirely new vacation club is to provide members a unique opportunity to totally immerse themselves in gameday life with a piece of their favorite college town, plus flexibility to travel away with their team and beyond."