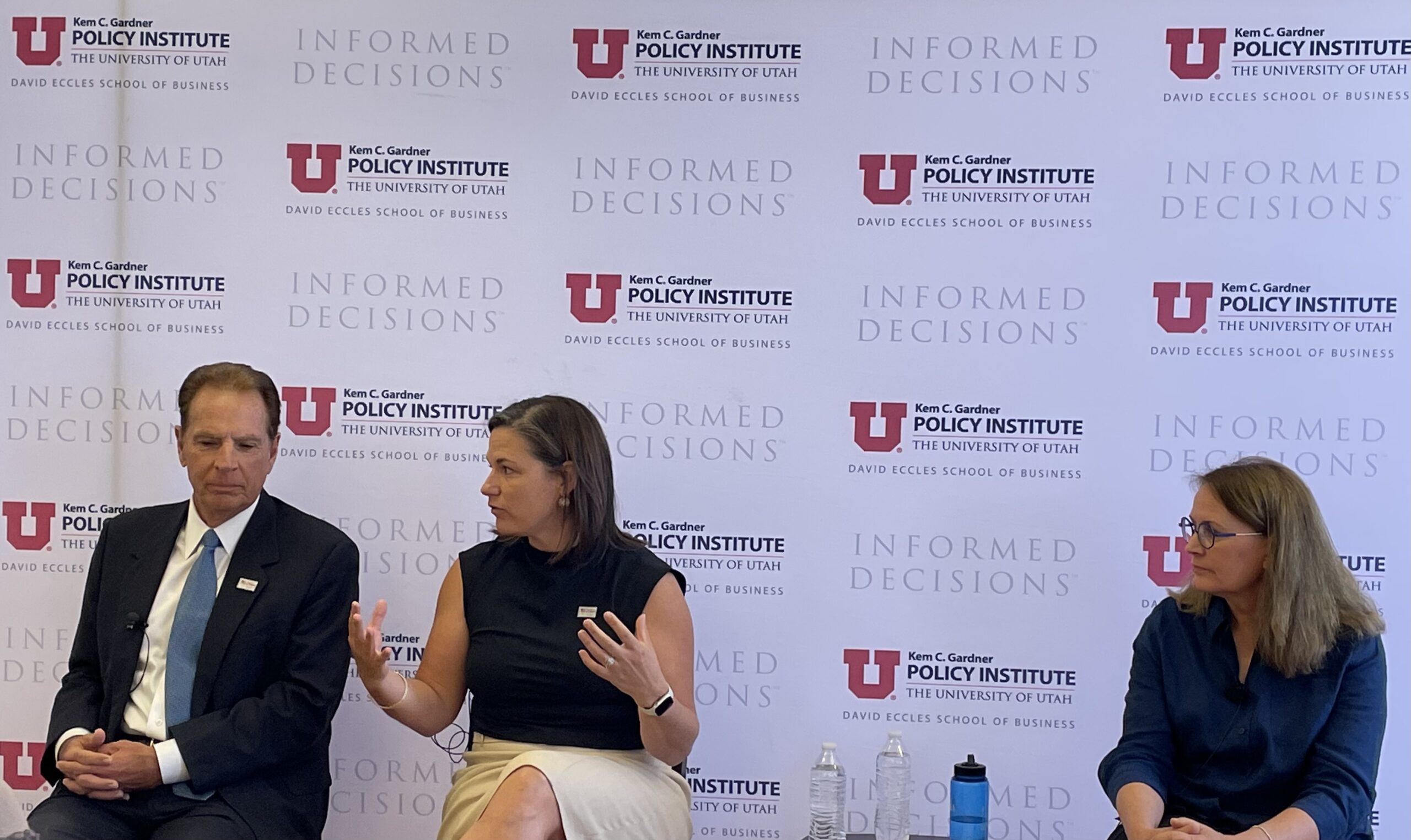 A study from the University of Utah's Kem C. Gardner Policy Institute says the "demographic, social, and environmental factors favorably position the state to host another successful Olympic and Paralympic Winter Games," as leaders for the Salt Lake City-Utah Committee for the Games continue working on a bid to return the Games to the region.
The environmental factors will be key for any candidate to host a future Winter Games given recent IOC emphasis on sustainability along with the effects of climate change on previous Olympic hosts. A recent report from Loughborough University in the United Kingdom predicted fewer than half of previous Olympic Winter Games hosts will have viable snowfall by 2050 but Salt Lake City will be able to sustain its winter climate through that time frame.
Sarah Wright, executive director of Utah Clean Energy, said "Utah can be the conservative state that really leads out on smart climate solutions. And so this is an opportunity for us to show not just Utah, but the nation and the globe that you can come together and do hard things and leave a legacy of a stable climate."
Wright admitted she was not sure if she wanted the Games to be in Salt Lake in 2002 but "I had the time of my life." A future Games could propel the state to increase adopting zero-emission vehicles and moving toward electrification in all facets of life.
Another key to the sustainability of Salt Lake's future Games hopes is that with all the venues in place and a new international airport having already opened, "a future Games will not require any Olympic-specific new construction projects," according to the report, other than "minimal expansions" that organizers have already planned for in its budget estimates.
"These discussions that we're having around climate are very much so forefront and relevant for the athletes in terms of if they can participate in the sport, in the activity they love because the environment is changing so dramatically," said Catherine Raney Norman, board chair of the SLC 2030 bid.
The environment in the Salt Lake Valley is such that many athletes come to the region to train ahead of the Games. If Utah was its own country, it would have finished tied for 12th in the medal count during the 2022 Winter Games in Beijing.
Raney Norman, a four-time Olympian speedskater said "everything we have here from the environmental side with altitude and mountains to training environments and community support," makes the area attractive for training. "I was a beneficiary of that when I was an athlete. I think that's why we thrive here and why so many athletes come here to train and then stay here."
Of course, the discussion Thursday also centered around the current bid race to host the Games again. The two main public bidders have been Salt Lake City and Stockholm after the Sweden Olympic and Paralympic Committees said it will study whether to bid for 2030. The IOC will meet in October in Mumbai, where it could announce targeted dialogue with multiple cities and then potentially have an official awarding of Games for both 2030 and 2034 when it meets before the start of the 2024 Summer Games in Paris.
With the Summer Olympics in 2028 in Los Angeles, the IOC has been wary of having the U.S. host back-to-back Games, making Sweden attractive to the IOC. Despite being an established giant in winter sports, Sweden has never hosted a Winter Games. Swedish Olympic official Hans von Uthmann told The Associated Press there is a June target to complete a feasibility study.
"I have deep admiration for any city that wants to put on an Olympic Games," SLC 2030 Bid Chief Executive Officer Fraser Bullock said. "We would love for (Sweden) to be in 2030 because it's no secret for us that 2034 is better to have no overlap with the 2028 Games in LA. For us, that's the dream scenario … our work is to be ready and be ahead of where we need to be."