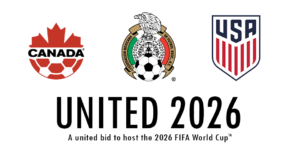 A majority of adults in Canada, Mexico and the United States support a joint bid by the three countries to host the 2026 FIFA World Cup, according to results of a new survey released by the United Bid Committee. The survey, conducted by Ipsos, concluded that 77 percent of North American residents are in favor of the bid to host what would be the first World Cup to feature 48 teams. In addition, 81 percent of people who responded to the survey said they thought the event would be good for their specific country.
The survey, conducted with 1,000 people from each country, also found that a large number of people would be interested in attending a match of the tournament if it was held near where they live or work. In total, 57 percent said they would be interested in attending, a number that would equate to roughly 300 million people.
"It really reaffirms what many of us felt when we started this, which is the broad support we have from North America for the project we're embarking on," said John Kristick, executive director of the United Bid Committee.
Chris Jackson, vice-president of Ipsos North America, said the survey found relatively little opposition to the bid—8 percent—with those opposed questioning the cost of the bid or declaring themselves not interested in soccer. When those polled were told that no new stadiums would need to be built for the tournament, nearly 80 percent of those polled said they would be more supportive of the event.
The United Bid Committee is expected to submit its bid to FIFA in March. Morocco is the only other country that has declared its intention to bid for the event. To date, 32 cities have been identified in the United States, Canada and Mexico as potential hosts (25 in the United States, four in Canada and three in Mexico) although 12 are expected to eventually be selected to host specific games of the tournament.
The full results of the survey, which were weighted to the North American population to not over represent Mexico, can be found here.