Tempe, Arizona, has been awarded the 2021 USA Triathlon Collegiate Club National Championships after the 2020 event had to be rescheduled because of the coronavirus pandemic. The event, which has been staged in Tempe in 2013, 2014 and 2019, will return April 9–10, 2021.
The 2020 event had been scheduled for October 16–17 in Lake Havasu City, Arizona.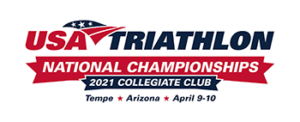 The USA Triathlon High School National Championships, which were held in conjunction with the Collegiate Nationals from 2016–2019, will not be held in Tempe next year. The high school event will instead be restructured to become part of the USA Triathlon Youth & Junior Nationals beginning in 2021 in West Chester, Ohio.
Tempe has a long history of hosting triathlon events. In addition to the collegiate event, it has hosted the High School National Championships (2019), the USA Paratriathlon National Championships (2014), the Women's Collegiate Triathlon National Championships (2017, 2018, 2019) and the Age Group Draft-Legal National Championships (2019). It has also hosted ITU Pan American Cup events and non-drafting triathlons such as Ironman Arizona and Life Time Tri Tempe.
"For years, Tempe has proven itself as a world-class host for USA Triathlon National Championships — from the versatile and scenic venue at Tempe Town Lake to the unmatched support from city officials and the community as a whole," said Brian D'Amico, USA Triathlon director of events. "We appreciate the city's willingness and flexibility to set its sights on 2021, after COVID-19 prevented us from gathering this past April."
The Collegiate Nationals attract 120 collegiate triathlon clubs with more than 1,200 collegiate athletes expected to participate.
"We are thrilled that USA Triathlon included Tempe, Arizona, in their 2021 schedule of events," said Brian McCartin, president and CEO of the Tempe Tourism Office. "Tempe's residents and our hospitality community will be ready to welcome these talented collegiate athletes this spring."