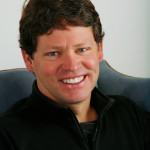 Tiger Shaw will become president and chief executive officer of the U.S. Ski and Snowboard Association in spring 2014, succeeding Bill Marolt in the role. Shaw, a two-time Olympian, will begin his tenure at USSA as chief operating officer effective October 1 before transitioning to the lead role after the 2014 Olympic Winter Games in Sochi, Russia. Marolt will continue serving as a vice-president of the International Ski Federation as well as a member of the U.S. Olympic Committee's Board of Directors.
Shaw, a graduate of Dartmouth College, competed at the 1984 Olympic Winter Games under then Head Alpine Coach Marolt. A native of Stowe, Vermont, Shaw is a nine-time U.S. Champion and a successful business executive. Most recently, he was senior director of response services at Global Rescue LLC, where he was responsible for business development and new markets, products and services. Before Global Rescue, Shaw was director of inventory strategy at Dealertrack, where he managed products addressing automotive retail sales, financing, profitability management, digital marketing and operations systems.
"This is an exciting time for the organization," said Shaw. "I look forward to working closely with Bill and the rest of our talented leadership team, who have established a solid foundation for the future. We have two goals: First, to continue our long term vision of becoming the best in the world in Olympic skiing and snowboarding by providing world class training, education and athletic opportunities to USSA's athletes. Second, to keep the Olympic dream burning brightly by increasing the visibility of our sports and continuing to return value to USSA's members, sponsors and resort partners.
"I would also like to recognize Bill. It is because of his tremendous leadership and unwavering commitment to athletic excellence over the past 18 years that the USSA is well positioned for continued success. I look forward to maximizing the opportunities presented by the exciting portfolio of sports within the USSA."
As an athlete alumni trustee of the U.S. Ski and Snowboard Team Foundation, Shaw spearheaded the development of successful educational programs for USSA athletes that enable national Team members to attend and earn college credits at reduced or no cost while competing on the USSA's elite teams.
"Tiger is an outstanding addition to USSA staff leadership as we prepare for Sochi and beyond," said Marolt, who has led USSA since 1996. "He brings an exceptional combination of leadership skills, knowledge and experience gained as an Olympian, USSA club coach, athlete parent and successful entrepreneur and business executive. I had the privilege of working with Tiger during the '84 Olympics in Sarajevo as well as while he was a trustee of the Foundation Board. I welcome his passion for furthering a Best in the World vision that means a great deal to us both. He has earned success on and off the slopes, and I'm confident that the USSA will be in good hands under his leadership."