The president and CEO of USA Swimming is part of a new wave of NGB leaders whose background includes professional sports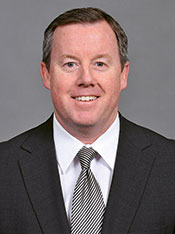 Being a competitive swimmer since he was a child, Tim Hinchey has a natural affinity for the sport. But his background has been in professional sports, most recently with MLS' Colorado Rapids, where he was president since 2011 and MLS executive of the year in 2016. Before that he served as the team's chief marketing officer and in the same role for Derby County, FC, a professional soccer team in England. His previous stops included executive roles with the NBA's Charlotte Bobcats and New Orleans/ Oklahoma City Hornets. He began his career with the NHL's Los Angeles Kings. In June, Hinchey got to return to the sport he loved, being named president and CEO of USA Swimming, succeeding Chuck Wielgus, the longtime leader who passed away in April. In this interview, Hinchey discusses the opportunities ahead, his take on swimming events and why he took the job.
What was your interest in the position at USA Swimming?
It was a call out of the blue. I had just agreed to a new contract with the Colorado Rapids. But this was the one job, being a swimmer my entire life, it was really the only thing I could think about. If I could represent our country and this organization in this sport that has defined who I am as a professional and as a person, it just seemed more like a vocation versus a job.
You've been visiting with clubs and other constituents since taking the job. What are you hearing?
Everyone takes incredible pride in their contributions to our sport. It's one of the top-performing NGBs in the country, so there's certainly a lot of interest in terms of how we grow the sport. Like many sports, grabbing the attention and time and investment from parents and kids isn't easy. Something on some folks' minds is, how are we going to maintain and continue to grow our membership base? In my mind, are there other opportunities to create memberships that aren't necessarily directly related to our clubs?
In the professional sports world, as we like to say, there's a plan for every fan. Are there opportunities to find other individuals who have touched swimming, love swimming and are passionate about the sport and find ways for them to contribute? From a business-development perspective, there's an opportunity there. Sponsorship is another area I'm intimately familiar with from my career in multiple different leagues. We have phenomenal sponsors at USA Swimming. How do we grow those opportunities? What categories can we grow? I think that's an exciting thing.
USA Swimming has 400,000 members, making it one of the largest NGBs by membership. Is there room to grow that number?
Absolutely. First and foremost, we need to make sure we're providing the benefits to our current members. Much like our experience in professional sports with season-ticket holders, retention is job one. But there's certainly a growth opportunity in my mind beyond the athletes, and that's parents, alumni and folks like myself who swam their entire lives. I would love to support USA Swimming, so what are the opportunities?
One of those areas that comes to the top is that I grew up predominantly as a summer rec swimmer. I got to swim in high school and realized I needed to swim year-round to fulfill my dream of swimming in college, which occurred. Now I'm the parent of six, but my three little guys are also all on summer rec teams. There are more than 2 million registered summer rec swimmers across our country, none of which have a relationship with USA Swimming so far. Is there something where we can create a bridge to support USA Swimming?
There are a number of new NGB leaders like yourself who were not previously in the Olympic movement. How do you plan to incorporate your experience in the commercial end of professional sports into your new role?
That's a good question. One of the key things is we've started building a proper CRM. We have a phenomenal data warehouse for the athletes and their times. But we don't have a dashboard that tells us Tim Hinchey has these parents, they have this income, they live in this area, they drive these kinds of cars. There's a huge opportunity for us to learn more about our existing membership and then add to that through an intelligence-based business opportunity. That's an area that we've seen over the last years in professional sports that has been paramount to our success—to be able to reach and market and communicate to our season-ticket base and ticket holders in general. We need to be sophisticated in that area as an NGB.
At the Colorado Rapids, you spent a lot of time investing in the fan experience at the stadium. Do you see areas where USA Swimming can improve the fan experience?
I do. USA Swimming has executed the most professional standards in its meets, from Junior Nationals to the U.S. Open to Nationals, and of course the Olympic Trials, which are the pinnacle. That's the best amateur event globally, hands-down, with the enthusiasm, the fan experience and the arena experience. The folks here have done a phenomenal job. Having said that, one of our objectives in the next few years is to "trialize" all of our events—and I give Mike Unger, our COO, who has been responsible for all these events, the credit for this because he threw out the term. The way I've challenged our group very early on is, what are our home games? How do we trialize these events from the athletes' perspective to give them the best chance to win prize money and to work hard and give them a chance to be successful? And at the same time, to your point, what about the fan experience? How do we get people to love swimming and to come out and support swimming?
What is it like to succeed Chuck Wielgus, who had such an impact on the growth of the organization over his 20 years there?
Before I got here, it was certainly an intimidating prospect. He did so much for the sport at all levels, not just the national team and that success. I'd say his No. 1 legacy is the staff here. The folks that I've inherited—not just at the executive team level, but people all over the staff that have dedicated tremendous tenure in this organization—it's obviously respectful. I'm very humbled to be in this position.
Chuck Wielgus was not without his detractors, particularly when it came to his initial handling of allegations of sexual abuse by USA Swimming coaches. Where is the Safe Sport program on your priority list right now?
It's at the top of the list. Giving credit to Chuck, though, whatever difficult time he went through, he instead drove, in my opinion, to build the best, most successful Safe Sport program. Whatever mistake came out of it has been good. And Susan Woessner, who runs this for us, is a tremendous executive in this organization. It's been great to see the USOC dedicate itself to its U.S. Center for SafeSport endeavor, and we'll continue to be on the forefront of ensuring there's a safe environment that's involved in swimming at all levels.
You competed in an open-water swim in Ireland in July. What was that experience like?
It was great. I still swim masters in south Denver and enjoy it tremendously. I have not had a pool race since 1999, but I love doing open-water relays. Last year we did Trans Tahoe. This year I convinced three of my club teammates to raise some money for Cancer Care West in Ireland, and we swam a relay from County Clare to County Galway across Galway Bay. It was about 13K, and we were the first to cross the line. It was a tremendous experience.   
What was your introduction to the sport of swimming as a child?
My parents forced me to join a rec swimming team in Walnut Creek, California, and that was it. My dad had taken a new job with Pacific Telephone in San Francisco. His boss said we're all part of this swim club, you need to get your kids involved. I'll never forget my first day—it was a cloudy day in May of 1977.  I've never looked back. It was one of the best decisions my parents ever made.