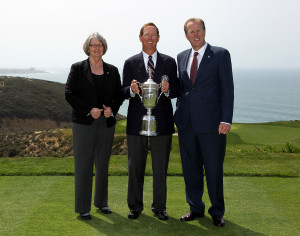 The United States Golf Association has announced Torrey Pines Golf Course in San Diego as the site of the 2021 U.S. Open.
"The San Diego area embraced the 2008 U.S. Open and we are seeing the same enthusiasm for the return of the U.S. Open in 2021. We have a great partner in the City of San Diego and this community loves golf," said USGA President Thomas O'Toole Jr.
In 2008, Tiger Woods earned his third U.S. Open victory over Rocco Mediate at Torrey Pines Golf Course. Tiger Woods also welcomed the return of the U.S. Open to the 36-hole, city-owned facility that has been home to a PGA Tour event since 1968.
"I think it's a great decision returning to Torrey," Woods said. "It's a very special place to me."
The 2021 U.S. Open is scheduled for June 17–20.
Photo Credit: USGA/Todd Warshaw