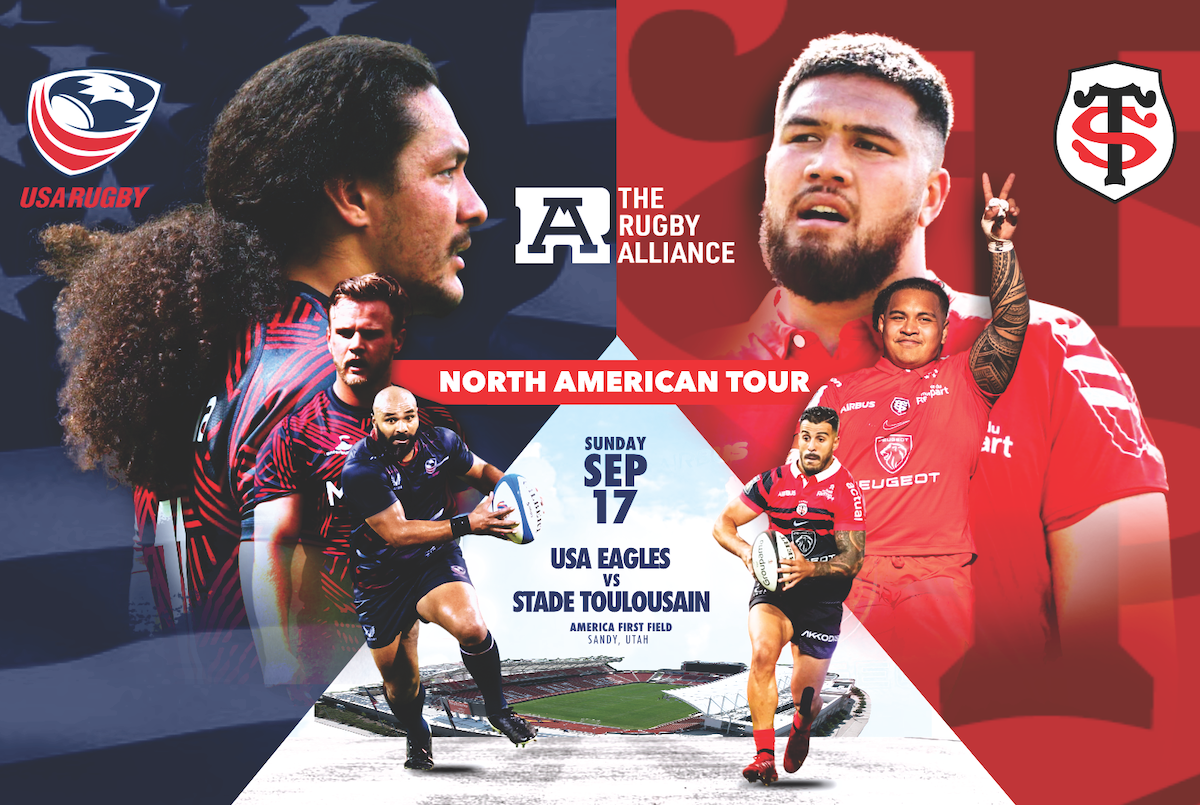 The United States men's national rugby union team will play host to legendary French club Stade Toulousain on September 17 at America First Field in Sandy, Utah, through a partnership with USA Rugby, The Rugby Alliance and the Utah Warriors of Major League Rugby.
"This match is very exciting news for the American rugby public, both hosting an internationally renowned team like Stade Toulousain, alongside the opportunity for our fans to see the Men's Eagles compete on home soil this year," said USA Rugby Chief Executive Officer Ross Young. "Utah and the Salt Lake City area are a thriving community of rugby supporters, an atmosphere we're ecstatic to return to. It's going to be a phenomenal event, one our fans definitely don't want to miss."
A collection of current and future Men's Eagles players will compete, including Paul Mullen, Mika Kruse, Joseph Mano, Thomas Tu'avano and Angus McClellan.
"We are thrilled at the opportunity to play on American soil," said Didier Lacroix, president of Stade Toulousain. "It's a brilliant chance for us to expand the reach of Stade Toulousain and the great sport of rugby. The United States has an ever-growing rugby community that we're eager to engage with. We anticipate a fantastic game full of energy, passion and mutual respect. We can't wait to hear the roar of the crowd at America First Field. It's sure to be an unforgettable experience for all involved."
The Rugby Alliance will host engaging and interactive events leading up to the game. Further details about the fan festival will be unveiled over the coming weeks.
"Bringing an event of this magnitude to the United States is an endeavor fueled by our dedication to uplift the spirit of this extraordinary sport on American soil," said Kimball Kjar, chief executive officer of the Utah Warriors. "This is a chance of a lifetime for fans to experience the highest level of sport right here, live, to feel the energy, tension, and exhilaration that only a raw rugby match can deliver. We can't wait to experience the packed stadium of rumbling fans cheering on these athletes at America First Field on September 17."