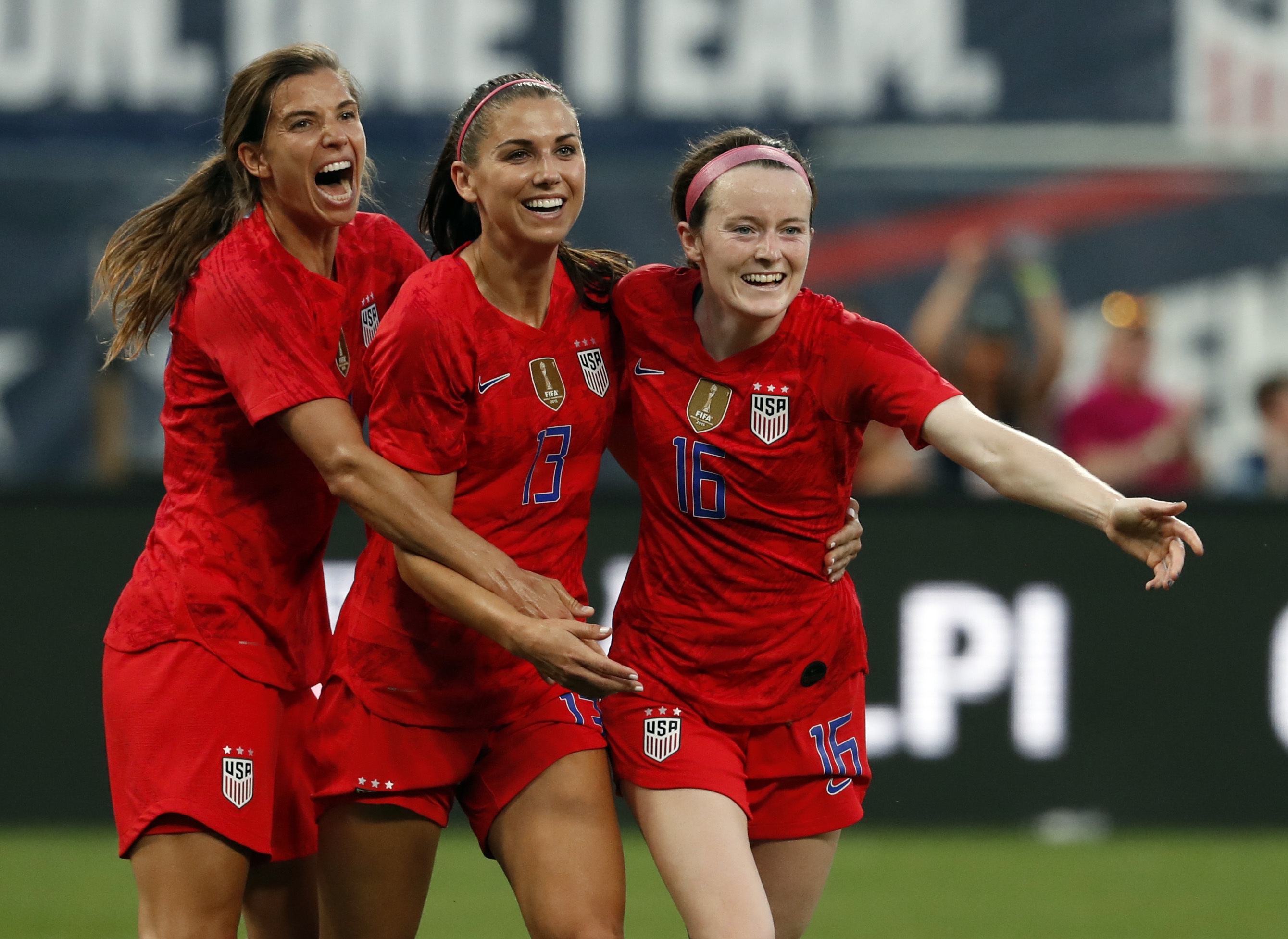 Capitalizing on the wild, widespread success of the World Cup-winning U.S. women's national soccer team, ESPN has signed a contract to televise 14 National Women's Soccer League matches for the rest of the 2019 season.
The first broadcast of the agreement will be July 14 with a game between the Portland Thorns and Orlando Pride. All nine teams in the league will be on ESPN at least once, with defending champion North Carolina appearing four times. Portland, featuring U.S. stars Tobin Heath and Lindsey Horan, will also be on four broadcasts. Orlando, with stars Alex Morgan of the U.S. and Marta of Brazil, will be on twice. American stars Julie Ertz and Alyssa Naeher, plus Australian Sam Kerr, will be on three times with the Chicago Red Stars. Megan Rapinoe's Reign FC will also be on three times.
"NWSL is a global leader in women's professional soccer, with collectively the most talented players in the world. Together with the reach of ESPN's vast network, we have the opportunity to bring more games to a broader audience across the country and world," said NWSL President Amanda Duffy. "Even in the year leading up to the Women's World Cup, we have continued to experience tremendous growth through the support, engagement, and visibility from our fans."
Eight matches will air on ESPNEWS, with the remaining six on ESPN2, including the two semifinals and league championship, which will be held in North Carolina. All NWSL matches broadcast on an ESPN network will stream live on the WatchESPN app. Every NWSL game is also streamed live on the Yahoo! Sports app.
"We are pleased to once again televise the National Women's Soccer League and showcase many of the world's top female players when they return to their professional club teams," said Burke Magnus, ESPN's executive vice president for programming and scheduling. "The success and excitement of the World Cup in France has been on full display and the NWSL represents the best women's club soccer in the world."
Fanatics reported there was more U.S. women's national team championship merchandise sold in the first hour after Sunday's 2-0 win over the Netherlands than the entire first day after the Americans' 2015 title game victory. The jersey worn on Sunday is the top-selling U.S. soccer national team jersey of all-time, men's or women's.
The NWSL also capitalized on the success of the U.S. team by signing Budweiser as a sponsor. As part of a multi-year partnership, Budweiser receives naming rights to the playoffs, championship game, and MVP trophy.
2019 NWSL Schedule on ESPN (all times Eastern)
July 14: Orlando at Portland, 3 p.m., ESPNEWS
July 21: North Carolina at Chicago, 6 p.m., ESPN2
July 27: North Carolina at Utah Royals, 10 p.m., ESPNEWS
Aug. 2: Reign FC at Houston, 7 p.m., ESPNEWS
Aug. 11: North Carolina at Portland, 3 p.m., ESPNEWS
Aug. 18: Reign FC at Sky Blue FC, 1 p.m., ESPNEWS
Aug. 25: Chicago at Portland, 3 p.m., ESPNEWS
Sept. 11: Chicago at Orlando, 7 p.m., ESPNEWS
Sept. 17: Houston at North Carolina, 7:30 p.m., ESPNEWS
Sept. 25: Washington at Houston, 9 p.m., ESPN2
Sept. 29: Portland at Reign FC, ESPN2
Oct. 20: Playoff Semifinal, 2 p.m., ESPN2
Oct. 20: Playoff Semifinal, 4 p.m., ESPN2
Oct. 27: Championship, 4 p.m., ESPN2