USA Indoor Track & Field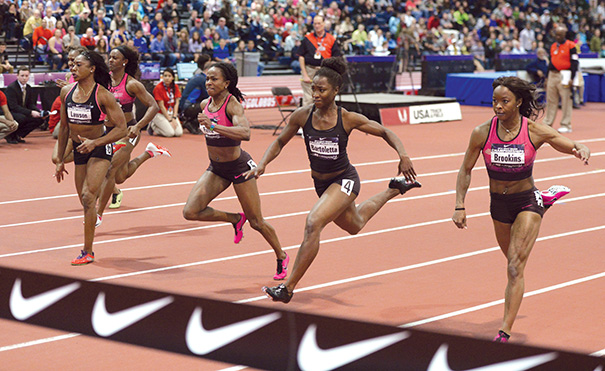 Albuquerque, New Mexico, once again successfully staged the USA Indoor Track & Field Championships in February, although event organizers will be evaluating what caused a dip in fan attendance compared to the previous year.
The meet featured a roster of 400 athletes, including Olympians Galen Rupp and Manteo Mitchell, as well as 17-year-old sensation Mary Cain. Results of the championships determined the 48 athletes who represented Team USA at the International Association of Athletics Federations World Indoor Championships in Sopot, Poland, March 7–9. Albuquerque was also the final indoor event for the USATF Championship Series, which included a total of 14 competitions for both men and women. "We were very pleased with the number and quality of athletes we had in town," said Dan Ballou, director of sports marketing for the Albuquerque Convention & Visitors Bureau. "From that perspective, it was a great event."
The championship was held at the Albuquerque Convention Center, where the city's Mondo track was installed for the event. The world-class track is popular among athletes because of its reputation for speed, which the results confirmed. Bernard Lagat, 39, set a meet record of 7:46:01 at 3,000 meters. "The competition itself in terms of the athletes went really well," said Jim Estes, USATF's director of events. "There were some great performances."
To read the rest of this article in SportsTravel, please click here.