Two USL League One clubs have released renderings for proposal stadiums to be built in their respective destinations as the league's building boom continues.
Greenville Triumph SC unveiled plans for a new 8,100-seat multi-purpose stadium to be constructed in the South Carolina destination in conjunction with the city of Mauldin and Greenville County. The proposed venue would be the home to Greenville Triumph SC's League One and W League sides and could host up to 150 soccer matches, athletic events, concerts, festivals and community events per year. The $38.6 million stadium project would anchor the upcoming Bridgeway Station, a $150 million, 38-acre mixed-use complex. Owned by Greenville County, the proposed stadium would be operated by Greenville Triumph SC and serve as the club's new headquarters.
"We have been in ongoing discussions with Mauldin City Council and Greenville County Council members regarding a site for a proposed multi-use stadium," said Greenville Triumph SC Chairman and Lead Owner Joe Erwin. "We look forward to continuing to provide information, answering their questions and listening to their ideas."
Triumph SC has advanced to the League One Final in all three years of the league's existence and will field a women's side in the USL W League later this year. If approved by local leadership, the proposed stadium would have a groundbreaking in the spring of this year and could open ahead of the 2023 League One season.
Proposed Stadium in Lexington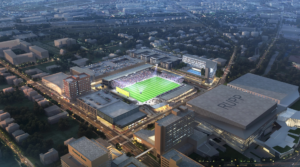 In Kentucky, the proposed stadium for Lexington would be designed by global architecture firm Gensler. The venue would seat more than 6,000 and feature 45,000 square feet of entertainment-focused retail with patio views overlooking both the stadium and Rupp Arena. A 160-room hotel, a 250-unit residential development and integrated parking garages onsite is also proposed.
"Lexington is the ideal home for a thriving professional soccer club," said Bill Shively, majority owner of Lexington Pro Soccer. "Our aim is to build a state-of-the-art, multi-use venue centered around a professional soccer stadium right in the heart of downtown Lexington. The development we hope to build would be a meaningful economic driver for the city of Lexington and the surrounding region, by expanding the range of entertainment opportunities downtown Lexington has to offer its residents and visitors."
Lexington Pro Soccer's inaugural season will begin in 2023 at a local college stadium. In addition to its stadium design, Lexington Pro Soccer is in the midst of a branding process over the past three months that will lead to the creation of the club's official name, crest, and colors, which are expected to be released in the coming weeks.