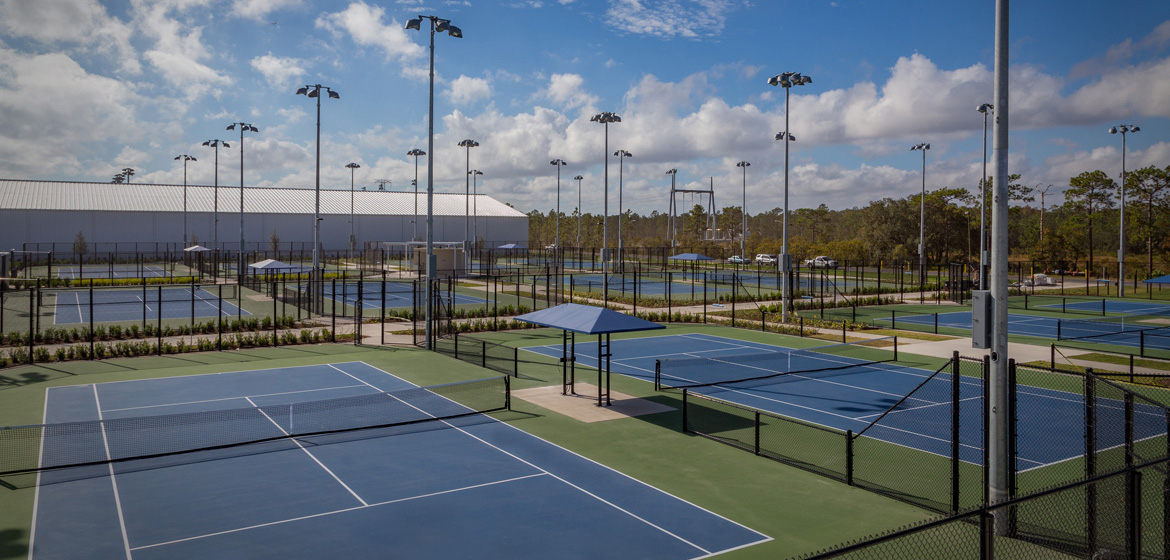 The United States Tennis Association National Campus has opened at Lake Nona in Orlando, Florida. Serving as the new "Home of American Tennis," the facility combines the USTA participation programs and USTA Player Development in a central location for the first time.
"The opening of the USTA National Campus is a monumental milestone for our sport," said Katrina Adams, USTA chair of the board and president.  "The new 'Home of American Tennis' will redefine how the USTA delivers on its mission and will provide a new vision for the future of tennis in the United States."
Located on 64 acres, the National Campus is home to features that include 100 tennis courts, an adidas Performance Center, a family zone, a USTA Welcome Center and a collegiate area. The facility is the anchor of the Lake Nona Sports & Performance District, which provides fields, training areas, research facilities and office space. The district also houses the future site of Orlando City Soccer Club's Training Center.
"The connection between Lake Nona's established Medical City cluster and the emerging Sports & Human Performance cluster is so natural and one that we dream will grow to become one of the biggest in the nation," said Rasesh Thakkar, senior managing director of Tavistock Group, which partnered with the USTA to develop the tennis complex. "We are excited about all the ways in which the USTA National Campus will make a difference in people's lives, people from all walks of life and all ages."
The National Campus is open to the public and will provide year-round programs for all levels of play. More than 100 international, national and local events and tournaments have already been scheduled for 2017.