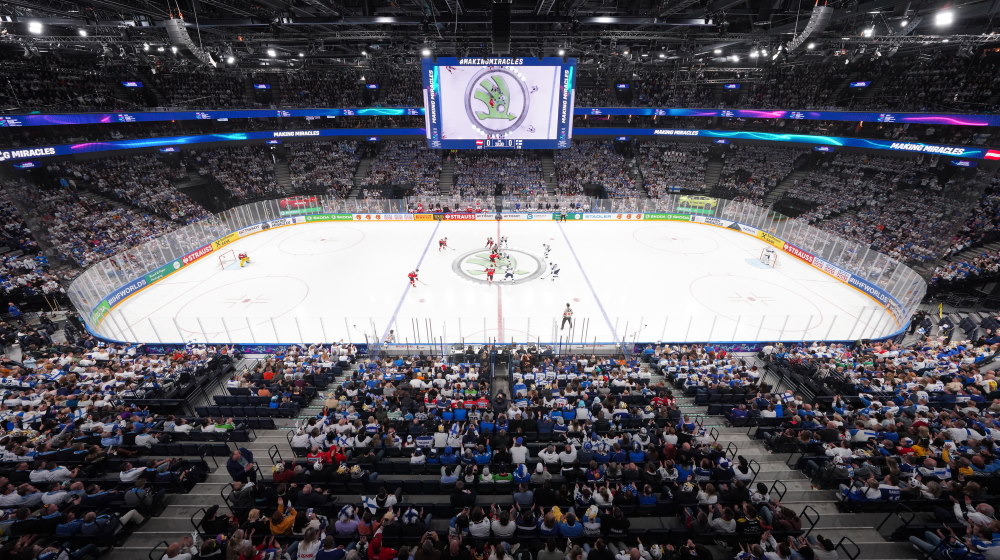 The International Ice Hockey Federation's world championships in 2023 will be jointly hosted by Finland and Latvia after the event was taken out of Russia, while Switzerland will host in 2026 after its previous host turn was cancelled because of COVID-19.
The IIHF congress approved the moves on Friday, going to the Nordic region to replace St. Petersburg after the hosting rights had been withdrawn from Russia. The next Worlds will take place at the biggest venues of two of the world's most passionate hockey countries starting May 12, 2023. There was a second co-hosting bid of Budapest, Hungary and Ljubljana, Slovenia before Hungary withdrew the bid due to lack of government guarantees, which was acknowledged by the IIHF.
The new Nokia Arena in Tampere will serve as the main venue and will host one preliminary-round group, two quarterfinals, plus all semifinal and medal games.
"It is a privilege and we are grateful to jointly host the 2023 IIHF Ice Hockey World Championship," Finnish Ice Hockey Association President Harri Nummela said.
Latvia's Arena Riga has a capacity of up to 9,550 spectators and will host one preliminary-round group and two quarterfinal games. Fan zones are planned next to both arenas and Riga and Tampere are connected with a 70-minute direct scheduled flight between the two cities. Teams who have to move to the cross-over quarterfinals or to the semifinals will be transported with charter flights.
"We are happy for your trust and are ready to host the World Championship with the best conditions for the teams and the best atmosphere for the fans," said Latvian Ice Hockey Federation President Aigars Kalvitis.
Switzerland was slated to host in 2020 but the tournament got cancelled due to the pandemic and won the bid for 2026 after the only other candidate, Kazakhstan, withdrew. The Swiss Life Arena in Zurich, which will open later this year, will serve as main venue for the event. The arena will offer a seating capacity for 11,200 fans for ice hockey and have the largest video cube of an ice arena in Europe. About a 90-minute car or train ride away, Fribourg will serve as secondary venue for the event and will host games at the BCF Arena, which was renovated in recent years with a capacity for 7,100 fans.
Already scheduled was the Czech Republic in 2024 and a co-hosting arrangement between Sweden and Denmark for 2025.