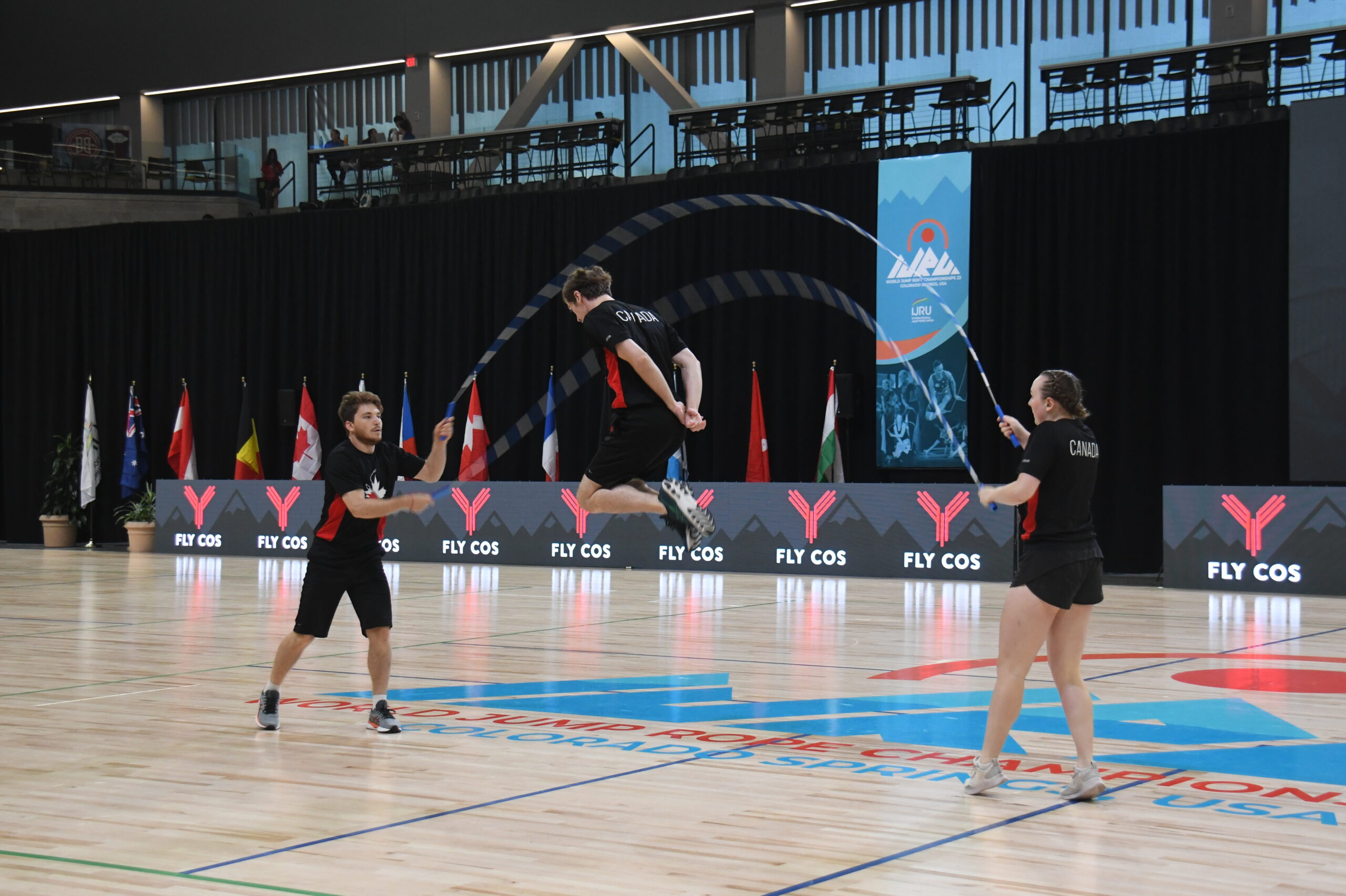 In the sport of jump rope, athletes inevitably get tangled in a rope during a routine. When that happens, they take a step back, reset and get right back to business.
It's also an apt metaphor for the landscape of competitive jump rope in recent years. While the sport has been on the competitive scene for 50 years, its two main international federations — the International Rope Skipping Federation and the World Jump Rope Federation — merged in 2018 to unite the sport and form the International Jump Rope Union. And with pandemic restrictions and challenges behind it, the IJRU jumped into a new model for its world championships held July 16–23 in Colorado Springs, Colorado, an event the federation sees as its next steps on the path in its evolution and potential inclusion on the Olympic program.
More than 1,200 athletes from 25 countries descended on Colorado Springs for the IJRU World Jump Rope Championships, held at Ed Robson Arena on the Colorado College campus. Athletes compete in several disciplines, including single rope speed, pairs and individual freestyle, and double dutch pairs, triad, speed and single freestyle.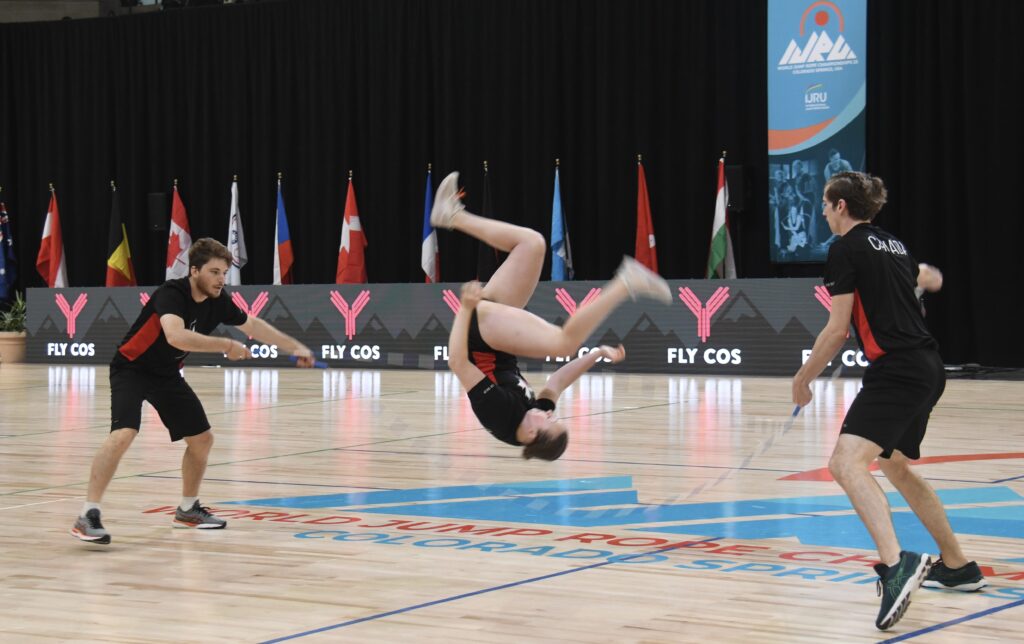 The 2023 World Championships, however, included some firsts, allowing the IJRU to experiment on what the ideal form of its event should look like in years to come. The event was broadcast on Olympics.com and aired on 14 international platforms to an estimated audience of 22 million. That meant some new primetime slots for the championship events. And for those experiencing the event in person, it meant a new ticketing strategy and finding the right size venue — Ed Robson Arena seats 3,400 — to bring the event to life.
"Colorado Springs is a place where we felt we could grow and test out some new things," said IJRU President Shaun Hamilton. "We knew that the city was willing to roll their sleeves up and truly figure it out with us. Often, sport events who've been around for a while have a manual and they just run it. Well, we're still trying to figure it out and the city said, you know what, we'll help you figure it out."
Origins of an Event
The federation's journey to Colorado Springs began with a conversation between Hamilton and Dale Neuburger, a longtime sports events executive who is vice president of World Aquatics. As Hamilton explained the ideal future for the IJRU event, Neuburger encouraged him to talk to Colorado Springs-based Matt Farrell, the former USA Swimming chief marketing officer who now has a sports consultancy business in the city.
"Matt and I began to develop a clear relationship," Hamilton said. "His passion for sport, his passion for people, but also his passion for Colorado Springs led to us ultimately being right here."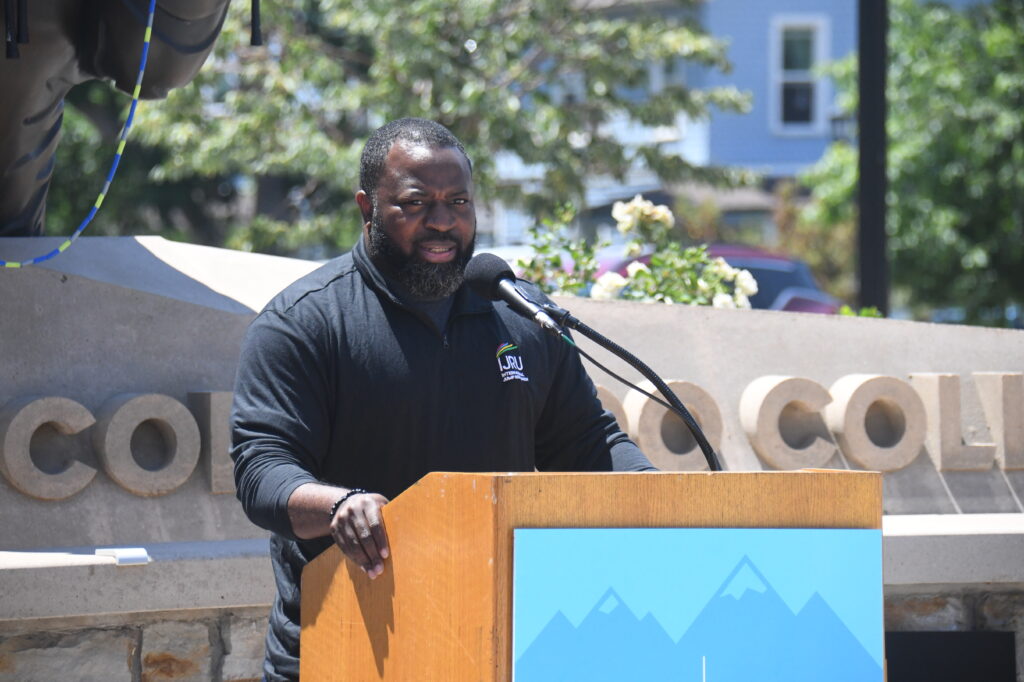 Farrell then approached Megan Leatham, president and chief executive officer of the Colorado Springs Sports Corporation, and other local officials about having the city host the event.
"It was December of 2021 and we had not previously met," Leatham recalled of the conversation with Farrell. "He came into my office and said, 'I want to talk to you about jump rope.' And that is the minute I knew that this was something our city would want to go after."
That led in turn to a conversation with Lesley Irvine, who had recently been named vice president and director of athletics at Colorado College, home to the then recently opened Ed Robson Arena. "I didn't know her too well at the time, but I said, 'How do you feel about covering your ice for a world jump rope championship?'" Leatham said. "And right away she said, 'Yes, this would be huge for our city.'"
It turns out the campus had the ideal venue. Ed Robson Arena opened in September 2021 as part of the City for Champions urban renewal initiative in Colorado Springs that has sparked new venue development across the city, including the downtown U.S. Olympic and Paralympic Museum and Weidner Field, home to the city's USL professional soccer team. Colorado Springs itself is home to the U.S. Olympic and Paralympic Committee, but for years had lacked the variety of venues that other cities typically have to allow the city to host sports events of all sizes.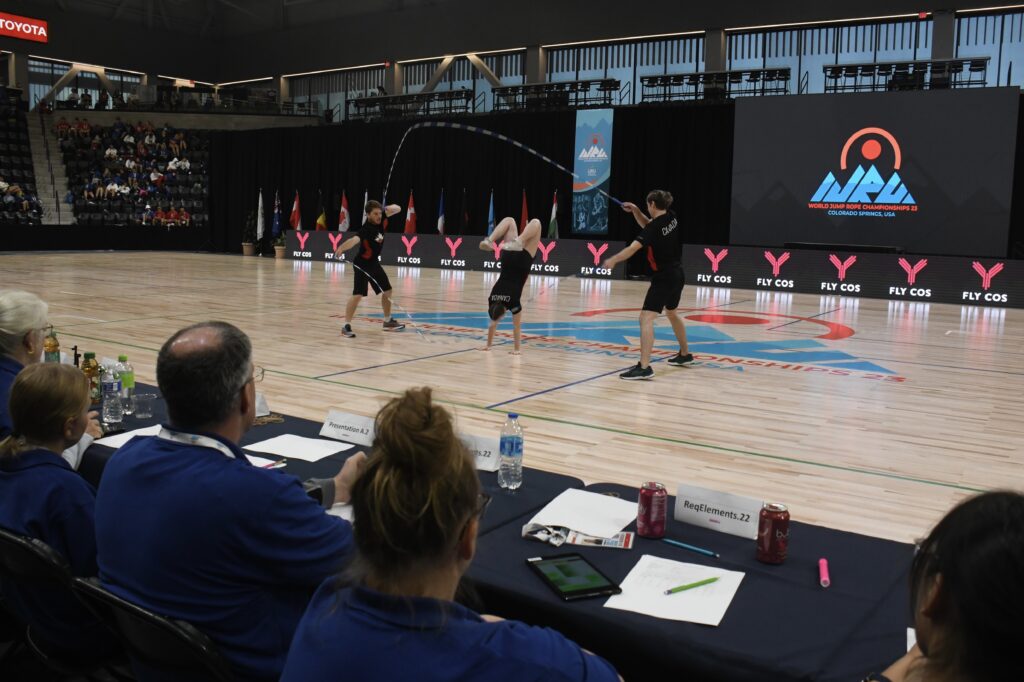 Ed Robson Arena mainly serves as the home of Colorado College hockey, a Division I program that won two national championships in the 1950s and has remained a powerhouse since. But Irvine said the new arena was never designed for hockey alone.
"Everyone was thinking of this as a hockey arena, but it's so much bigger," she said. "The City for Champions vision is to drive economic impact. And when you think about Colorado College's strategic goals, we want to be really connected to the city and to be partners in driving that."
The weekend before the IJRU event, the venue hosted the USA Weightlifting National Championships and the weekend after, it was home to the U.S. Open Taekwondo Hanmadang. Hamilton said for jump rope, the venue was the perfect size. "We loved it because it's not too big, it's not too small." Hamilton said. "It's accessible but it still feels official. It's just that right fit, like a good pillow."
Feeling the Love
By providing the ideal venue, the city showed that it wanted the event, Hamilton said. As a former athlete and world champion in the sport, he knows what it feels like when a host city misses the mark.
"I know what it's like to go to events and not feel welcome, not feel loved," he said. "One of the key reasons why we chose this place was because when I visited here and I met Leslie, and I met Megan, we felt loved, we felt welcomed, we felt appreciated."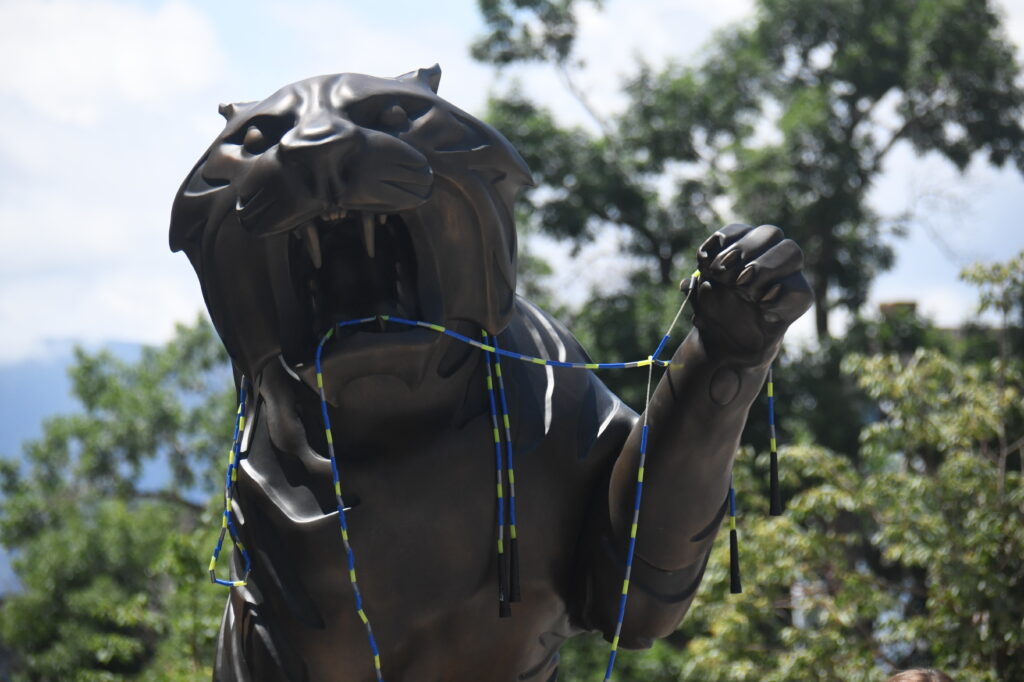 And the city felt the economic love in return. With so many young people competing and coming with their families from countries around the world, the city estimates that it received a $3 million economic boost from the event, said Doug Price, president and chief executive officer of Visit Colorado Springs, which supported the event alongside the sports commission.
"He took a chance," Price said of Hamilton. "He told us what this could look like but in the end it exceeded our expectations."
Jumping Into the Olympics?
As for the competition itself, the event was action-packed. In addition to clearing the rope, of course, participants at the highest level add flips, leapfrogs and precision-timed rope handoffs to make their routines as challenging as possible. With its young demographic and mixed-gender disciplines, it would seem to fall right into the International Olympic Committee's playbook of potential new events.
And the IJRU is on its way to being recognized at that level as well. The federation has gained observer status with the Global Association of International Sports Federations (GAISF) and with the Alliance of Independent Recognized Members of Sport (AIMS). The federation also has signatory status to the World Anti-Doping Association.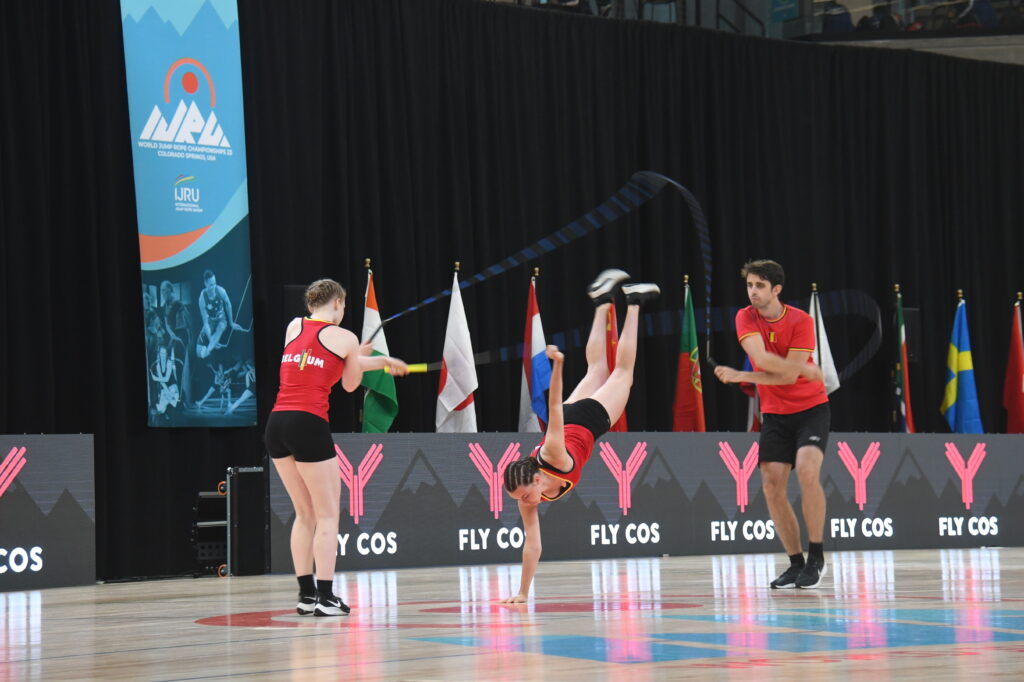 Hamilton knows Olympic inclusion for his or any other aspiring sport is a complicated task. But with a successful event held in the Olympic city of Colorado Springs and broadcast on the IOC's streaming channel, the recent championships may be an ideal start.
"Our athletes deserve the chance and for their leaders to ask the question and to try," Hamilton said.  "As a former athlete, I know what it's like. You at least have to try. And if you don't win, all right. That's how it is with us trying to get into the Olympic Games. It may not happen, but we're going to try."
But that road starts with a significant event. While the federation organizes about 60 regional and continental events a year, building a compelling World Championships moving forward will be top of mind, Hamilton said. Up next in two years will be Kawasaki, Japan. From there, the IJRU will look for hosts to top each experience.
The restart in Colorado Springs provided a strong starting point for the future.
"This facility and this moment are defining our sport for the next 50 years," Hamilton said. "I hope you can appreciate the magnitude of what that means for our sport. Our sport's only been around for 50 years and we're defining the next 50."