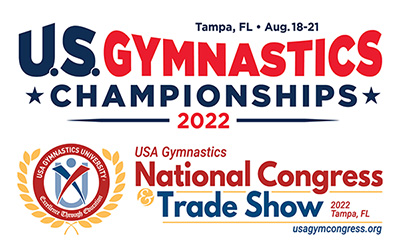 Amalie Arena and the Tampa Convention Center in Florida will host the 2022 U.S. Gymnastics Championships and 2022 National Congress and Trade Show, USA Gymnastics announced Friday.
The annual national championships for artistic gymnastics will be staged August 18–21 and will determine the men's and women's junior and senior all-around and individual event national champions. The U.S. Men's and Women's National Teams will also be named following the competition. The accompanying National Congress and Trade Show, which can draw approximately 2,000 attendees, will run concurrently in the nearby convention center.
"The U.S. Championships and annual congress serve as the culmination of our domestic season, and we could not be more excited to bring these events to Florida later this year," said Li Li Leung, USA Gymnastics president and chief executive officer. "From the extraordinary number of clubs and athletes who call this area home to the local fans who are passionate about the sport, gymnastics is alive and well in the American Southeast. We know this will be a first-class experience for everyone involved."
The competition will provide fans an opportunity to cheer on athletes from the 2020 Olympic Games, while getting to know a new generation of gymnasts who hope to represent the United States at the 2024 Olympic Summer Games in Paris. At the Tampa Convention Center, congress attendees will have access to educational presentations and live demonstrations focused on a variety of topics including coaching, judging, general business, sports science, fitness and athlete safety.
In 2021, the U.S. Gymnastics Championships were held in Fort Worth, Texas, followed by the annual congress in St. Louis, Missouri.
"We are thrilled that USA Gymnastics has selected Tampa Bay to stage their 2022 U.S. Gymnastics Championships and National Congress and Trade Show," said Jason Aughey, senior vice president of sports tourism for the Tampa Bay Sports Commission. "This is a community that supports major events in a big way and the fact that this flagship event has not been hosted in the southeast United States, one of the largest gymnastics regions in the country, since 2004 will undoubtedly create strong interest and an incredible atmosphere at Amalie Arena and the Tampa Convention Center in August."